Xiaomi's Mi Band range has become one of the most popular wearables ever thanks to its low price and decent fitness tracking capabilities. The Mi Band 5 is the newest version of the winning formula and it's time to see how much of an upgrade it is from the Mi Band 4.
I've owned every version of the Mi Band range so I know the range very well, and despite a crowded market it remains hugely popular in both China and the west. The tiny devices are comfortable, easy to wear and offer accurate tracking. Each version has offered significant upgrades from the last.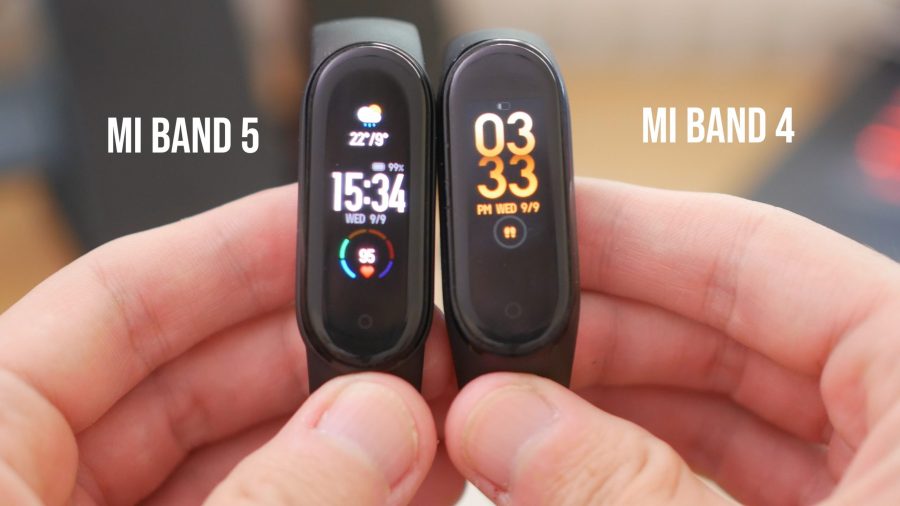 The Mi band 5, like the 4, comes in two versions; one for the western markets and a Chinese version. The Chinese version features NFC and a microphone
In this post we'll be comparing every aspect of the Mi Band 5 and Mi Band 4; from design to tracking and functionality. If you are trying to decide whether to upgrade then this post should help you.
Mi Band 5 vs Mi Band 4: Specs Comparison
Specs
Mi Band 5
Mi Band 4
Image
Screen
Screen Size
1.1 inches
0.95 inches (21.6 mm x 10.8 mm)
Screen Type
AMOLED colour screen
AMOLED colour screen
Resolution
126 x 294, 450nit
120 x 240, 400nit
Body
Size
46.95 × 18.15 × 12.45 mm
Weight
22.1 g
20 g
Materials
Plastic
Plastic
Sensors
Heart Rate Sensor
Accelerometer
Infrared
Barometric Sensor
ECG
Connectivity
GPS
External - Needs Phone Connection
External - Needs Phone Connection
Bluetooth
Microphone
Speaker
Misc
Waterproof
Battery Life
125mAh
120mAh
Notifications
Display Phone Messages & Calls
Display Phone Messages & Calls
Review
Where to Buy
Gearbest
Amazon
Mi Band 5 vs Mi Band 4: Design and Screen
The Mi Band 4 represented a huge shift in the design compared to previous devices in the range. A curved body and glossy finish brought the Mi Band 4 in line with other modern smart devices. It's for this reason that the Mi Band 4 quickly became a favourite of mine.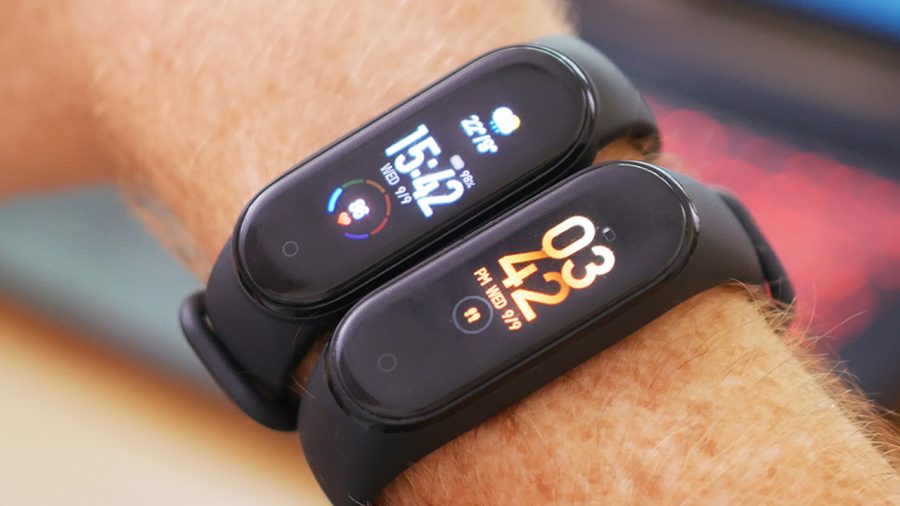 With the release of the Mi Band 5 Xiaomi has decided to retain an almost identical design, with the only different being a slightly larger screen. The Mi Band 4 screen is 0.9 inches whereas the Band 5 is 1.1 inches. In reality this difference is barely noticeable on the wrist but it does allow the Mi Band 5 to display larger icons.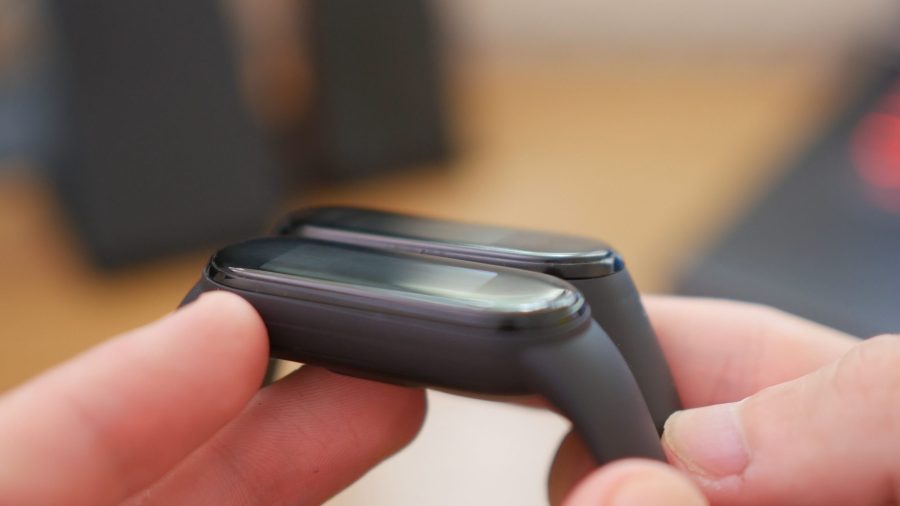 The resolution of the Mi Band 5 screen is higher than the 4 however this is mostly due to the larger size. Side by side the two AMOLED screens are near identical when places side by side. Considering both screens are bright and responsive this isn't a huge issue. The Mi Band 5 is technically the brighter of the two with 450 nits compared to 400 on the Mi Band 4,
Mi Band 5 vs Mi Band 4: Health and Fitness
The biggest change between these two devices are internal. The Mi Band 4 came with a PPG heart rate sensor as well as an Accelerometer and Gyroscope. The feature set of the Mi Band 5 is actually identical, however the technology has been upgraded to be up to 50% more accurate. The only extra piece of hardware you'll find in the Mi Band 5 is a barometer for tracking elevation; useful for climbers and hikers.

Mi Band 5
The latest fitness band from Xiaomi offers a new screen and upgraded tracking sensors
Both smart bands monitor heart rate 24/7 as well as steps, activity levels and sleep quality. A new addition to the Mi Band 5 is Xiaomi's PAI score, which is a clinically backup up way of measuring your overall health using your smartwatch tech. It takes all your health data and gives you a score; useful for measuring progression over days and weeks.  While this is a useful and welcome addition it is mostly a software feature; there's no reason why a software update couldn't give the Mi Band 4 the same feature.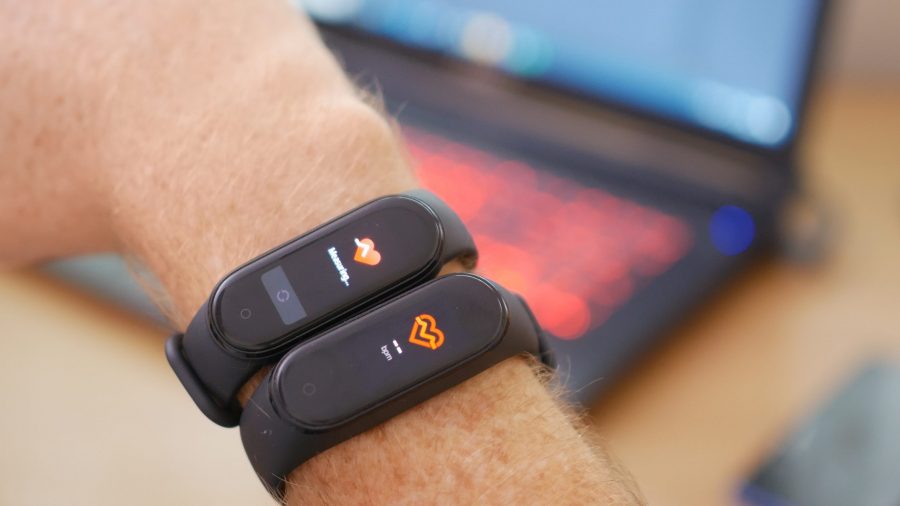 Sleep tracking is a popular reason to get any smartwatch. The Mi Band range is great for tracking sleep quality because it's so small and comfortable to wear, even through the night. While the Mi Band 4 offered good sleep tracking accuracy the Mi band 5 up's the game. Thanks to the more accurate sensors the Mi Band 5 can track REM sleep, which is the most important part of our sleep cycle.
The Mi band 5 features 11 built in exercise modes compared to 6 in the Mi Band 4. The extra fitness modes include yoga, indoor rowing, skipping, elliptical and rowing machine. The Mi band 5 also has a women's health tracking ability as well as built in breathing exercises. Again these are mostly software upgrades.
Neither fitness band features built in GPS. I was expecting the Mi Band 5 to add this feature and the fact it's still missing is a bit of a disappointment. Never the less both fitness bands can use your phones GPS when connected.
Mi Band 5 vs Mi Band 4: Smartwatch Features & Battery Life
The new design of the Mi Band 4 allowed Xiaomi to add some popular smartwatch features to it's budget friendly fitness band. These include changeable screens, call and notification alerts, calendar, stopwatch, and weather reports. Both smartwatches feature identical features in this regard.
One of my favourite features of the Mi Band range is how long they last on a single charge. Every generation has managed to improve on the last, with the Mi Band 4 capable of lasting 20 days. The Mi Band 5 does increase the battery power by a small amount, however in reality the battery life is exactly the same at around 20 days. The Mi Band 5 does add a magnetic charger which is easier to use.
Mi Band 5 vs Mi Band 4: Verdict
There's no arguing that the difference between the Mi Band 5 and 4 is incremental rather than a leap forward, but why mess with a winning formula? The biggest upgrade is the slightly larger screen and more accurate tracking features. Considering the price of the Mi Band 5 is equivalent to around 10 cups of coffee, I think this is enough of a reason to upgrade.
If you are looking for your first Mi Band smartwatch then the Mi Band 5 is definitely the way to go. I loved the Mi Band 4 but a year later I appreciate having the latest technology tracking my health and fitness.

Mi Band 5
The latest fitness band from Xiaomi offers a new screen and upgraded tracking sensors

Mi Band 4
One of the most popular wearable devices ever. Tiny, easy to use and comfortable to wear.
Check out my latest video!