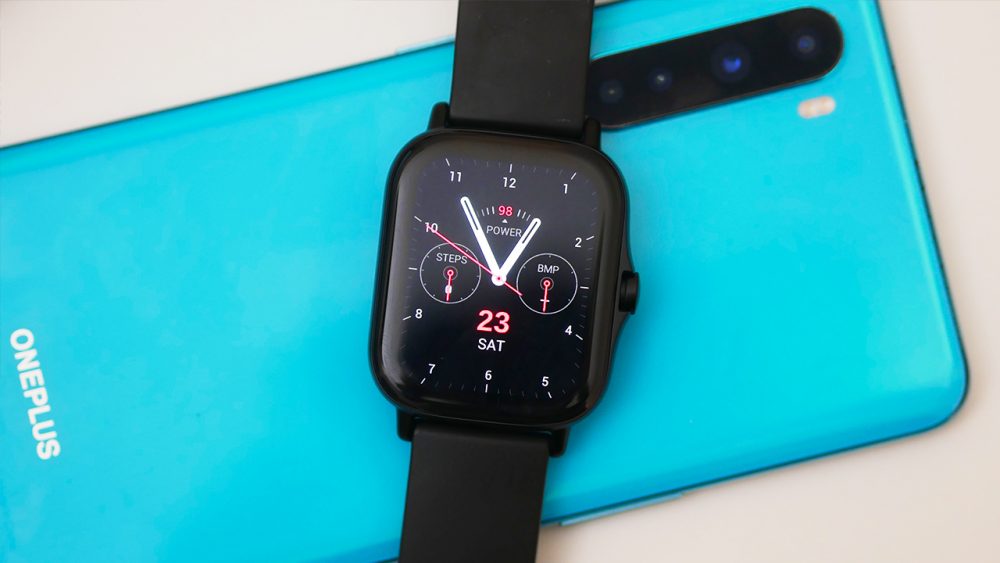 It's no secret that I'm a big fan of the Amazfit line of smartwatches, just check my YouTube channel, and the GTS 2 is the latest version of their flagship range. Like the last generation, th GTS 2 is the square version of the GTR 2 which both feature similar tracking & identical software.
This review will focus on the GTS 2 however the GTR 2 is virtually identical apart from the shape of the watch. I've owned the GTS 2 for a few months so I know everything there is to know about this excellent smartwatch. So, if you are thinking about buying the GTS 2 then read till then end and you'll see if it's a good fit for you.
Amazfit GTS 2 Review
Specs
Specs
Amazfit GTS 2
Image
Screen
Size
1.65 inches
Type
AMOLED colour screen
Resolution
348 x 442 - 341 PPI
Body
Size
42.8 * 35.6 * 9.7mm
Weight
24.7g
Misc
Sensors

Heart Rate, SPO2
PPG heart rate sensor
Air pressure sensor
Acceleration sensor
Gyroscope sensor
Geomagnetic sensor
Ambient light sensor

Health Functions

11 Sports Modes
Continuous Heart Rate Monitoring
Stress Monitoring
Sleep tracking

GPS
Internal
Battery Life
246 mAh - 10 Days
Waterproof
5ATM
Bluetooth
Bluetooth 5.0
Other Features

Microphone
Speaker
Music Control
Call/Message Notifications
Weather Updates
Modular Display

Where to Buy
Amazon
back to menu ↑
Design
The Amazfit GTS 2 is a great looking smartwatch. Considering the price of the watch there's no denying that this is a premium device in terms of design. The GTS 2 utilises metal and hardened glass in its design, this along with the square screen makes it reminiscent of the Apple Watch, clearly some inspiration has been taken.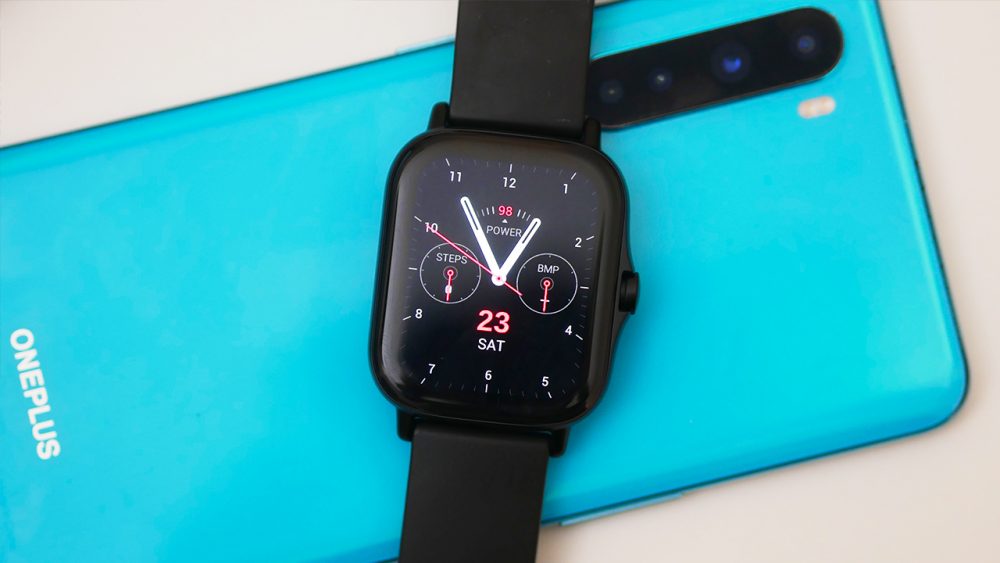 The GTS 2 looks just as sleek and stylish as watches twice the price, this is certainly one of the best reason to buy this watch. The strap that comes with the watch is silicone based which is pretty cheap looking, you are able to change this easily but you'll need to buy an extra.
Overall the design of the GTS 2 is one of its strong points, it's thin, easy to wear, conformable and looks great.
back to menu ↑
Screen
Like most Amazfit watches the latest variation comes with an AMOLED display with a high resolution. The watch a screen with 341 PPI which results in a very sharp display, the icons are spart and the display is just as responsive as a modern phone.
The relatively large screen is able to display a decent amount of information. The different screen options allow for a modular display, meaning you can choose what information is displayed on your screen at any one time.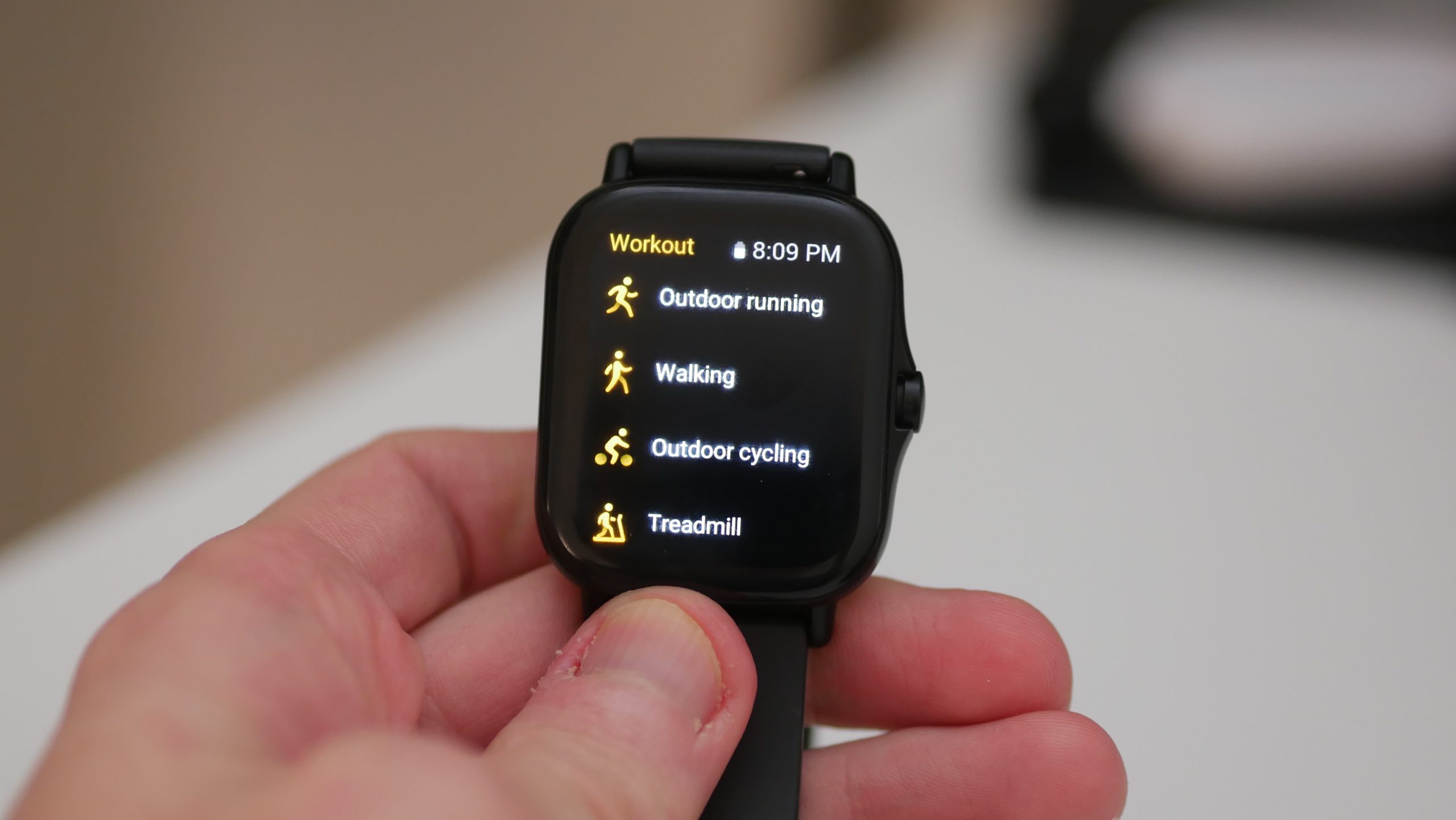 There's also an always on display option for the GTS 2 which allows you to keep the watch active all the time, however this will also reduce the batter life.
back to menu ↑
Tracking Features
The Amazfit GTS 2 features the best array of tracking features of any smartwatch of this range. Not only does it feature the next generation bio-tracker which can monitor heart rate along with SPO2, it also features a accelerotmer, internal GPS and a gyroscope.
All of this adds up t a watch that can track your health and fitness just as well as much more expensive smartwatches. In my tests I've found the 24/7 to be pretty accurate ,when I'm working out it detects when my heart rate rises and falls.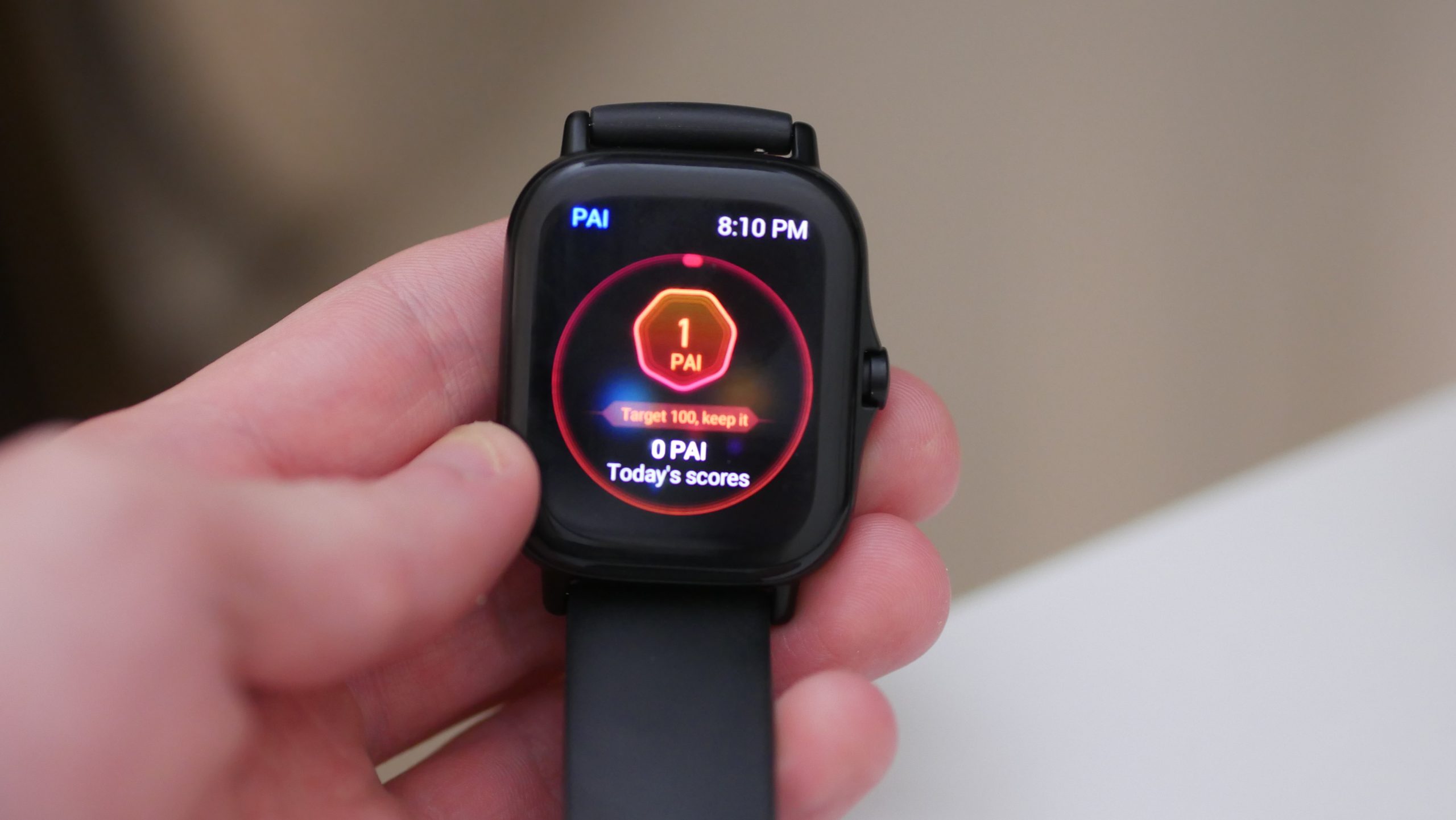 The SpO2 is less useful as it only works when manually activated rather than automatically used. If you want to track running or cycling then the internal GPS will be very useful. It's ot as accurate as some more expensive watches, but it's good enough for basic route tracking.
The GTS 2 has two dozen sports trackers built into the watch including all the major sports. This will allow you to track anything from basketball to swimming.
back to menu ↑
Smartwatch Features
As well as the health and fitness tracking features I've described above the Amazfit GTS2 also features several generally smartwatch features that makes it useful in every day life.
The GTS 2 has both a microphone and speaker which allows you take and receive calls straight from your watch. Thanks to the GTS 2 microphone there's also a voice control capability  which allows you to use the GTS 2 features via your voice. It has also been promised that Amazon Alexa will be available to the GTS2 soon.
back to menu ↑
Other Feature
Battery Life: One of the more disappointing features of the GTS 2 is the batter life. While the watch can still last for up to a week this is still a downgrade on the previous version. If you want to extend the batter life you can deactivate the always on display as well as other features.
Water Resistance: You'll be able to use your watch in the shower and even go swimming with it. The watch it fully waterproof.
back to menu ↑
Summary
If you are looking for a smartwatch that can track your health and fitness just like the best of the best, but without paying the absolute premium, then the GTS 2 is definitely worth considering. This is not a full smartwatch in the same vein of the Apple watch as it doesn't have an app store to allow for expanded functionality, nether the less this represents a grea tvalue watch for traking health and fitness with an excellent design.

Amazfit GTS 2
A stylist smartwatch with an impressive array of health tracking features.