The Mi Band 5 is an unfathomably cheap smart device that monitors your heart rate, stress levels and general activity. At around $30/£25 it's not only one of the best value smart bands available right now but one of the best examples of cheap but useful technology.
While I am a big fan of the Mi Band 5 it doesn't represent a huge upgrade from the previous version of the Xiaomi's smart band line-up. Is it worth upgrading from the Mi Band 4? In this Mi Band 5 review I'll tell you everything you need to know about this smart band and why I recommend it.
Mi Band 5 Review
Specs
Specs
Amazfit GTS 2
Image
Screen
Size
1.65 inches
Type
AMOLED colour screen
Resolution
348 x 442 - 341 PPI
Body
Size
42.8 * 35.6 * 9.7mm
Weight
24.7g
Misc
Sensors

Heart Rate, SPO2
PPG heart rate sensor
Air pressure sensor
Acceleration sensor
Gyroscope sensor
Geomagnetic sensor
Ambient light sensor

Health Functions

11 Sports Modes
Continuous Heart Rate Monitoring
Stress Monitoring
Sleep tracking

GPS
Internal
Battery Life
246 mAh - 10 Days
Waterproof
5ATM
Bluetooth
Bluetooth 5.0
Other Features

Microphone
Speaker
Music Control
Call/Message Notifications
Weather Updates
Modular Display

Where to Buy
Amazon
back to menu ↑
Design & Screen
The Mi band 5 is the largest ever in the line-up. It features a 1.1 inch AMOLED display with a resolution of 126 X 29 pixels. The screen is bright, colorful and displays sharp, easy to read icons. The slightly larger than usual screen allows the Mi Band 5 to display more information on the screen at once.
The screen won't match up to your phone when it comes to responsiveness and the transitions between menus isn't as smooth as I'd like, but it's not a huge concern. The slightly larger size doesn't affect comfort or ease of use as it's still a very small device. As someone with thin wrists I find it perfectly comfortable to wear all day and night.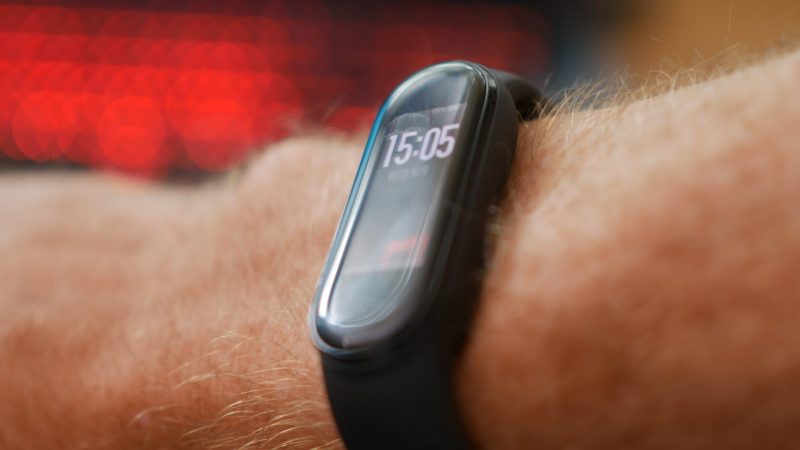 The oblong Mi Band 5 is able to pop out of the rubber strap provided by Xiaomi in the box, which is good because it's not the best strap ever made. Quite cheap looking. Thankfully there are dozens of alternatives you can buy if you feel the need to replace it.
The Band itself features a single manual touch button for waking the screen or returning to the home screen. The screen protrudes slightly out of the strap and a curved, glossy finish. Overall I think it looks pretty slick.
Overall the design and screen continue a basic but winning formula. There's not much to shout about but the Mi Band 5 is comfortable, easy to wear with an easily readable screen,
back to menu ↑
Sensors & Connectivity
First and foremost the Mi Band 5 is a fitness & overall health tracker. To track your activities the band uses a PPG heart rate sensors and a 6-axis IMU sensor (Accelerometer sensor, Gyroscope sensor). These sensors allow the Mi Band 5 to track various exercises, monitor heart rate 24/7 and even detect stress levels.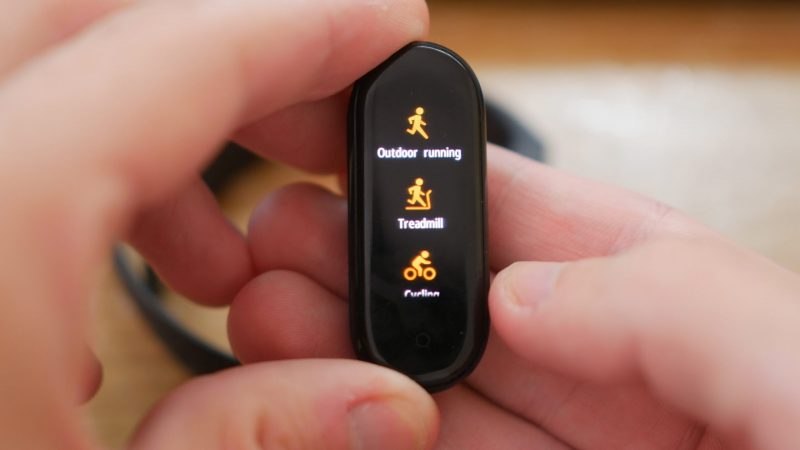 Xiaomi also has a software powered vitality measure it calls PAI. It essentially gives you a health score based on activity levels and heart rate. While it has been backed up with official studies I do take it with a pinch of salt. What I find more useful is the steps and heart rate data collected and sent to your phone via bluetooth.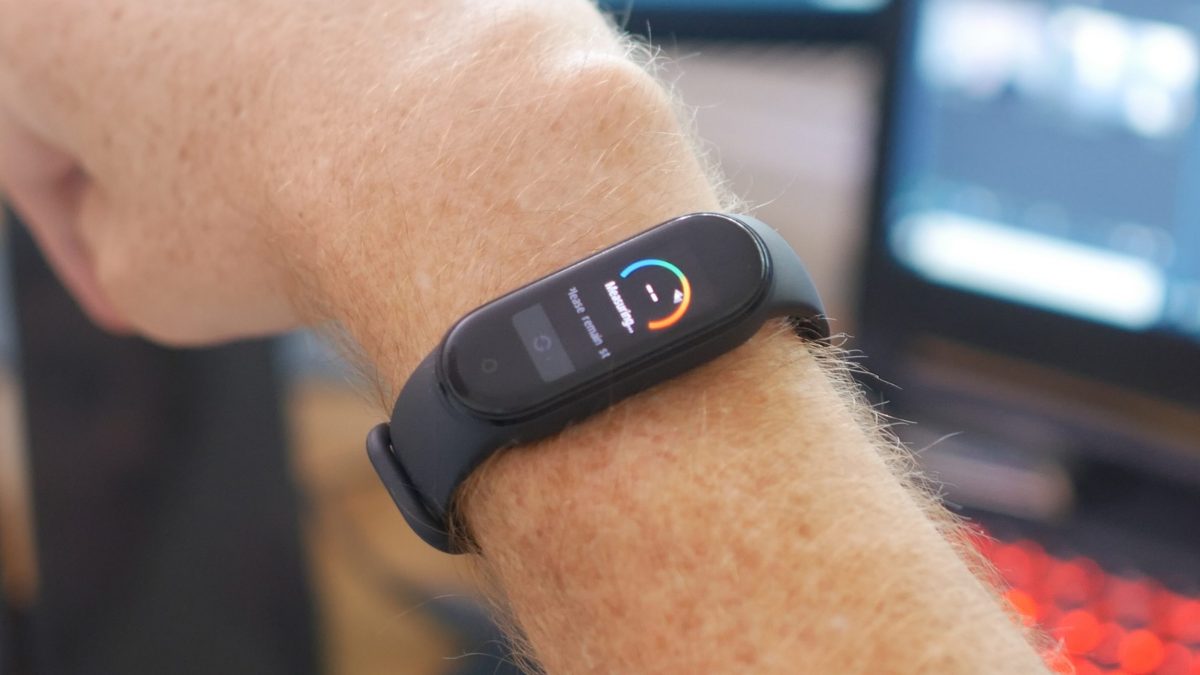 Speaking of Bluetooth, the Mi Band 5 uses the latest 5.0 version for faster and more reliable connection.
One feature missing from the Mi Band 5 is internal GPS. This means that if you want to track your location during an outdoor workout you'll need to be connected to your phone. Other smart bands such as the Huawai Band 4 Pro allow you to leave your phone at home as they have their own GPS. Admittedly smart band with internal GPS tend to be more expensive.
Another feature that was predicted for the Mi Band 5 but never showed up is an SP02 tracker. This is a sensor that's becoming popular with new smart watches. It allows you to track you blood oxygen saturation level, however the usefulness of this is questionable so I wouldn't say it's a deal breaker not having one.

Mi Band 5
The Best Value Fitness Band Ever. Featuring a New Screen & Heart Rate Sensor
Xiaomi says the heart rate monitor in the Mi Band 5 is 50% more accurate than the last version. I can believe that as I've checked the reading a few times against other smartwatches I know tobe very accurate and the reading is always the same. There's also no NFC, but that would be a big ask for a watch in this price range.
Considering the price of the Mi Band 5 I think it does an excellent job tracking health and fitness. It's not going to match up to larger smartwatches but for basic health and fitness tracking it does a solid job.
back to menu ↑
Software
The operating system in the Mi Band 5 is basic but functional. There are various menus where you can access different features and you can change what is displayed on the home screen; for example you may choose to display your heart rate, or the weather, or step count, whatever is more important for you.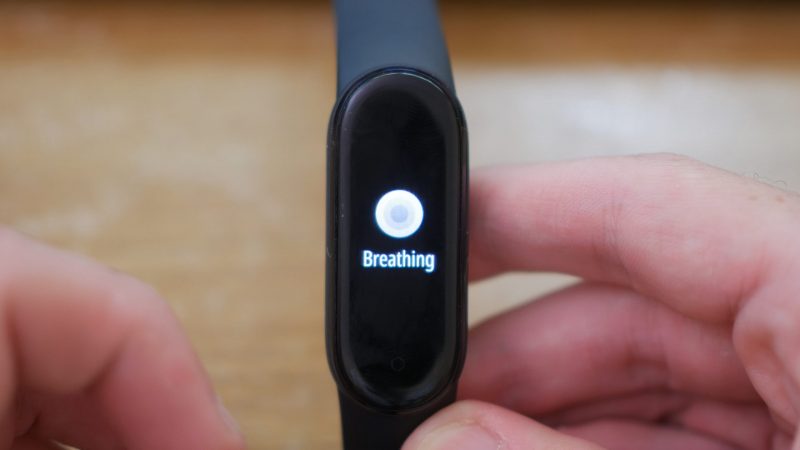 Mi Fit is the smartwatch app that accompanies the watch and it's here where you'll gain access to all your health and fitness data. Mi Fit is great as displaying your health information in a clear and easy to understand manor. You can see details about a specific workout, sleep, heart rate over 24 hour period and go into more detailed information if it's available.
If you use GPS then your workouts will be overlayed on a map and much more information will be provided. Overall the Mi Fit app is a great companion to the watch and I have no problems with it.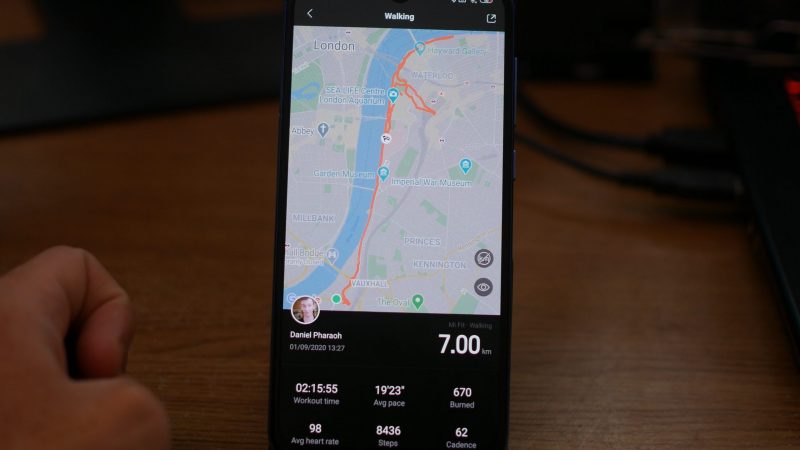 back to menu ↑
Other Features
As well as health and fitness tracking the Mi Band 5 has a few other tricks up its sleeve. A new feature is the ability to control your phones camera shutter with the watch; not mind blowing but could be useful. You can also control music and receive call and message alerts
The Mi Band 5 has a 5ATM waterproof rating so it will be fine to wear in the shower and even swim with. You also have access to other basic functions like a calandar, alarm, stopwatch and weather reports.
One of the best things about the Mi band 5 is the excellent battery life. A single 2 hour charge can last for up to 14 days, although a more realistic time frame is 10 days. As someone who can't stand charging devices all the time this is a huge plus.
back to menu ↑
Mi Band 5 Review: Summary
The Mi Band 5 represents the best value health and fitness tracker in its price range to date. Sure, it's not a huge upgrade from the previous version, but there are noticeable improvements in accuracy as well as a few extra features.
If you are looking for your first wrist based smart device and want to spend as little as possible while maintaining quality, the Mi Band 5 is the way to go. Ditto if you have a device that's a few years old and you need an upgrade. The one thing letting it down is the lack of internal GPS, but for many that won't be an issue. You'll also have to spend a bit more if you want that feature in a different watch.
It's basic, but it works and doesn't look too bad doing it. For the price of 9 cups of coffee there's not much to complain about.
back to menu ↑
Where to Buy
The cheapest place to buy the Mi Band 5 is Gearbest.com which ships to over 100 countries. Shipping will take longer but this is usually the cheapest place to buy the watch.
Buy Now
Mi Band 5 Review
The Mi Band 5 is the best low budget fitness band ever. It's not a huge upgrade on the previous version but it adds some new features and a better screen.
PROS
Very cheap
Accurate heart rate sensor
Larger screen
15 day battery life
CONS
No GPS
Cheap looking strap
Summary
Reviewer
Review Date
Reviewed Item
Author Rating




Product Name
Check out my latest video!