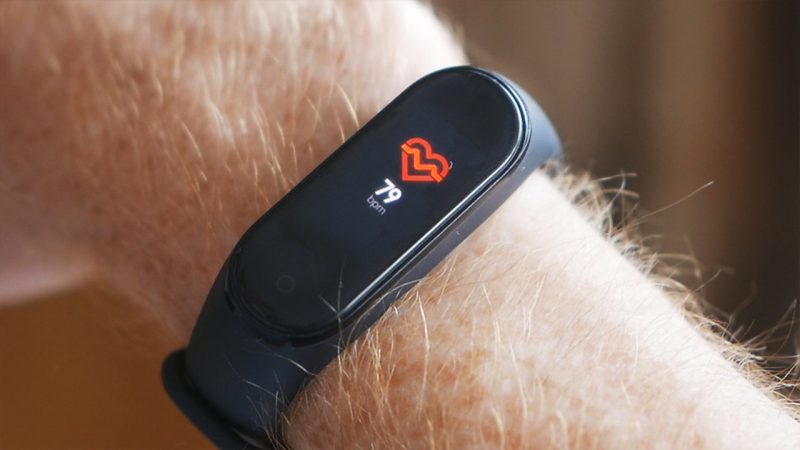 The Mi Band 4 is the best value Xiaomi product I've ever used – and I've owned a few. This fourth generation fitness band represents a huge upgrade from the previous version which was last years best selling wearable product. The success of the Mi band range boils down to its simple design, excellent tracking features and low, and I mean LOW, price. In this review of the Mi Band 4 I'll be taking you through all its features and my experience with using it over the last few weeks.
Mi Band 4 Review
The Mi Band 4 is a super cheap fitness band with a bright new screen and excellent software. If you dont mind the lack of GPS then the Mi Band 4 is a serious contender for best value smart device ever.
PROS
Bright and colorful screen
Heart rate sensor
Versatile design
Very cheap
Excellent Battery Life
Music Control
Fully Waterproof
CONS
No GPS
Cheap feeling strap
Mi Band 4 Review
Specs
| Specs | Mi Band 4 |
| --- | --- |
| Screen Size | 0.95 inch color OLED display |
| Screen Resolution | 120 x 240 |
| Battery | 135 mAh |
| Sensors | New Heart Rate Sensor, Accelerometer, NFC (China Only), Bluetooth 5.0 |
| Tracking | Steps, Distance, Calories, Sleep Tracking, Heart Rate |
| Weight | 20 g |
| Size | 17.9 x 46.9 x 12mm |
| Waterproof | 50m |
| Replaceable Strap | Yes |
| Price | Check on Gearbest.com |
back to menu ↑
Design and Screen
The Mi Band 4 is the first in the series to pay serious attention to the design and look of the device. Previous versions of the Mi Band were often fairly basic looking and somewhat behind the competition. The Mi Band 4 is certainly the best looking Mi Band yet and it's also the largest, featuring an AMOLED screen just shy of 1 inch with a resolution od 120 x 240.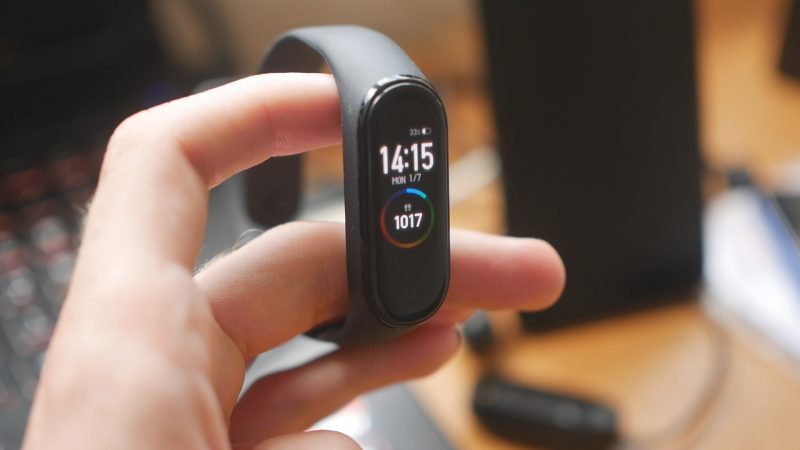 Considering the Mi Band 3 couldn't even display color, this is a huge upgrade. The screen is bright, clear and able to display plenty of information. You may struggle to see the screen clearly in direct sunlight, but turning up the brightness to max helps somewhat in this regard.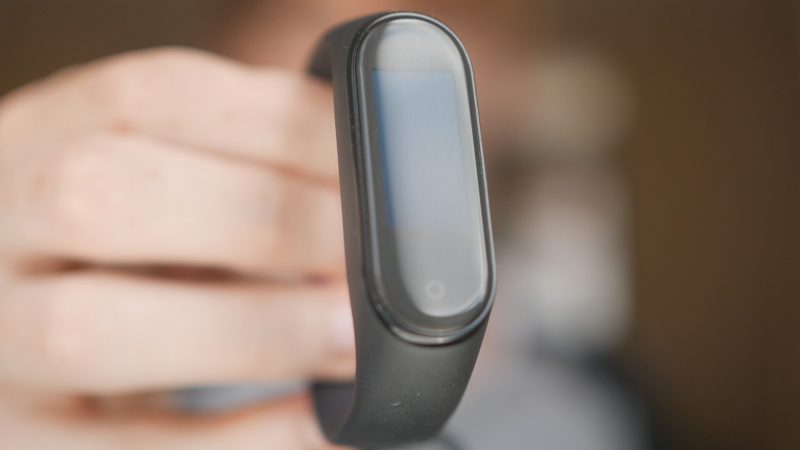 The oblong body of the Mi Band 4 slots into the silicone strap. To be honest I'm the a big fan of the strap, it feels and looks cheap. The good thing about the Mi Band is that these straps are easily replaceable and there are endless designs available for a low price. The Mi band is super light and completely suited for wearing all day, this ensures you get the most out of all the tracking that it does for you.
back to menu ↑
Tracking Features
The main reason you'll want to get the Mi Band 4 is to track your health and fitness, that's it's main function  and it does it pretty well. The tiny device features a heart rate monitor and accelerometer. With these sensors the Mi Band 4 can track heart rate, sleep quality, step count, exercise intensity and distance travelled.  That's quite a lot of tracking for a sub $40 watch. Yes, the M iabdn does lack some sensors found in smart watches, but you'll be paying much more for these.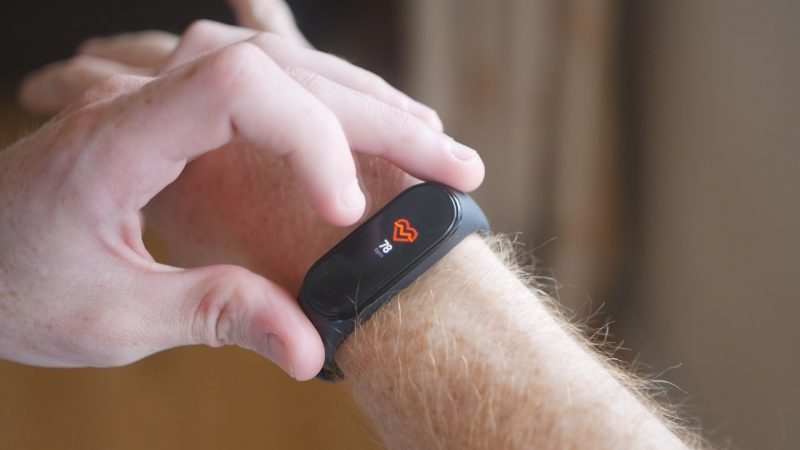 Accuracy has been improved compared to previous versions with the heart rate sensor in particular offering more frequent and accurate readings. Of course no wrist based hear rate sensor will give you 100% accuracy but it does a decent job. I've found the step count to be more accurate than that of my phone and I feel I can trust the data the watch is collecting. If you want to track more intense workouts then the Mi band has pre-programmed tracking options in the watch including running, weight lifting and cycling.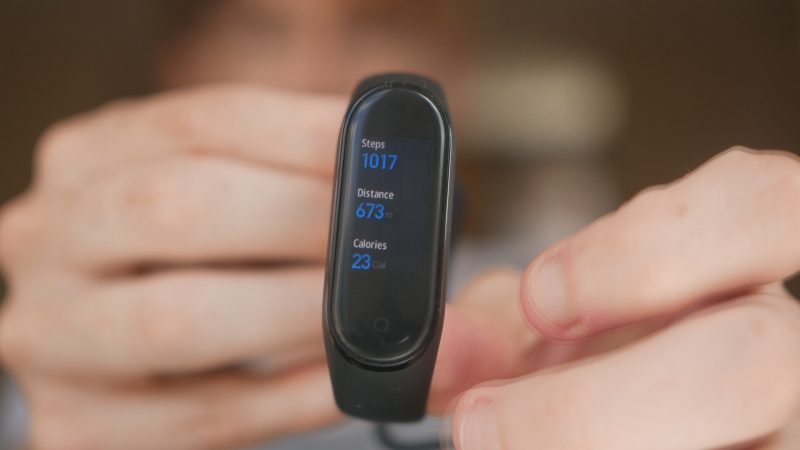 One sensor absent from the Mi Band 4 which I do miss is GPS, the lack of which means the watch need to remain connected to your phone to include location data. To be fair it is asking a lot for native GPS to be included in such a cheap fitness band but it would have been the icing on the cake.
The connection from watch to phone is achieved via Bluetooth 5.0, the latest and greatest version of Bluetooth which allows for a more reliable connection and lower battery consumption.
back to menu ↑
Notifications
Another great reason to wear a fitness band is that it allows you to somewhat untether yourself from your phone. As long as the Bluetooth connection is enabled your phone and app notifications will be delivered to your watch so you can keep track of your messages. I've not tried every app under the sun but I can confirm that Whatsapp, Facebook and Instagram messages can be displayed on the watch.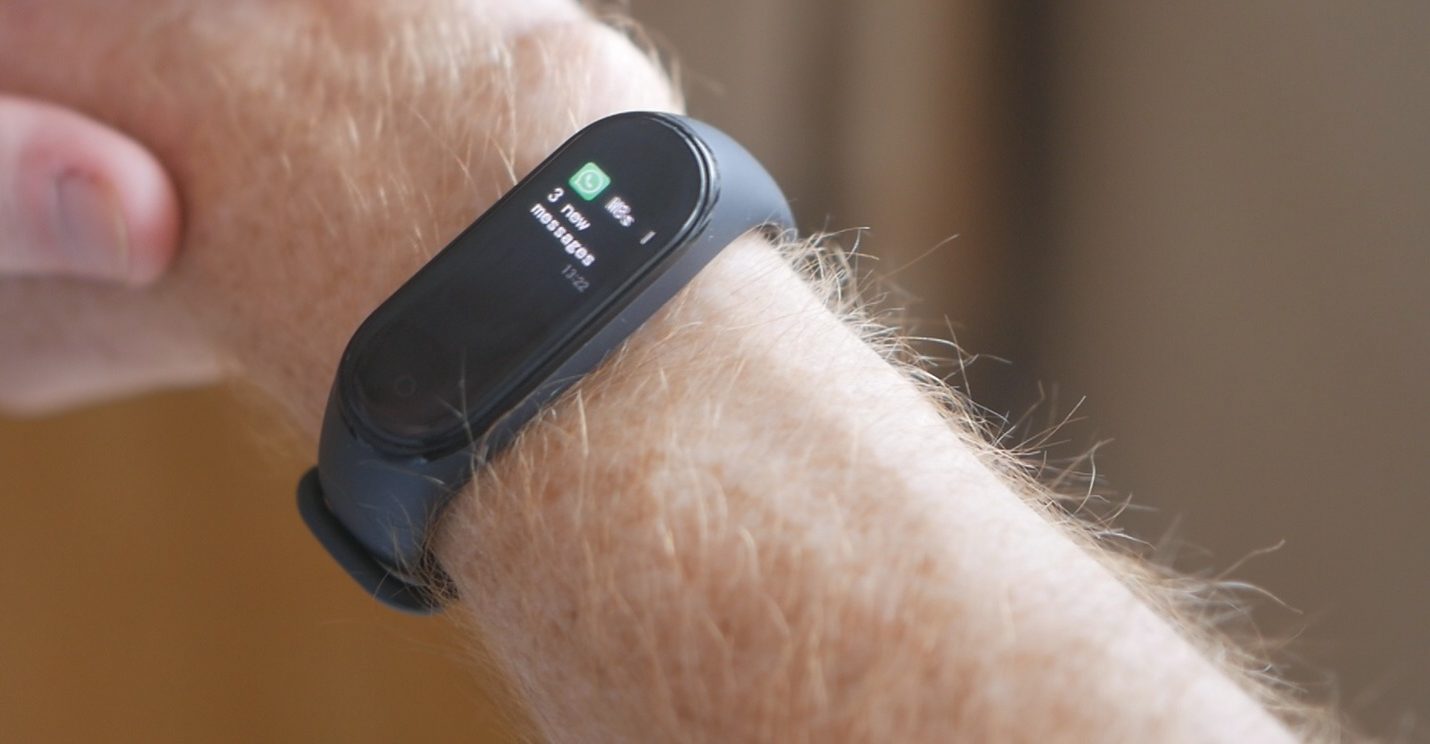 The screen is small and therefore not able to display entire messages, but the character limit is fairly high. Some app notifications may not work but could be added in future updates.
back to menu ↑
Mi Fit
An essential component of any smartwatch or smartband ecosystem is the app; this is where your tracking data is displayed and where you can manage your tracker settings. If the app is difficult to use of hard to navigate then it can really hamper the overall experience. Thankfully the Mi Fit app is well made and extremely user friendly.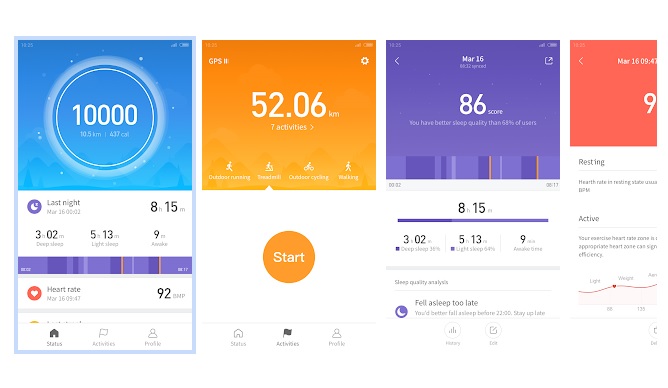 When paired with your Mi Band 4 the Mi Fit app displays whatever tracking data its collected over hours, days, weeks and even months. The app will work out your average fitness levels, resting heart rate and how well you are sleeping in general. The app displays the data is a variety of graphs which are easy to understand. Overall I've found the Mi Fit app to be one of the best features of any Xiaomi smart device and I have found nothing to complain about so far.
back to menu ↑
Other Features
Battery Life: No one likes it when they are walking about with piece of dead technology on their wrist; one of the common complaints with more advanced watches like the Apple Watch. With a very small battery of just 135 mAh you would expect the battery life to be pretty poor but in fact the Mi Band 4 can last up to two weeks on a single charge, possibly more if used conservatively.
Music Control: One of the most useful features of the Mi Band 4 – and a new one in the range – is the ability to control music from the watch itself. As long as your watch is connected to your phone you'll be able to control the playback and volume of music from players including Spotify. I love it because I no longer have to have my phone out to switch tracks.
Water Resistance: The Mi Band 4 is fully waterproof to 50m which means you can take it swimming and not worry about damage. In fact there are pre programmed swim workouts that your watch will track.
back to menu ↑
Verdict
As I said at the start of this review, the Mi band 4 represents unparalleled value for money but it does have its limitations. If you are looking for a smartwatch that can do everything an Apple Watch can do then this isn't the device for you. If you are looking for a a fitness tracker with some extra features not often found in such a low cost device then the Mi Band is the best option right now. At around $40 this is a truly low cost device but it retains both a premium feel and I've found it truly useful.
back to menu ↑
Availability
The Mi Band 4 is available to buy from Gearbest.com in the USA. You'll have to wait a while for shipping – around a week or so – but you'll get the English version of the device.
See Also: Mi Band 4 vs Mi Band 3