Looking for a great smartwatch but don't want to pay Apple Watch prices? There are plenty of awesome smartwatches that won't break the bank and still perform most, if not all, the popular smartwatch functions. In this post we are going to look at the best smartwatch under $200, some are even considerably under this number.
Best Smartwatch Under $200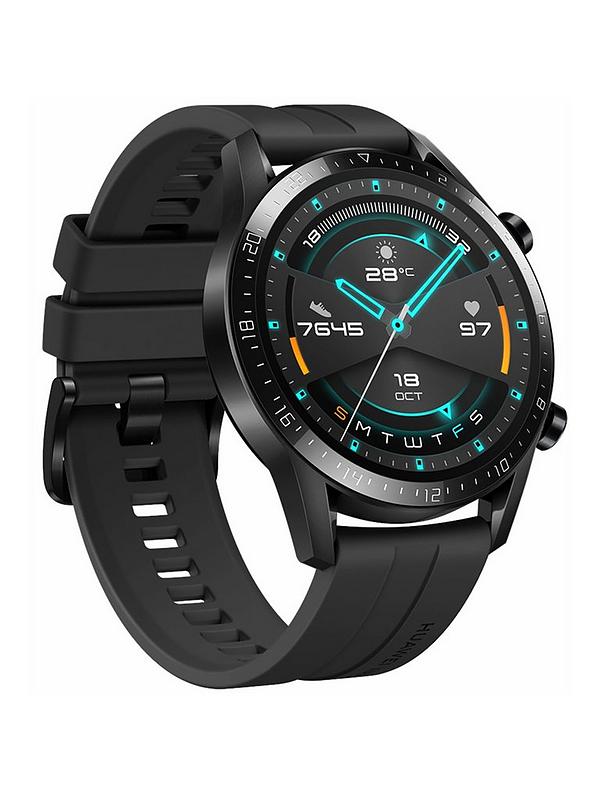 Huawei GT2 – Sp02, Heart Rate Tracker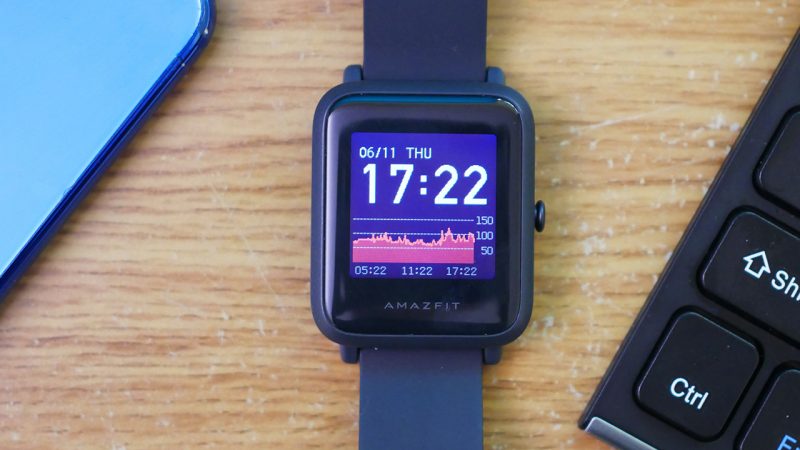 The Amazfit Bip S is a budget-friendly smartwatch that allows you to stay connected on to go. This smartwatch also tracks your all-day activity with a variety of sensors. Designed to withstand your everyday rough use, the 1.2'' always-on transflective display looks good on your wrist and weighs only 32g.
This lightweight smartwatch with both iOS and Android compatibility, IP68 water-resistance and super long-lasting 45 days of battery life makes it great for daily use. Straps made out of silicone are comfortable and soft yet so strong and durable. Plus, they are interchangeable so you can always choose the one that suits your style. The body is made of fairly basic plastic but for a sub-$100 you can't expect much better.
See Also: Amazfit Bip S vs Amazfit Bip
When it comes to notifications you'll receive calls, emails, weather alerts, and other reminders. Amazfit features GPS and GLONASS for positional tracking which is reasonably accurate considering the price of the watch. The Bip S features an array of built in fitness tracking modes to help you exercise and achieve fitness goals and advanced metrics let you keep track of your progress.
This is a great little smartwatch with tracking features that you'll find in watches 3x the price. You'll find the screen and body to be quite basic in comparison but otherwise I can't help but recommend the Bip S.
Pros
45 days of battery life
24/7 heart rate
Sleep tracker; PPG sensors
Built-in GPS and Bluetooth
Cons
Buy Now
back to menu ↑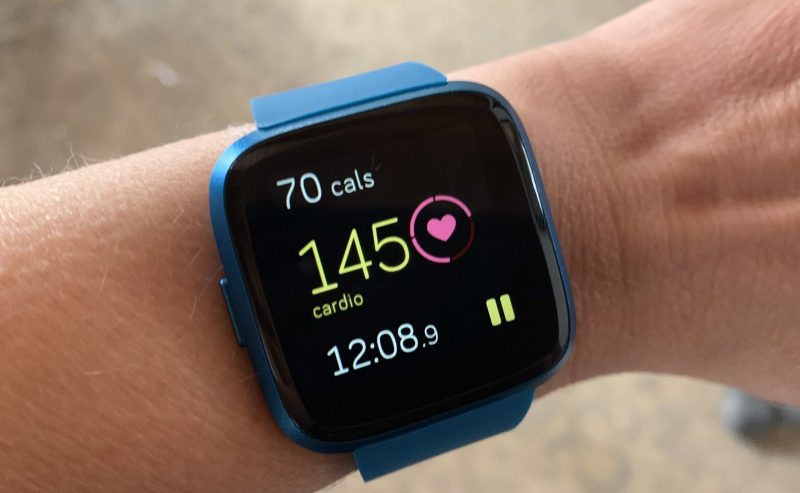 Fitbit Versa Lite is a fashionable watch from one of the most popular smartwatch companies, it has an array of smart features and is particularly good value for money considering its only $150.
Versa Lite is constructed from aluminium, making it tough enough to survive intense workouts yet light, slim, and comfortable enough to be worn all day. The high-resolution 1.3'' display with Gorilla Glass 3 on the front, crisp graphics, and 1000 units amplified offers great visibility outdoors or in any lighting condition.
Customizable watch faces and interchangeable bands make it easy to choose and swap to what you like. It notifies by vibrating on your wrist, receive incoming calls, SMS, and other alerts. Unibody construction integrates Bluetooth, PPG heart rate sensors, 15+ modes of workout while minimizing leak paths, making  the Versa Lite water-resistant to 50M.  The biggest downside to the Vera Lite is the lack of internal GPS which means you'll have to connect to a smartphone if you want to track location.
Overall the Fitbit Lite is a great smartwatch for all those who want a mid-way between design, tracking ability and price.
Pros
24/7 heart rate monitoring
Stylish design
Sleep and activity tracking
High-resolution display
Long battery life
 Cons
Buy Now
back to menu ↑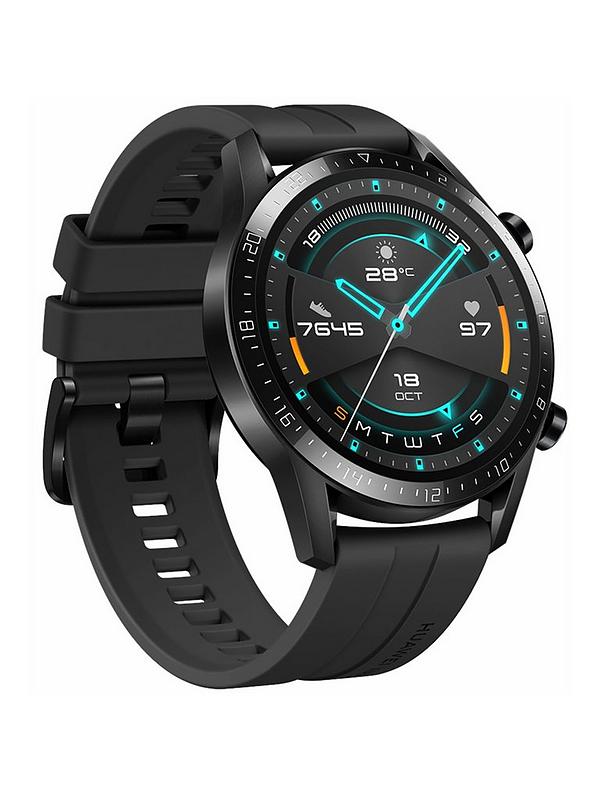 If you want a classic looking smartwatch that meets both functionality and style, then the Huawei GT2 is what you need. With the dust, scratch, and water-resistant design, the GT2 smartwatch allows you to keep 24/7 track of heart rate, step count, calories burned, distance covered, and stroke frequency. The top unique feature is the Sp02 tracker which can measure blood oxygen saturation level.
Sleep patterns can be tracked all night and even while napping throughout the day. The smart running coach, altitude barometer, 3D distance, and climb tracking, smart swimming mode, and multi-sport modes make Huawei GT a fitness tracker as well as a smartwatch.
Compatible to iOS and Android, you can pair watch with device for smart notifications which include incoming calls, messages, alarms, and reminders. Unlike most other smartwatches on this list the Gt2 comes with built in speakers and microphone so you can directly reply to calls and messages.
Huawei GT2 comes with integrated Bluetooth and the 3 satellite systems; GPS, GALILEO, and GLONASS which are close to 100% accurate. It features a classical stainless steel ultra-slim dial with 1.39 inches AMOLED full touchscreen display. Genuine leather straps offer a snug fit just above the wrist bone to ensure that heart rate and motion data are accurately monitored.  The long battery life of 2 weeks means you don't have to charge it every week.
The GT2 is the most expensive option in this list and is only just under $200 on Amazon, but it make sup for it with its large range of features and attractive, bright screen.
Pros
24/7 real-time heart rate monitoring
3 satellite systems
Health data tracking
Waterproof up to 5M
Large, Colorful Screen
Cons
Most Expensive Option
Thick
Buy Now
back to menu ↑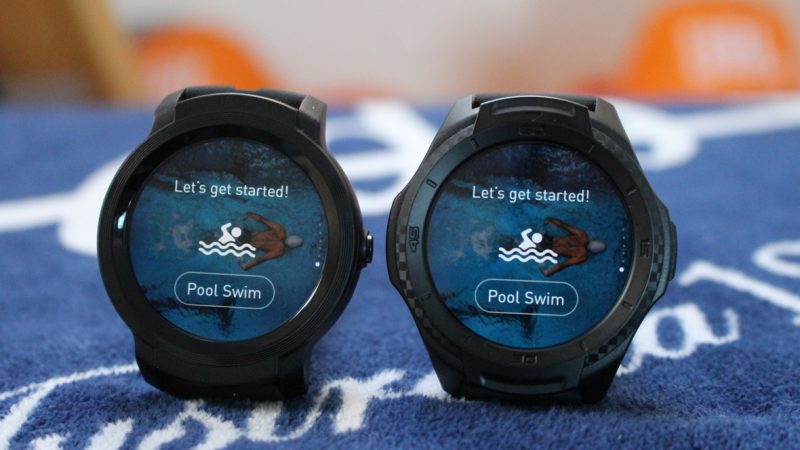 Ticwatch E2 is your all-day fitness companion;  loaded with many smart and fitness features. This exceptionally versatile smartwatch and fitness tracker is comfortable and lightweight to wear all day. The E2 features a Qualcomm Snapdragon 2100 processor and Googles Wear OS with a variety of extra apps to download.
With several sports modes included the Ticwatch tracks your activity, calories burned, steps taken, distance travelled, and sleep. A heart rate monitor with a PPG sensor tracks heart rate continuously with a good level of accuracy.
This is a stylish budget smartwatch with an intriguing design that features 1.39'' AMOLED touchscreen and lightweight poly-carbonate body casing. Thanks to a 415 mAh battery, the watch can last for 2-3 days on a single charge. While not the best it still beats the 1 day battery life of the Apple Watch
The 5ATM waterproof construction allows you to wear an E2 watch while swimming or showering and built-in GPS allows for easy navigation and distance tracking. Wear OS allows you to expand your watch functionality with music players, maps, Uber and many more.
Pros
24-hour heart rate tracking
5ATM waterproof
3 built-in Navigation systems
Multiple sport modes
Cons
Short battery life
Bulky design
Buy Now
back to menu ↑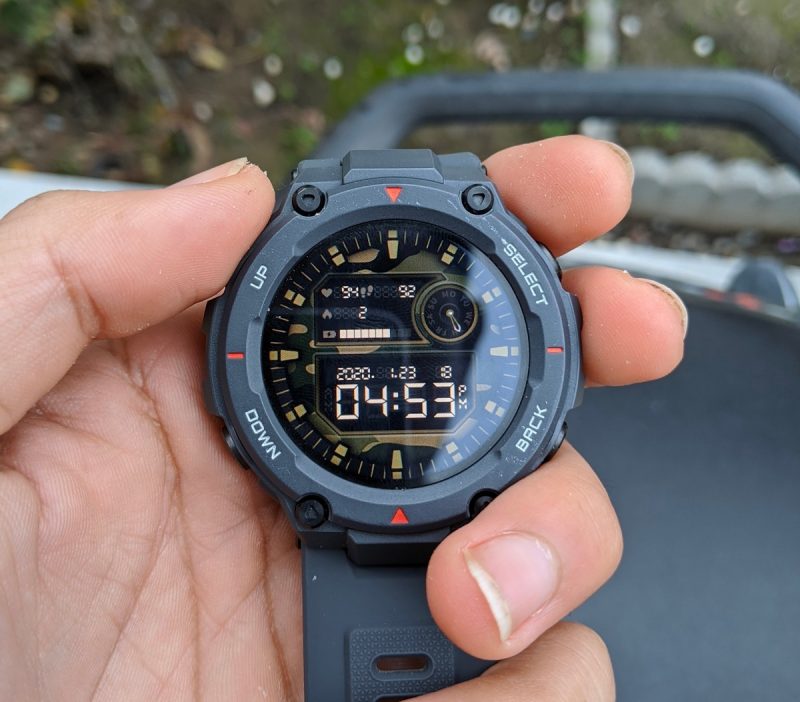 Amazfit T-Rex is an affordable, rugged and attractive watch that accurately tracks your workouts and offers advanced smartwatch features. Thanks to the 12 military-grade certifications, the watch is robust and resistant to bumps and scrapes. The T-Rex has a stylish full metal unibody and a simple fine-detailing bezel with metal buttons on the side. An 1.3" AMOLED color display with full touch operation, a 2.5D curved tempered scratch-resistant screen as well as vibration-damping corners make it a durable watch.
Accurately track your everyday activity performance with stats like steps, speed, distance, and calories burned. It's equipped with 14 sport modes which include walking, running, riding, skipping, skiing, badminton, cycling, trekking, and more. Not just a sports tracker, the T-Rex  offers 24/7 automatic real-time heart rate monitoring with a high-precision PPG optical sensor. Some health management features include sleep tracker pedometer and sedentary reminder. 5M water-resistance rating means the watch is swim and shower-proof.
Compatible with iOS and Android via Bluetooth, the battery lasts up to 20 days on a single charge. Connection to your phone offers real-time notifications for calls, messages, alerts, alarms, weather updates, and social media. Like most Amazfit smartwatches the T-Rex features built in GPS for accurate location tracknig on the go.
Pros
Ultra-long battery life
24-hour heart rate monitoring
Rugged body
14 sport modes
5M waterproof
Cons
Buy Now
back to menu ↑
Best Smartwatch Under $200 – Summary
While there are dozens of smartwatches under $200 these are my favourite ones available right now. The most powerful smartwatch in this list is the Huawei GT2 thanks to its large AMOLED screen and SpO2 tracker, however it is also the most expensive. If you are looking for something even cheaper  then the Amazfit Bip S is excellent value and only around $100.
Check out my latest video!