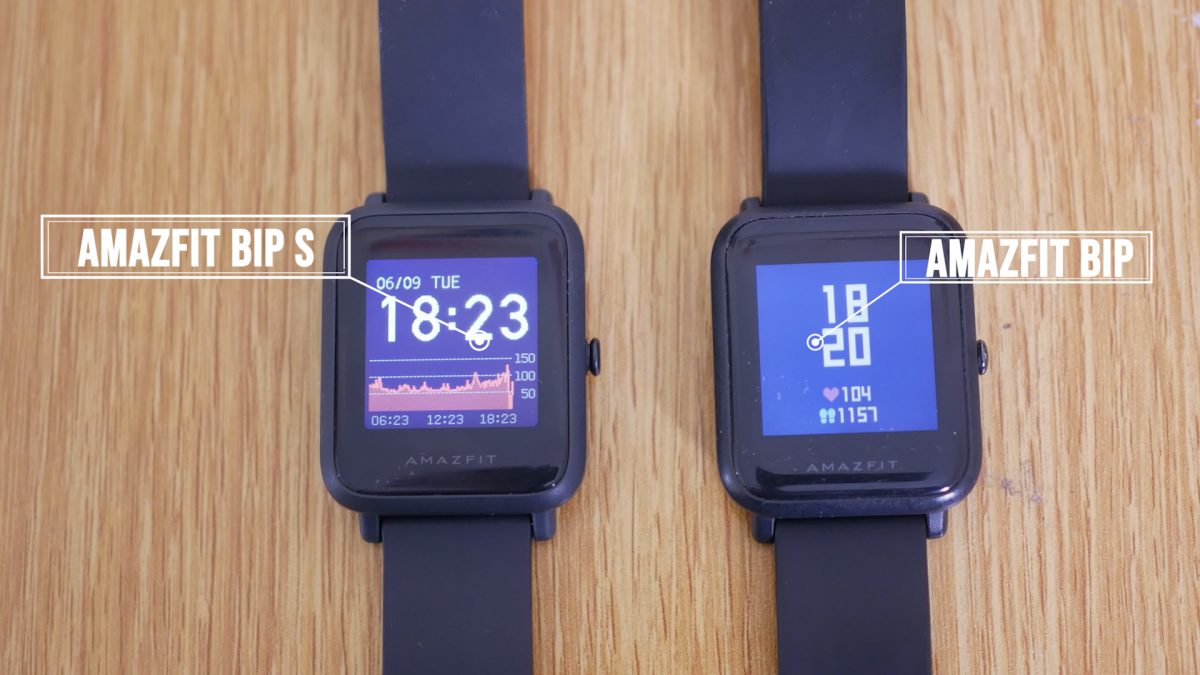 If you are looking for a cheap, feature packed, long lasting smartwatch then you can't go wrong with the Amazfit Bip. The tiny powerhouse of a watch is able to track your heart rate, location (via GPS/GLONASS), steps & calorie burn.
The Bip become one of the best selling smartwatches ever because of its low price and impressive specs. The Bip S is the official update to the original Bip and brings with it several key updates. Is is worth upgrading or has the Bip line of smartwatches had its day? Let's compare the Amazfit Bip and Bip S and see exactly what's changed.
Specs
Amazfit Bip S
Amazfit Bip
Image
Screen
Screen Size
1.28″
1.28″
Screen Type
Transflective Color Always on Display
Reflective color display
Resolution
172 X 172 pixels
172 X 172 pixels
Body
Size
42 x 35.3 x 11.4mm
39.4 x 34.1 x 9.5 mm
Weight
31 g
32g
Materials
Polycarbonate
Polycarbonate
Sensors
Heart Rate Sensor
(upgraded)
Accelerometer
Infrared
Barometric Sensor
ECG
Connectivity
GPS
Bluetooth
Microphone
Speaker
Misc
Waterproof
5ATM (50m)
IP68 (1.5m)
Battery Life
200mAh (40 days max)
190mAh (45 days max)
Notifications
Display Phone Messages & Calls
Display Phone Messages & Calls
Review
Where to Buy
Gearbest
Amazon
Amazfit Bip S vs Amazfit Bip
Design
The design  of the Bip and Bip S are nearly identical, in fact from a distance you would not notice any difference. The changes between the two watches is subtle with the Bip S a few millimetres thicker and featuring a slightly different color body. The exact measurements of the Bip S is 42 x 35.3 x 11.4 versus the 39.4 x 34.1 x 9.5 mm of Bip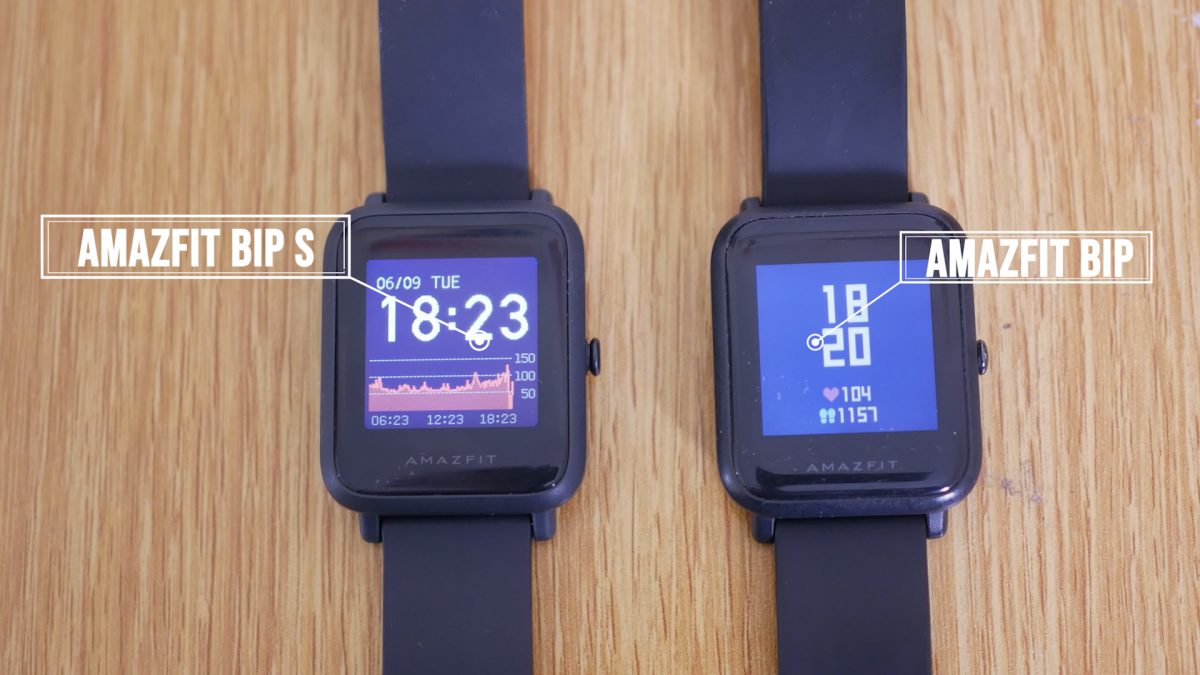 For both watches the square design is clearly inspired by the Apple Watch, a simple but pleasant looking design. Most importantly both watches are comfortable and light which makes it possible to wear either watch for long periods of time. Both watches also work great in direct sunlight and feature an Always On option.
Each watch comes with a simple rubber strap which doesn't look great but is comfortable to wear. The strap is replaceable for both versions of the Bip.
The Bip S has also been redesigned to be waterproof up to 50m, allowing for swimmers to track workouts, whereas the original Bip is just splash-proof.
back to menu ↑
Screen
The first major change in the Bip S compared to the Bip is the screen technology used.  The original Bip features a basic reflective color display whereas the Bip S has been upgraded with a transflective color display.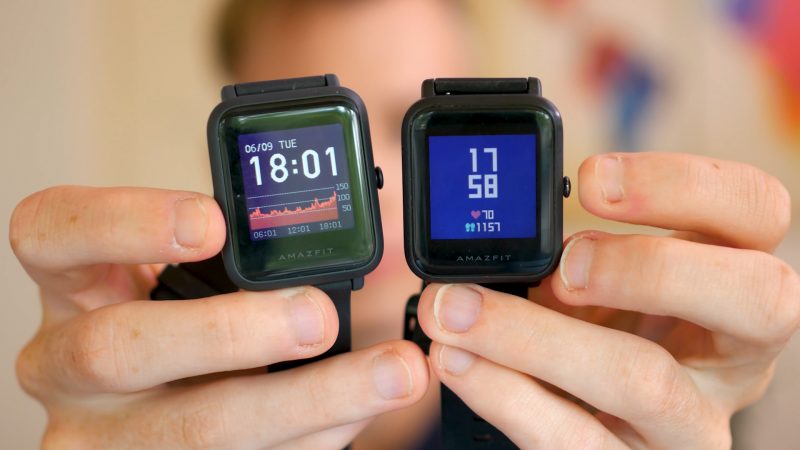 While each screen is the same size, shape and resolution, the Bip S display is brighter, more colorful and clearer. The original Bip screen has a blue tinge when activated which affects all other colors that is displays.
The Bip S screen is also more responsive to touch with smoother transitions between menu screens.
back to menu ↑
Sensors & Tracking
Both the Amazfit Bip and Bip S are primarily fitness trackers and most of the features in both watches are geared around this. Both watches feature the same number of sensors and abilities. A heart rate monitor, accelerometer and GPS make up the tracking sensors on both watches.
While the number of sensors are the same, the Bip S features upgraded technology. The upgraded PPG Bio-Tracking heart rate sensor in the Bip S is capable of 98% accuracy, a significant improvement on the original Bip. I also find the GPS to be more accurate and faster to begin tracking location.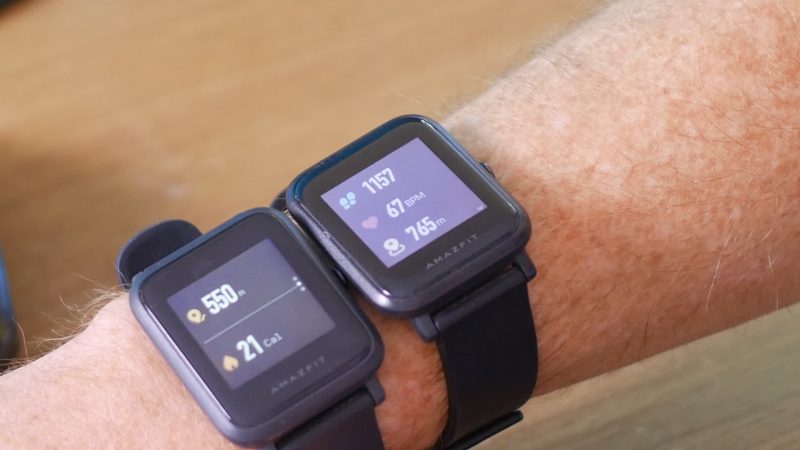 If you are looking for the most accurate fitness tracker then the Bip S is clearly the superior choice, however some newer (albeit more expensive) smartwatches are being released with other sensors such as SP02 trackers.
You'll also find more built in tracking modes with the Bip S. Unlike "full" smartwatches the Bip and Bip S don't have access to an app store to expand functionality, so you are stuck with what the watch has pre-installed.
The Bip S features 11 sports modes which allows you to track different types of workouts from running, cycling, swimming, yoga and more. The original Bip has just 6 tracking modes.
back to menu ↑
Software
Both the Bip and Bip S use the Amazfit App to keep a connection to your smartphone and display more detailed health data. It's on the Amazfit App that you can view full workout tracking data and trends over days or weeks.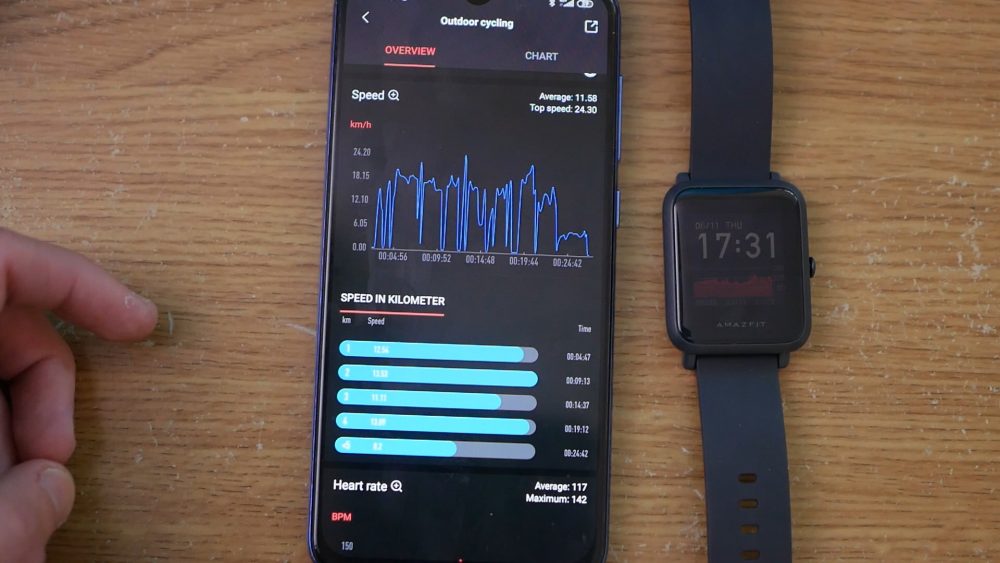 You can also view maps of workouts such as running and cycling with data such as speed, duration, intensity and heart rate. It's a great app for health tracking and works exactly the same with both watches.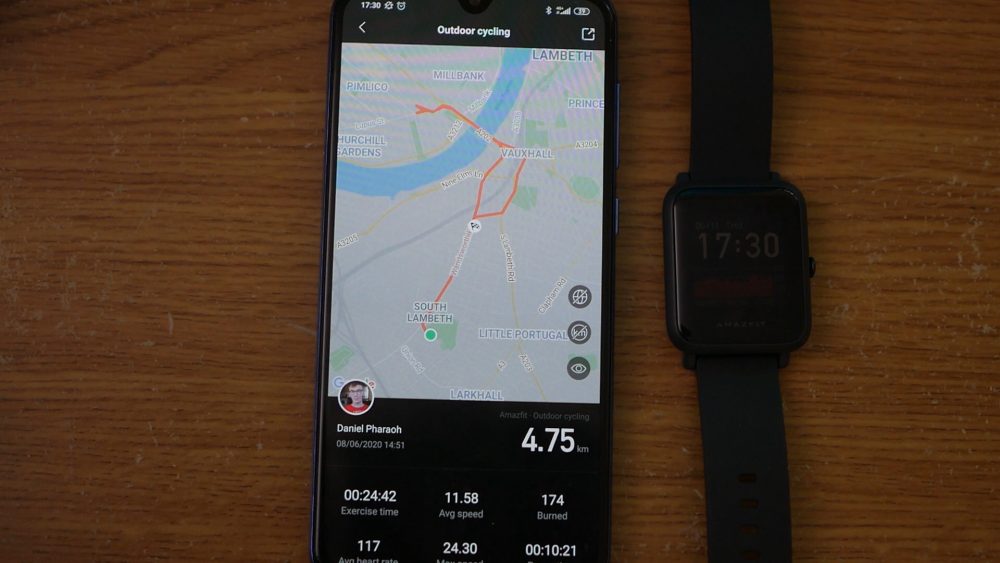 back to menu ↑
Other Features
Battery Life: Perhaps the most popular feature of the original Amazfit Bip is the long battery life; lasting up to 45 days on a single charge. Quite remarkable for any peice of modern technology. The upgraded Bip S can't quite match this but can manage 40 days on a single charge.
The battery life on both watches will be reduced if GPS is used, but in both cases these watches are some of the longest lasting on the market.
Notifications: When connected to the Amazfit App on your smartphone both the Bip and Bip S can display notifications, messages and caller ID which may allows you to somewhat untether yourself from your phone. Neither watch is able to reply to messages or take calls directly.
Smart Funtionality: Other smartwatch features are identicle on both watches and include music control, weather reports, alarms and even reminders.
back to menu ↑
Verdict
The Bip S is undoubtedly the better watch with upgraded sensors and screen; but this is hardly surprising given its supposed to be the sequel. The Bip S isn't a major upgrade however, and the differences between the two are subtle.
I would still recommend the Bip S given the more accurate tracking technology which makes it more future proof; the price difference between the two is only small making the Bip S even more appealing.
back to menu ↑
Where to Buy
The Bip is widely available on Amazon in most countries.
Buy on Amazon
The Bip S is available worldwide from Gearbest, which provides international shipping to most countries but with slower delivery.
Buy on Gearbest