Cheap fitness trackers are everywhere these days, and it's often hard to tell your Vivosmarts from your Honor Bands, yet one such device, the Mi Band 3 from Xiaomi, has stood out as one of the more attractive choices. They're a bit bigger than some, and perhaps shaped a bit more oddly than others, but there's no denying the Mi Band 3 offered quite a bit of health bang for not a lot of tech buck. It's a full-featured fitness tracker that has been a best seller since it was introduced last year, and so it's a no-brainer that Xiaomi would follow it up with a wearable sequel, the Mi Band 4.
Mi Band 4 vs Mi band 3
Specs Comparison
| Specs | Mi Band 4 | Mi Band 3 |
| --- | --- | --- |
| Screen Size | 0.95 inch color OLED display |  0.78 inch capacitive OLED display |
| Screen Resolution | 120 x 240 | 126 x 80 |
| Battery | 135 mAh | 110 mAh (20 days) |
| Sensors | New Heart Rate Sensor, Accelerometer, NFC (China Only), Bluetooth 5.0 | Heart Rate Sensor, Accelerometer, NFC |
| Tracking | Steps, Distance, Calories, Sleep Tracking, Heart Rate | Steps, Distance, Calories, Sleep Tracking, Heart Rate |
| Weight | 20 g | 20 g |
| Size | 17.9 x 46.9 x 12mm | 17.9 x 46.9 x 12mm |
| Waterproof | 50m | 50m |
| Replaceable Strap | Yes | Yes |
| Price | Check on Gearbest.com | Check on Gearbest.com |
back to menu ↑
What's New?
The not-so-imaginatively-named Mi Band 4 is available now available and in China the thing is already a blockbuster; in its first eight days of retail availability the device sold over a million units. For those doing the math at home that's a whole lot. Not bad for wrist-borne biometric tracker that most people have never heard of. The most apparent differences between the Mi Band 4 and Mi Band 3 are its screen and overall design, however there are also some differing features under the hood.
back to menu ↑
Screen
It's not hard to imagine where the device's success comes from; as mentioned the Mi Band 3 was a blockbuster, and the 4 takes all of its best-loved features and cranks them up another notch. Gone, for example, is the tiny monochrome screen, replaced by a 120 x 240px full-color version, a first for this line of wearables.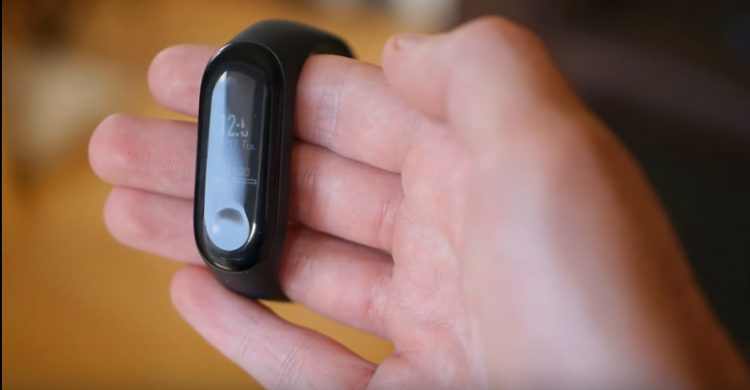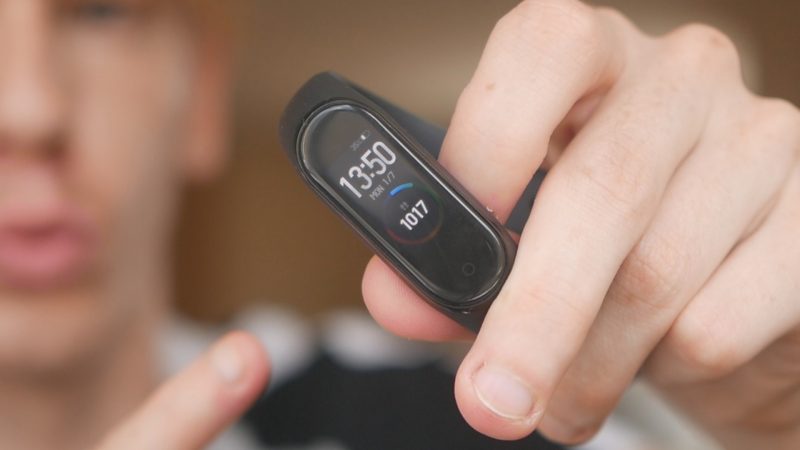 It's a bit larger than its predecessor's, but still in the range that most would consider "small." That, and it's also OLED, meaning it should be crisp and readable in most light. It's still light-weight and promises a battery life of more than a half-month. That's impressive, especially when compared to some of the more full-featured smartwatches. The new screen technology allows the Mi Band 4 to display more complicated icons and is in general more attractive to look at.
back to menu ↑
Tracking Features
Like the Mi Band 3, the 4 has the usual sensors to track heart rate, steps taken, as well as other activities like cycling. The 4, though, adds detailed swimming tracking via a six-axis sensor which can give different results for different strokes, say the backstroke or butterfly. This makes it a very attractive wearable for the swim crowd. It's 50m water resistance helps, too; it lives in a silicone band, which can easily be switched out for another to match whatever passes for style at your local pool.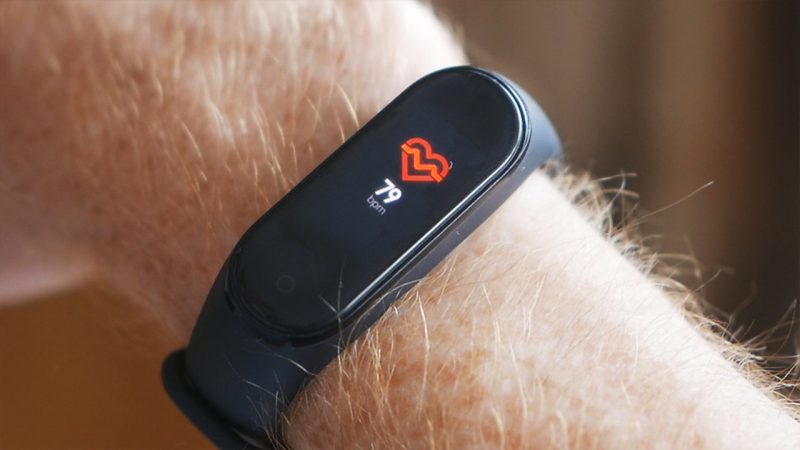 Fitness wearables do more than just track activity, of course, and the Mi Band 4, like the 3 before it, features several non-exercise related features. The usual's are all here: Phone call alerts with basic call info, quick notes from messaging apps like Skype, and basic controls for music players (including Spotify).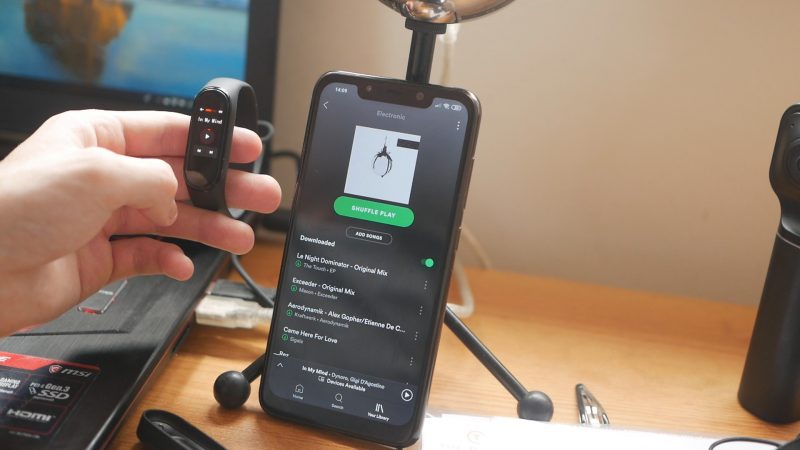 An upgrade to Bluetooth 5.0 means that the Mi band 4 has a faster and more reliable connection than the older version used in the Mi Band 3.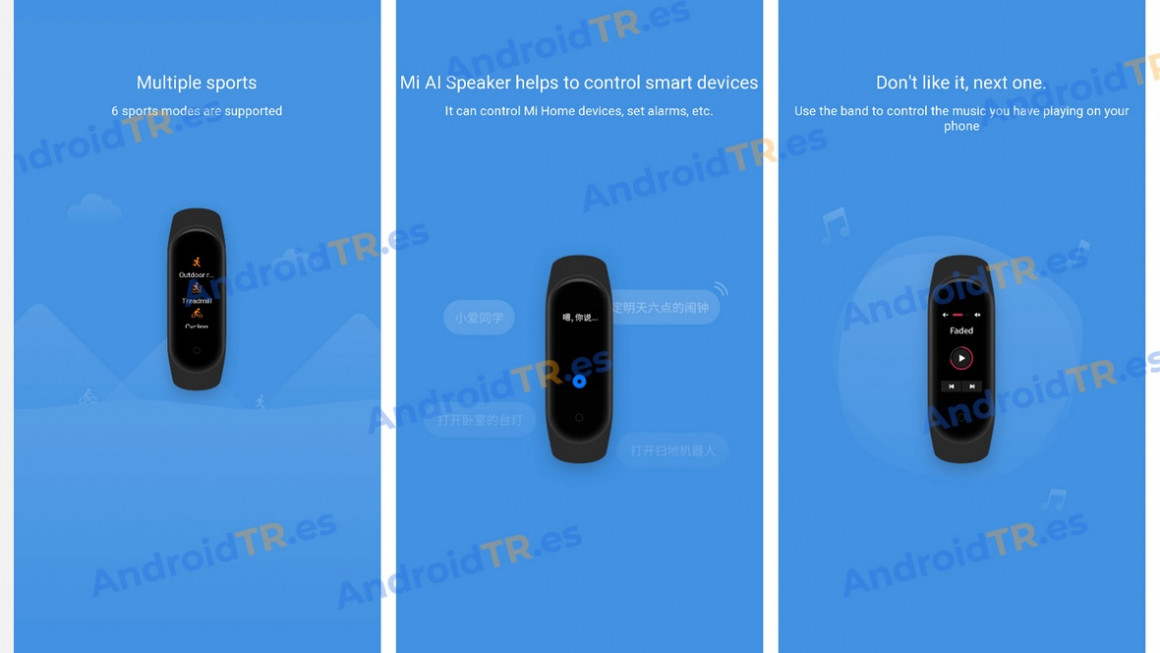 Unlike some other trackers, the Mi Band 4 does not include a GPS tracker as some may have hoped but can use the GPS data from your phone. It does, though, feature a tracker to help keep track of sleep patterns. That's not at all within the device's core features group, so for those who rely on that kind of data to keep up with their health, it may not be an optimal choice. But as far as it being part of a suite of features, as it is in this device, it helps a user to round out a more complete health picture, which is exactly what these type of low-priced trackers are meant to do. The Mi band 4 is also small enough to wear comfortably while sleeping unlike many other larger watches. Overall the tracking hardware in the Mi Band 4 are more advanced and accurate than the previous version.
back to menu ↑
Other Features:
Battery Life: The Mi Band 3 had an excellent battery life of up to 20 days on a single charge and thankfully the Mi Band 4 retains a similar capacity. The 4 will actually feature a larger battery but with the added duty of powering the color screen the actually battery life will remain similar.
NFC: Like the Mi Band 3 the Mi Band 4 will have an NCF version, however this is likely to only be available in China.
Software: Both the Mi Band 3 and Mi Band 4 connect to the Mi Fit app to display health and fitness data. The app itself is easy to use and the multitude of graphs allow you to easily visualize your data. While it's not the absolute best fitness app in the world it's a great companion to your watch.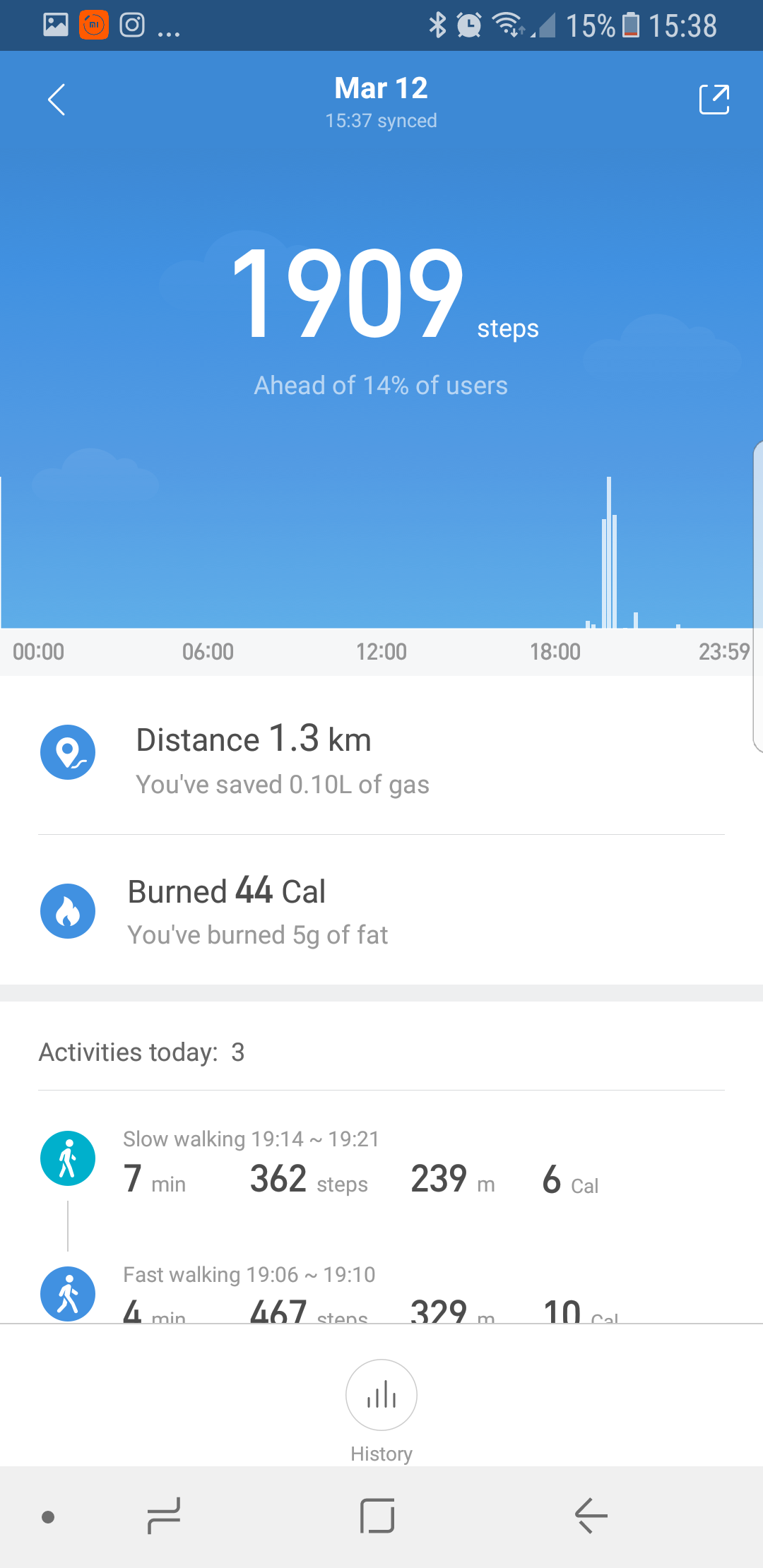 back to menu ↑
Summary
The Mi Band 3 is still a fantastic choice in the weird market that is cheap fitness wearables, but it seems clear that the Mi Band 4 was developed for the sole purpose of replacing that popular device rather than being created to compliment it. The $45USD/£35 Mi Band 4 sits at a great price point for such a tracker: It's feature-rich enough to justify spending a little bit of cash on one without experiencing the feeling of being ripped off, but it's also cheap enough that one might be able to pick one up on a whim at the local retailer, also without any feelings of regret.
But, importantly, it's also at the price range that it will be very attractive to users of the Mi Band 3, and given how many of them there are, it isn't too hard to imagine this more mature version of the Mi Band selling just as well, if not better, than the one it's replacing.

Xiaomi Mi Band 4
The most advanced Xiaomi smartband with a full color screen and advanced heart rate tracking
Check out my latest video!