Smartwatches are becoming ever more smarter. The latest trend for newer smartwatches is to track Sp02 using a pulse oximeter, also known as blood oxygen saturation. Doctors monitor  Sp02 for various medical conditions however it can also be an indication of fitness and general health. While smartwatches can't match up to medial instruments that can help us keep track of out health and fitness.
In this post we'll be taking a look at the latest smartwatches that feature Sp02 trackers along with their other features.
Best Smartwatches That Track Sp02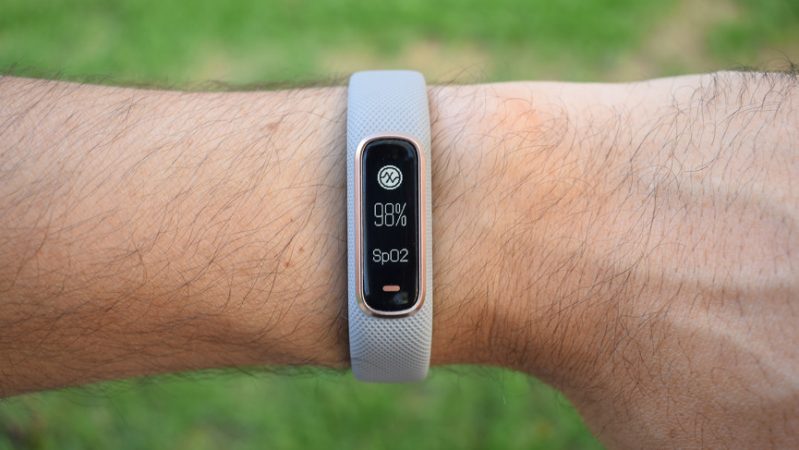 Key specs
Pulse Ox
Heart rate tracker
Full-featured activity tracker
5 ATM water-proof
In-built GPS
Garmin vivosmart 4 is a stylish, sleek, and slim smartwatch that comes with some of the latest health and wellness monitoring features including a Pulse Ox sensor for a healthy lifestyle. The built-in wrist pulse oximeter  uses light beams to optically gauge the body's current oxygen level.
The estimated SpO2 reading is measured either with 'spot-check' while you're sitting still or you can use the Garmin App to monitor during sleep. The Vo2 max easily monitors heart and breathing rates and is great for more advanced fitness tracking.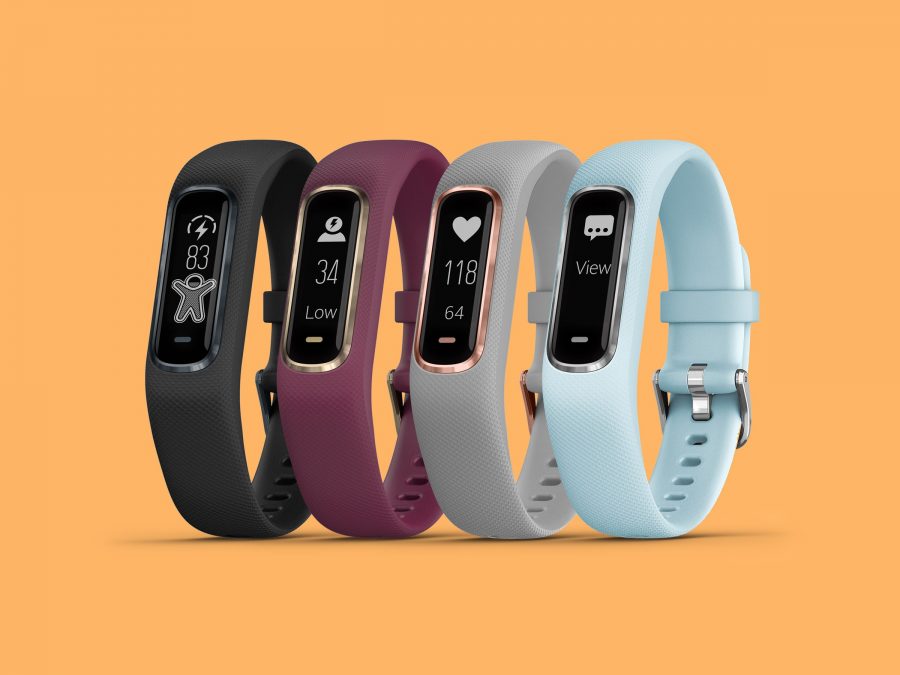 Very slim, sleek, yet fashionable and stylish, this smart wristband comes in multiple colors with metal trim around the display. For easy visibility under sunlight, the display is bright and auto-adjusts to different light levels. Thanks to the water-resistance of 5 ATM, the vivosmart 4 is shower and swim-friendly. Double-tapping the touch screen lights up the device to save energy.
Scrolling the widget loop lets you see the watch face, steps, floors climbed, intensity minutes, music controls, smart notifications, weather, stress, heart rate, and body battery monitor which measures your readiness for activity based on stress, sleep, and other factors.
Pros
Fast and accurate
Monitors Sp02 and sleep stages
Great battery life
Stylish slim design
Cons
Check Price on Amazon
back to menu ↑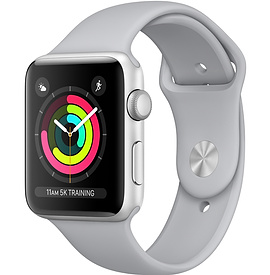 Key specs                      
Built-in GPA and compass
ECG sensor app for heart rate tracking
Dual-core processor (64-bit)
50M water-resistance
Apple watches series 5 does double duty as smartwatch and fitness tracker. It comes with a larger OLED touchscreen that has an always-on display with variable screen refresh rates using less power. The watch features a dual-core fast 64-bit processor chip, noise meter, and has 18 hours of battery life. With access to Apple's App Store the Series 5 can download thr most smartwatch ready third party apps.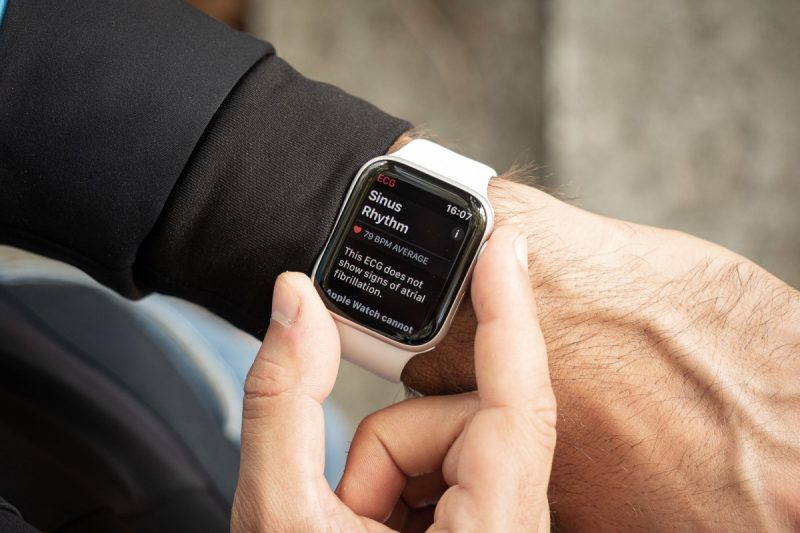 Apple's activity rings tracks your workouts and general health. Thanks to the optical heart and pulse oximeter sensor, your heart rhythm is continuously tracked. It has a built-in GPS so you don't need to take your phone with you when you're running. You have a choice of multiple casing materials, including; aluminium, ceramic, titanium, and stainless steel.
The series 5 only works with iOS so which is a deal breaker for Android users. If you own iPhone and can afford the $399 starting price, there's nothing better than Apple watch series 5.
Pros
Fast processor
Heart and blood oxygen monitor
Interchangeable straps
Built-in GPS
Large OLED screen
Cons
Expensive
iOS compatible only
Check Price on Amazon
back to menu ↑
Withings HR Sport Hybrid Smartwatch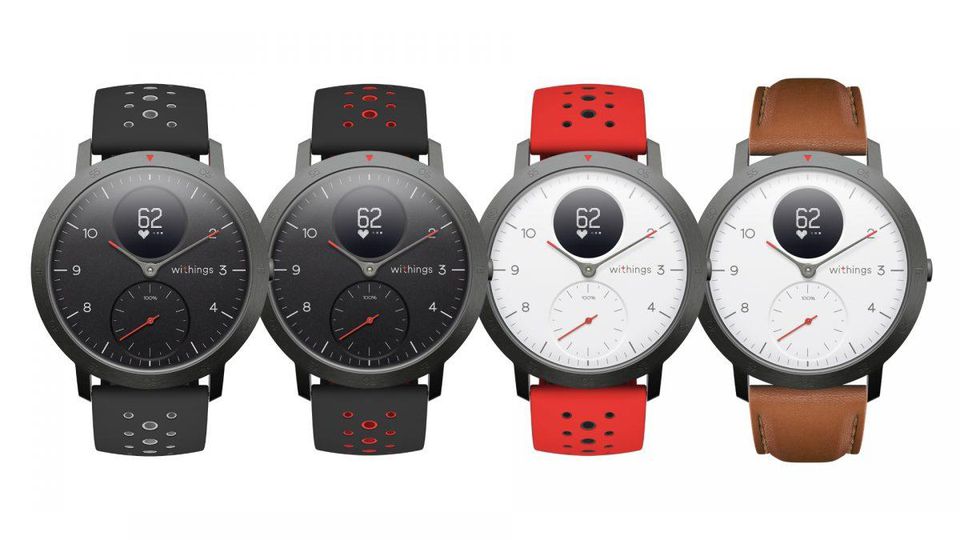 Key specs
Vo2 Max and SpO2 estimation sensor
50M waterproof
Stainless steel casing
25 days of battery life
Sleep monitoring
This Withings HR sport hybrid looks like a stylish regular analogue watch on the outside but has a variety of smartwatch tracking features. It constantly monitors heartbeat and lets you know if an irregular rhythm is detected and it can record medical-grade electrocardiograms at any time.
With an in-built SpO2 sensor, it continuously scans blood oxygen saturation to identify sleep apnea risk to ensure you breathe easily during sleep at night.
The watch features a tiny circular display to show real-time notifications so you stay connected. Other features on the watch include multi-sport tracking for over 30 different activities. To add style and elegance, the watch has a stainless steel casing, AMOLED screen with a Shapiro glass on top.
One of the best features of this watch is the amazing battery life of up to 25 days on a full charge. Another notable feature includes GPS tracking to map your route and calculate distance or pace.
Track your fitness and health in style with the clinically-tested Withings smartwatch. One downside is that it's comparatively pricier than other smartwatches but it's really worth it if you're a big fitness fan.
Pros
52 fitness level
Continuous scanning of heart rate
Durable casing
Long battery life
Cons
back to menu ↑
COULAX Smart Watch
Key specs
SpO2 sensor
24/7 Heart rate scanning
9 sports track modes
4'' touch screen
IP67 waterproof
A blood oxygen monitoring smartwatch for everyone to push their wellness further! The Coulax smartwatch comes with a built-in oximeter using the Pulse OX method that makes use of both red LED light and infrared light for more accurate monitoring and detection of blood oxygen. This keeps you updated on the saturation of blood oxygen during rest and exercise. Moreover, the continuous scanning of the heart rate helps optimize intensity during workouts. You also get the convenience of tracking your all-day calorie burned.
The Coulax smartwatch motivates you to stay on track with steps distance and active minutes at a glance. Compatible with Android and iOS, it connects to GPS for map tracking via YFit App and to view pace and distance while you run. Along with the SpO2 sensor, Coulax will automatically track your sleep.
A 1.4'' IPS LCD touchscreen with a resolution of 240 x 240 makes it easy-to-read and operate while 316L stainless steel design adds to dynamic display and durability. Plus, stay connected on the go with SMS and call alerts. 170mAh polymer battery offers up to 10 days of working time.
Though it is unisex wearable, the watch is available on black color only and comes with fixed straps; no interchangeable bands. Nonetheless, it's one of the most affordable and budget-friendly smartwatches with SpO2 tracking on the market.
Pros
Budget-friendly
Sleep monitoring
Call and SMS alerts
sleep tracking
Remote music control
Cons
No on-board GPS
only available in black color
back to menu ↑
Fitbit Versa 2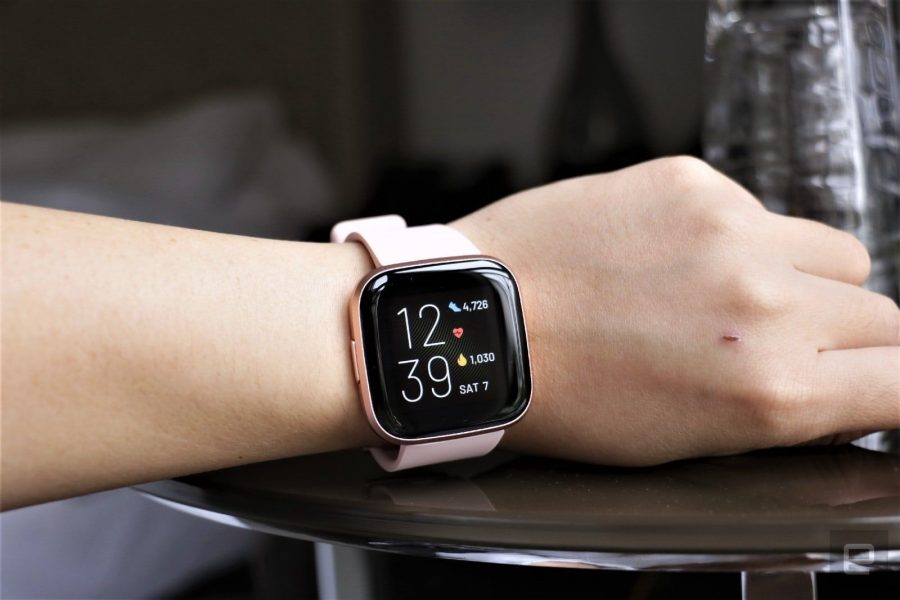 Key specs
Amazon Alexa built-in
Activity and sleep tracking
50M water-resistance
PUREPULSE heart rate
Oximeter
Fitbit Versa 2 is a great-looking smartwatch for all fitness freaks. It has a built-in heart rate monitor and a SpO2 to keep track of your blood oxygen saturation. Moreover, the Versa 2 tracks your sleep and activity with more than 15 exercise modes and waterproof to depths of 50M. Also, there is exercise coaching, stress tracking, and Bluetooth connectivity.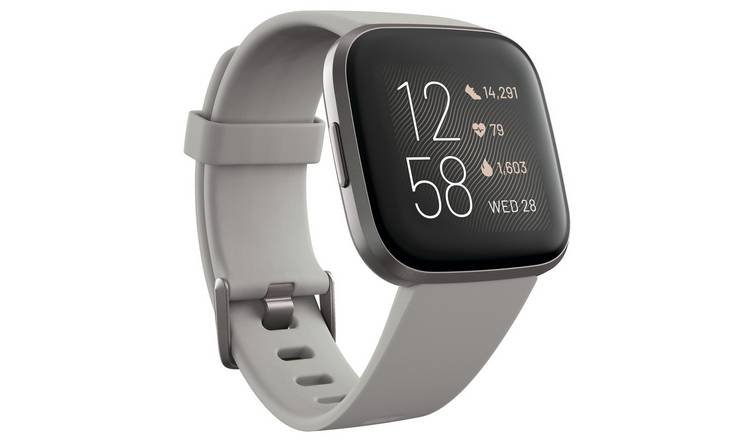 Although the watch doesn't feature onboard GPS and uses your phone's GPS, other amazing features are worthy of our money. When it comes to look and design, the Versa 2 rounded-edge dial is made from aerospace-grade aluminum casing with one side-button and corning gorilla glass 3 which makes it look sleek and stylish.
The large 1.4" AMOLED always-on display with 300 x 300-pixel resolution is bright and vivid making it perfect for reading under all lighting conditions. A new feature that makes Versa 2 special is an in-built microphone integrated with Amazon Alexa. Plus, there's a quick access menu and Spotify App.
Pros
24/7 heart rate monitoring
Large and bright display
Interchangeable straps
Microphone
Cons
No standalone GPS
The shorter battery life of 4 days
Check Price on Amazon
Check out my latest video!