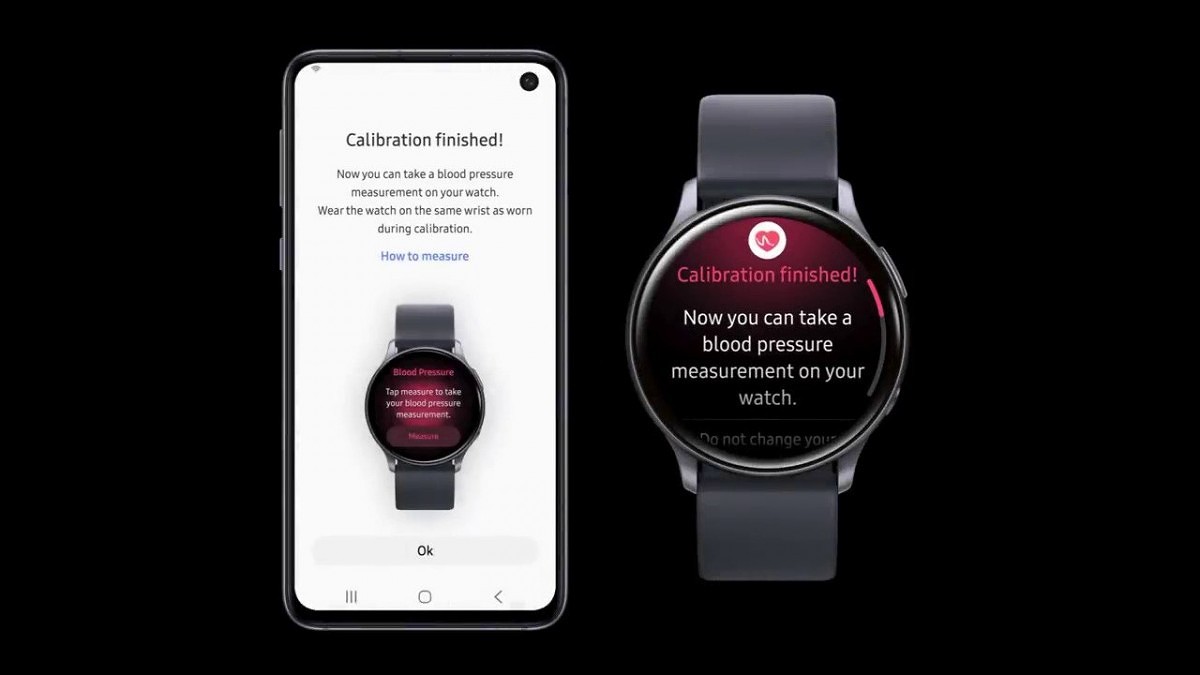 Smartwatches are adding more and more health tracking features as time goes on. Most allow you to track heart rate, distance travelled and steps taken. The latest crop of health focused smartwatches are beginning to add blood pressure tracking.
Blood pressure is an important health metric and being able to monitor it on the go would be great for anyone who likes to keep an eye on it. I should mention that most of the blood pressure monitoring features in the following smartwatches cannot replace a medical device and you should always confirm the readings with an actual blood pressure monitor if you are concerned about it.
Samsung Galaxy Active 2

The Galaxy Watch  Active 2 is the best smartwatch for tracking blood pressure available right now. It gives the most accurate readings of any other smartwatch on this list. In order to use the blood pressure monitor you need to calibrate the watch with an actual blood pressure monitor. Once you've done so you'll be able to accurately monitor your blood pressure for a few months.
In all honesty this is the only smartwatch on this list that tracks blood pressure with any kind of accuracy; the other watches simply estimate based of heart rate.
Samsung's most advanced fitness and health tracker has a multitude of other functions including heart rate monitoring, GPS and there's even a 4G option. There are a variety of workout features for tracking your fitness. The watch also enjoys a bright, colorful touch screen and haptic dial control.
Check Price on Amazon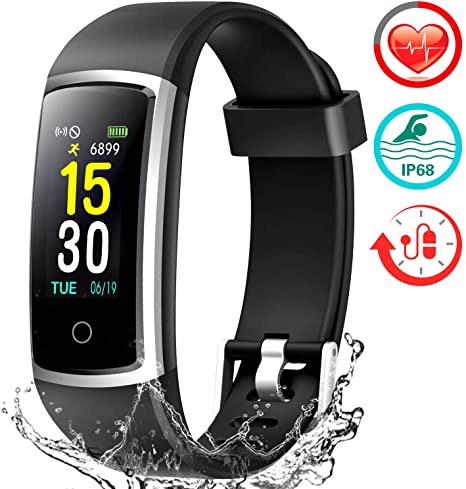 Key specs
Color screen LCD
IP68 Waterproof
24/7 Blood pressure monitor
Sleep tracker
14 exercise modes
FITFORT fitness watch encourages you to improve overall health and sleep better. This wristband is just like an electric finger always measuring your pulse. It measures your blood pressure 24/7 continuously using the new innovative technology of Matter Sensing & Control. It estimates your mean Blood pressure and heart rate and it has track up to 14 different exercises which include walking, hiking, yoga, tennis, cycling, and even dancing.
The smart tracker also monitors sleep quality and all-day activity while promote staying active via reminders. iOS and Android compatible, you can receive calls, SNS, SMS, and alert notifications on display.
FITFORT watch features a stylish sleek design with a narrow display with a color screen LCD. Adjustable brightness up to 5 different levels enables a nice clear-view under the dazzling sun. Available in different colors with adjustable wrist strap, it looks elegant and graceful on both genders. One downside is that it has doesn't have its own built-in GPS.
Pros
Activity and health tracker
Easy USB port charging
Water-resistant; rain and swim-proof
Clear-view LCD
Cons
Check Price on Amazon
Key specs
24/7 heart rate and blood pressure tracking
Sleep monitor
IPS display
IP67 waterproof
170 mAh battery
This cheap smartwatch features both blood pressure and heart rate monitor; CanMixs fitness tracker automatically measures and records heart rate and blood pressure for 24 hours so you can have a better idea of your fitness and health condition. Featuring multiple sports modes and also includes a pedometer with more than 10 motion modes. Track your distance covered, calories burned, and steps taken with a smartwatch on your wrist.
This multifunction watch also acts as an event reminder, alarm clock, calls, and SMS alerts, stopwatch as well as a sedentary reminder.
CanMixs watch has a 4cm diagonal display with an IPS screen of 1.22 inches and a metal structure. In addition to the stylish appearance, the metallic soft straps are adjustable from 3.11 to 4.86 inches. You can enjoy sports, the IP67 waterproof makes it resistant to sweat, water splash, and rain. On the downside, this CanMixs watch is not swimming or shower-proof.
Pros
Notification reminder
all-day activity tracking
10 sport modes
5-7 days battery life
clear and bright display
Cons
Check Price on Amazon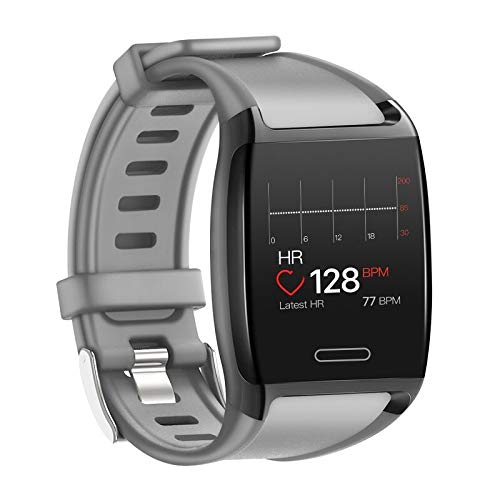 Key specs
3'' HD color screen
Blood pressure and heart rate monitoring
IP67 waterproof
Mileage and calorie records
HalfSun fitness tracker precisely records blood pressure and each heartbeat continuously in 24 hours via the professional MCU and green PPG sensors. You can monitor your blood pressure anytime and anywhere without connecting to mobile, the universal PWTT algorithm gives accurate and quick results.
Thanks to the built-in pedometer and 3-axis step's algorithm, it records real-time steps, distance moved, and calories burnt each moment. Plus, sleep monitor automatically tracks your all-night sleep activity. You can check sleep status via scientific analysis. Multiple sports modes, sedentary reminders, call, and message notifications are also some of its notable features.
It uses a super HD 1.3'' color IPS large screen with high contrast and wide gamut to offer pleasant HD clear-view display even under sunlight.  Available in 5 different colors, the watch design is stylish yet ergonomic and comfortable with skin-friendly straps and rectangular dial.
Although packed with many powerful fitness features, the major shortcoming is having no Bluetooth connectivity and built-in GPS, the watch uses the phone's GPS to track distance and pace via the App.
Pros
Alarm and sedentary reminder
Alerts of low/high blood pressure or heart rate
Large color screen
Call and message alerts
Cons
No Built-in Bluetooth and GPS
Check Price on Amazon
Key specs
24/7 Heart and blood pressure monitor
IP68 waterproof
built-in pedometer
10 activity modes
Mgaolo fitness tracker is a smartwatch that makes measuring blood pressure easier. It monitors your blood pressure and heart rate all day long and notifies when the normal range exceeds. The watch tracks how many hours you've been sleeping and overall sleep quality. Equipped with a pedometer, Mgaolo tracker counts steps and calories burnt per day.
You can wear it while swimming or showering, thanks to IP68 water resistance. The watch can also be Bluetooth paired with smartphones via the H band App to receive calls, messages, alarm, or information reminders.
Unlike other smartwatches, this fitness tracker has a USB charge that requires no cable yet offers great battery life. The soft silicone strap can be adjusted with holes from 5.5 to 8.8 inches depending on your wrist size. It connects to your mobile GPS since it doesn't have a built-in GPS.
Pros
Adjustable strap
Monitors blood pressure, heart rate, and sleep
Sedentary reminder
Acts as phone's camera remote
Cons
Check Price on Amazon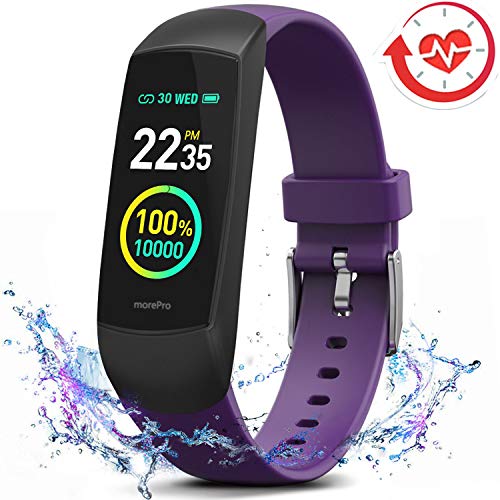 Key specs
SPO2 and HRV detection
24-hour Blood pressure and heart rate monitor
IP68 waterproof
ECG and PPG monitor
7-day battery life
Health and fitness are important to everyone that's why MorePro fitness tracker uses a combination of infrared light and green PPG light to measure blood pressure and heart rate at any time. The MorePro app records all the heart rate and pressure data automatically. Thanks to the ECG+PPG professional intelligent detection chip, the smartwatch also monitors ECG.
The scientific sleep function tracks light, deep, and even REM sleep stage during day and night. It monitors blood oxygen (SPO2), HRV, OSA, cardiac load, respiratory rate, and sleep amplitude. Plus, it has all other smartwatch features which include messages, alarm, event, sedentary, and call reminders. This daily fitness monitoring smartwatch automatically tracks your calories, steps, and distance covered all day.
The watch comes in 3 different colors with interchangeable silicone soft straps. The narrow rectangular display dial is about 0.77 inches long with a clear IPS screen. IP68 waterproof makes it dust and water-resistant; shower and swim-proof as well. Adjustable strap allows a snug yet comfortable for kids and elders. However, the silicone wrist bands are not as durable compared to metal ones.
Pros
Comfortable to wear all-day
Convenient USB charging
Precise and accurate results
Advanced sensor
Cons
Cheap silicone bands
No in-built GPS
Check Price on Amazon
See Also: Best Smartwatches with Internal GPS