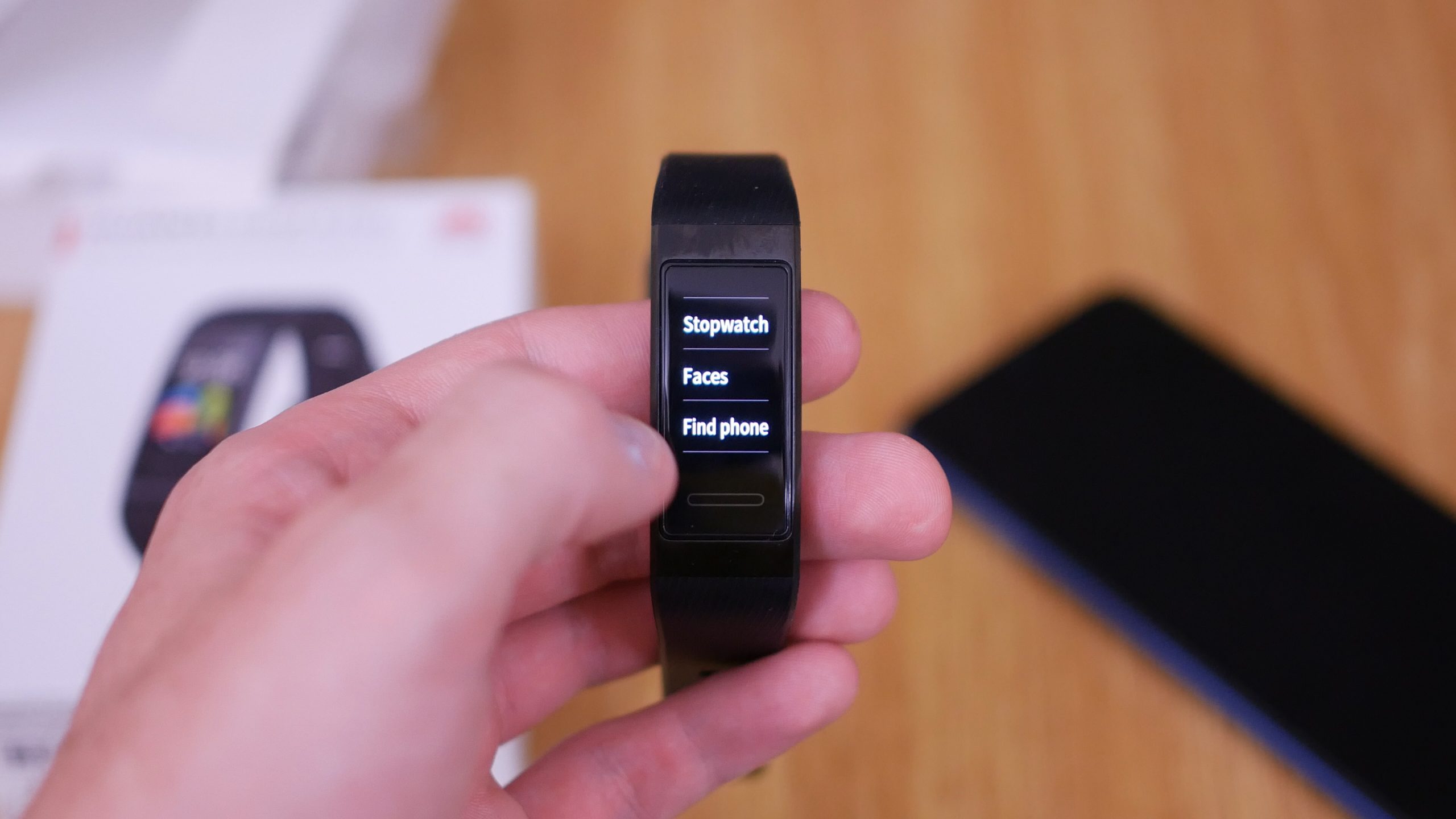 The Huawai Band 4 Pro is the latest in a line of fitness trackers from the huge Chinese tech company and joins a raft of similar sized smart devices. The Band 4 Pro is one of the more advanced, accurate and attractive smart bands I've ever used.
The Huawai Band 4 Pro (available on Amazon) features internal GPS, heart rate monitor, SpO2 tracker and infrared monitor which enables it to track a range of health and fitness metrics. It features an attractive, comfortable design with an enviable battery life.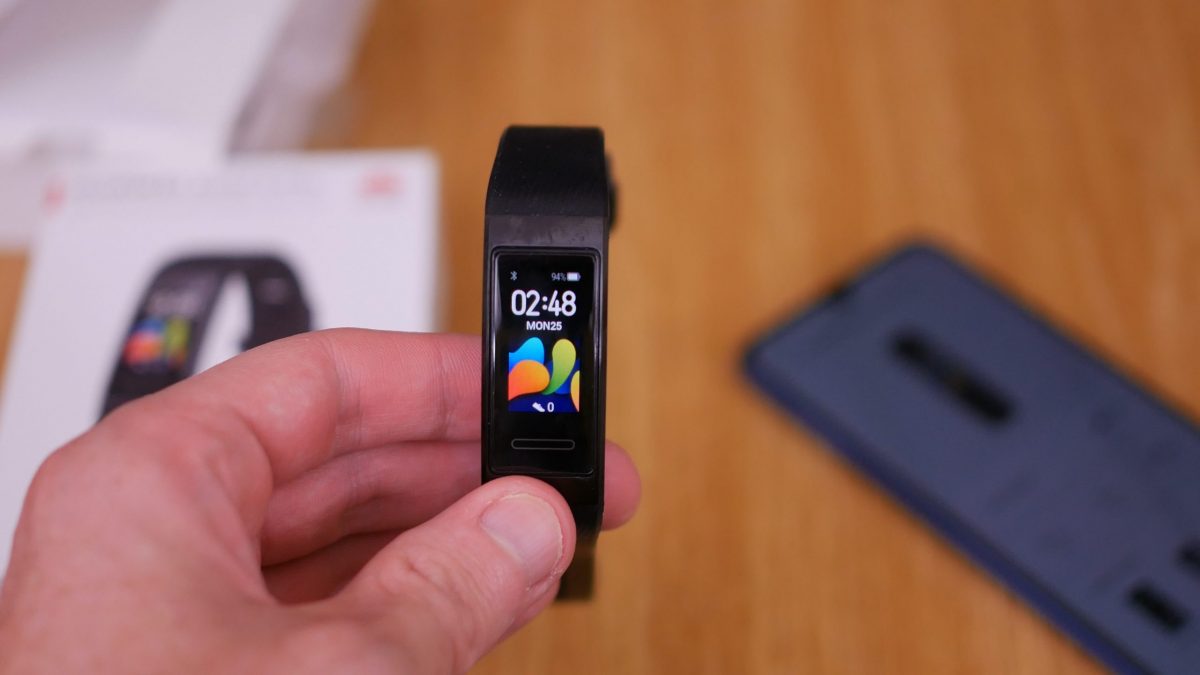 There are other versions of the Band 4 Pro available; the Band 4 Pro and Band 4e. These cheaper versions do away with some sensors like GPS and feature less advanced screen technology.
Some versions of the Huawai band 4 Pro feature NFC however like most Chinese smartwatches this is not available in Europe or the USA yet.
I've been using the Band 4 Pro for the past few weeks and this is my honest review of the product. I'll be taking you through the technically abilities of the smart band and its usability on a daily basis.
Huawai Band 4 Pro Specs
Specs
Huawai Band 4 Pro
Image
Screen
Size
0.95 inches (21.6 mm x 10.8 mm)
Type
AMOLED colour screen
Resolution
240 x 120 pixels
Body
Size
45 mm (span of main body) x 19 mm (width) x 11 mm (maximum thickness of the main body)
Weight
25 g
Misc
Sensors

6-axis IMU sensor (Accelerometer sensor, Gyroscope sensor)
Optical heart rate sensor
Infrared wear sensor

GPS
Yes
Battery Life
100 mAh - Between 5 & 12 Days
Waterproof
5ATM
Bluetooth
Bluetooth frequency: 2.4 GHz - Bluetooth 4.2
Where to Buy
Amazon
Screen & Design
The Huawai Band 4 Pro features a 0.95 inch color AMOLED display. The screen is slightly curved along with the body which is 19mm thick and 45mm long. It's safe to say that this is not a large device but is slightly larger than other smart bands I have used.
This isn't necessarily a bad thing. The larger screen allows for more real estate to display information and it makes icons easier to read. The screen is colorful, sharp and responsive. The touch screen responds rapidly and smoothly. One issue I've found is that the screen struggles in direct sunlight, even when the screen brightness is at its highest.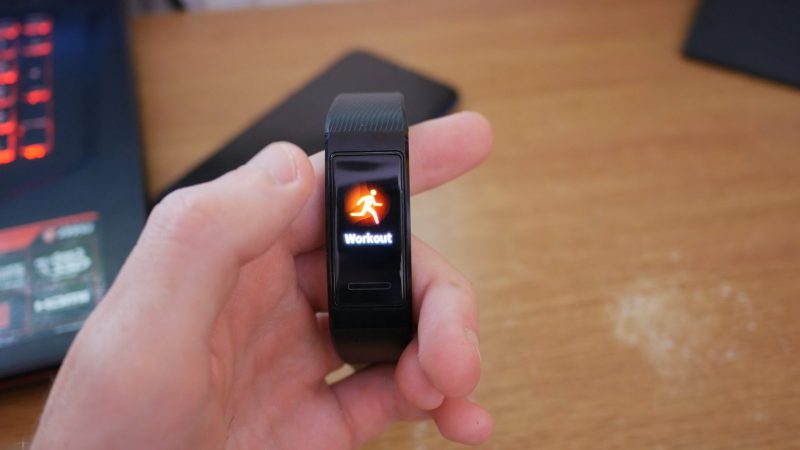 The band has no physical buttons but has a touch pad as the bottom of the screen which activates it. The screen is not always on but can be activated with this touch pad or by moving your arm.
The body of the smart tracker is made from hardened plastic which doesn't feel or look cheap, however the screen the body ratio is quite small, meaning the body is significantly larger than the screen itself.
I find the Huawai Band 4 Pro to be very comfortable to wear on a daily basis despite is being larger than a few other bands I've tried. In fact I'm able to comfortably sleep with the Band 4 Pro which makes it a great sleep tracker.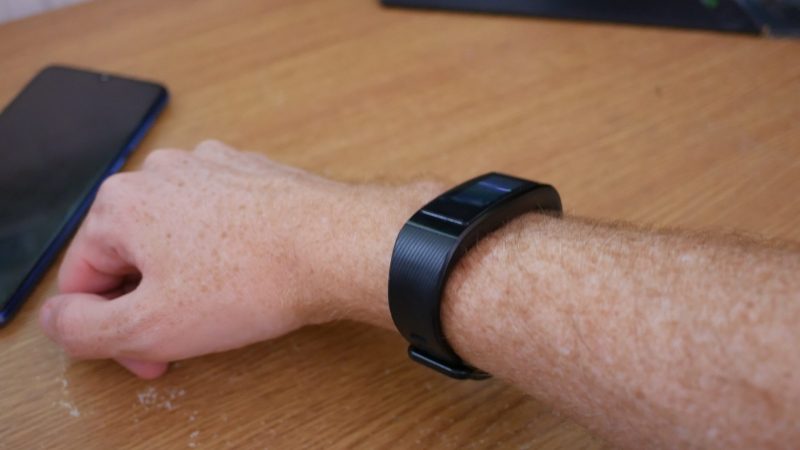 The strap that comes with the Band 4 Pro in the box is comfortable but not premium looking; if you want a higher quality strap you are able to remove the standard one and get your own.
back to menu ↑
Sensors & Tracking
Most smart bands at this size and price are often referred to as fitness trackers and for many people this is their primary use. Small enough to not be noticeable but advanced enough to track your health and fitness.
This is where the Band 4 Pro earns its slightly higher than average price. Featuring a heart rate monitor, 6 Axis accelerometer and infrared sensor the Band 4 Pro is able to use this array of sensors to great effect.
While all smart band/watch sensors are not a replacement for medical instruments they can be useful. I tend to look for accuracy when reviewing smart device sensors and in this case the Huawai Band 4 Pro performs well.
As one of only a few smart devices at this price range with an infrared sensor as well as a heart rate monitor, the Band 4 Pro is able to monitor SpO2 levels, which is essentially blood oxygen saturation level. This is great for measuring general health as well as an indication of sleep apnea.
The band is capable of continuous heart rate monitoring but this will reduce battery life. There is also a smart mode for monitoring heart rate which takes a reading every 20 seconds or so.
back to menu ↑
Fitness
The Huawai Band 4 comes with several in built fitness tracking modes which allows you to use the aforementioned sensors to track your performance. The modes include outdoor running, indoor running, walking, outdoor cycling, indoor cycling, crosstraining, rowing machine, indoor swimming, outdoor swimming & free training.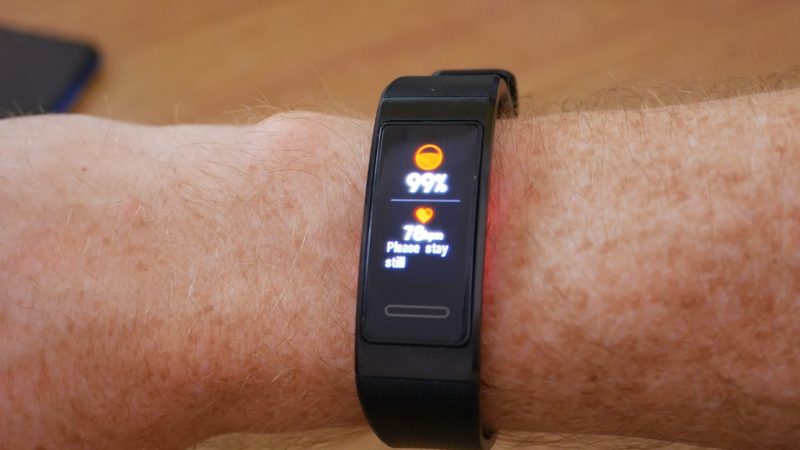 These modes use various metrics to track a workout. Thanks to a slightly larger screen you can see some of the details of these workouts after you've completed it. The data is contained within a watch and uploaded to the phone app where you can see more detailed data as well as results over time.
GPS
One of the best features of the Band 4 Pro is the internal GPS module which allows you to connect to GPS without the use of a phone. I've found many fitness bands and smartwatches that use your phones GPS to be inaccurate and often don't work at all.
Some of the fitness modes use the GPS to track position. I've tested the GPS in this mode and I've found it to be accurate and fairly quick to connect. Within 30 seconds the GPS will kick in and remain active until you decide to end the session.
Most importantly the GPS is accurate and allows to to map out your workouts efficiently.
back to menu ↑
Software
In order to full utilise the Hiawai Band 4 Pro you'll need to download the Huawai Health App which is where you'll sync your band and display the data it collects. I've found the health app to be a decent health and fitness app which complements the Band 4 Pro well.
You'll find a grid of health stats as soon as you open the app which gives you a glimpse into your current health stats. You can then tap to see a broader range of data over a longer time. Like all fitness trackers it works best the longer you wear the band.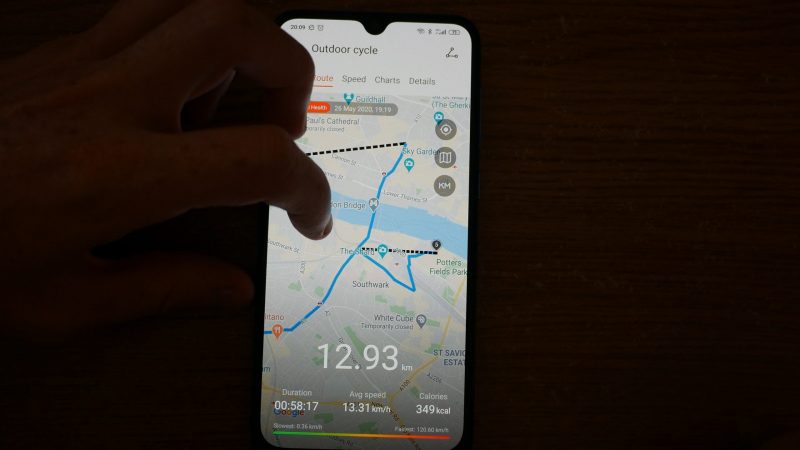 You can also look into specific workouts to see more information such as duration, speed, calories burnt, average heart rate and the estimated recovery time. I find there's plenty of information to keep the average person informed of their fitness levels and how they are improving (or not). More dedicated fitness freaks may require more data but for that they would need a more advanced watch.
I've found the data collected by the watch to be mostly accurate, which is the most important thing to consider when buying a fitness band. There are the occasional strange spikes in the data, for example as one point in my cycle ride I was travelling at 125kph, but these anomalies are few and far between.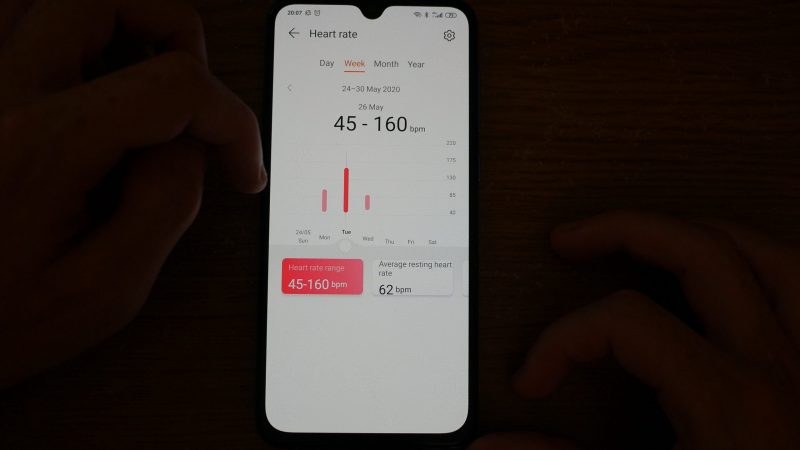 The software on the watch itself is rather basic but it does the job. You have access to a range of settings such as brightness, a timer, stopwatch and a find my phone feature. You can also view the number of steps you've taken, calories burned and distance travelled.
You can also use your Band 4 to control the music on your phone once connected and enabled.
back to menu ↑
Other Features
Waterproof: The Huawai Band 4 Pro is rated at 5ATM which means you can submerge it in water without damage. In fact there are swimming modes included in the in built programmes.
Battery Life: You'll find the Band 4 Pro can last anywhere between 5 and 12 days on a single charge with a 100 MaH battery. The difference in battery life will depend on which sensors you activate, how long you use the GPS for and the screen brightness setting.
Notifications: As long as your Huawai Band 4 Pro is connected to your phone via bluetooth then it will be able to display messages received via text and whatsapp, you can also see when someone is calling you and reject the call from the watch. You can't create messages on the Band 4 Pro nor use it as a microphone.
back to menu ↑
Verdict
The Band 4 Pro is one of my favourite smart bands ever. It features accurate tracking technology and a large attractive screen. I find the use in daylight to be the only downside of this fitness tracker. I've tested all the sensors thoroughly and found them to be accurate most of the time which is the best we can hope for with current technology.
There are cheaper bands available but many of them lack the SpO2 feature and integrated GPS, as well as some reliability issues. In this case you get what you pay for and it's worth spending a little bit more for the Band 4 Pro.

Huawai Band 4 Pro Review
One the the more accurate and versatile fitness bands available right now
PROS
Colorful & Responsive Screen
Heart Rate, Infrared & Accelerometer
SpO2 Monitor
Comfortable
Long Lasting Battery
CONS
Hard to See in Low Light
More Expensive than Most Smart Bands