The Amazfit GTS is one of the best Amazfit smartwatches I've ever owned. With updated software and excellent hardware it fills a sub $200 smartwatch void while retaining premium quality. While the Amazfit GTS may look like an Apple Watch don't think you'll get the same experience, because you won't. The GTS is a much more basic smartwatch, but what it can do it does well. In this review I'll take you through the GTS' specs, design and software so you can decide if this is the smartwatch for you.
Amazfit GTS Review
| Specs | Amazfit GTS |
| --- | --- |
| Screen | AMOLED 1.65 Inch |
| Resolution | 348 x 442 |
| Memory | Unknown |
| Connectivity | Bluetooth, GPS, Wifi, NFC |
| Sensors | Heart Rate Sensor, Accelerometer, Gyro, Compass, Air Pressure |
| Tracking | Steps, Calories, Heart Rate, Distance, Speed, Sleep Quality |
| Notifications | Yes – Vibration Feedback and On Screen Alerts |
| Water Resistance | 50 Metres |
| Battery |  Approximately 15 Days |
| Price | Check Amazon |
Design and Screen
The GTS caused quite a stir when it was first announced, primarily because of it's similarity to the Apple Watch in appearance. Yes, both are small, thin, rectangular with a single control. From a distance you may mistake the GTS for an Apple Watch, but in reality they are very different. The GTS features a plastic body, rubber strap and thinner glass. It's in no way a replacement for an Apple Watch, but then again it isn't trying to be. The GTS, considering it's price, is a well made and stylish device.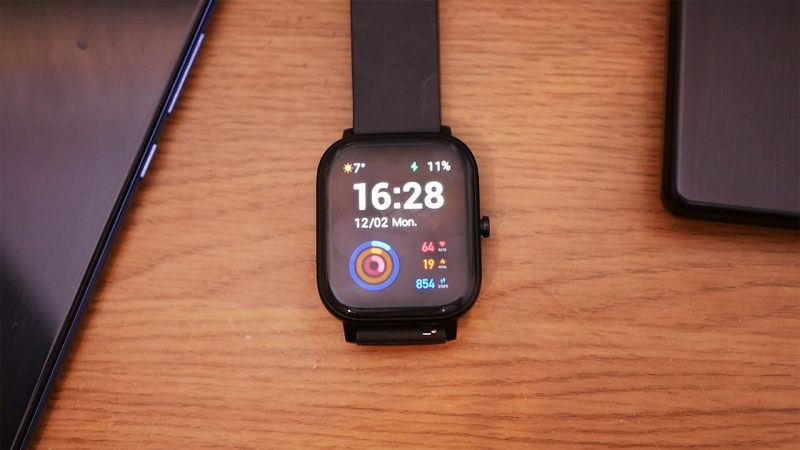 The plastic body is sturdy and sleek which the Gorilla glass screen is blends seamlessly. Talking of the screen, the 1.65 inch AMOLED you'll find on the GTS is among its best features. It's bright, colorful, responsive and sharp. A high resolution of 348 x 442 makes it one of the sharpest smartwatch screen's I've seen at this price range. It can display text and images without pixelization and icons look nearly as good as they do on a smartphone.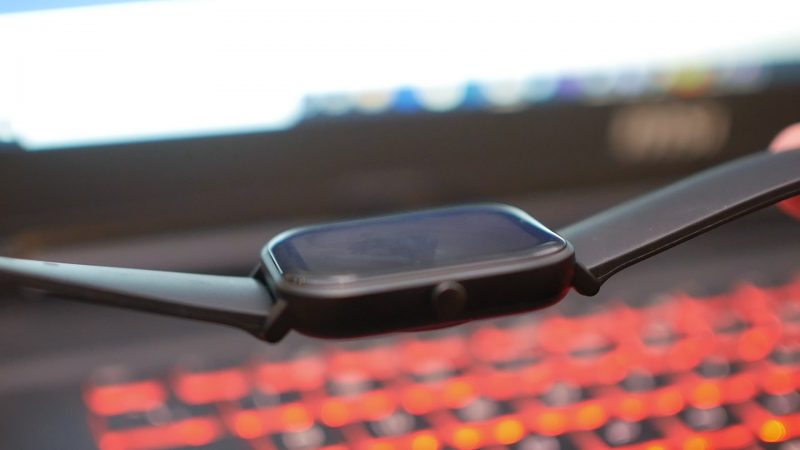 One small issue I have with the screen is the relatively large size of the bezel, which if smaller could have freed up even more screen real estate.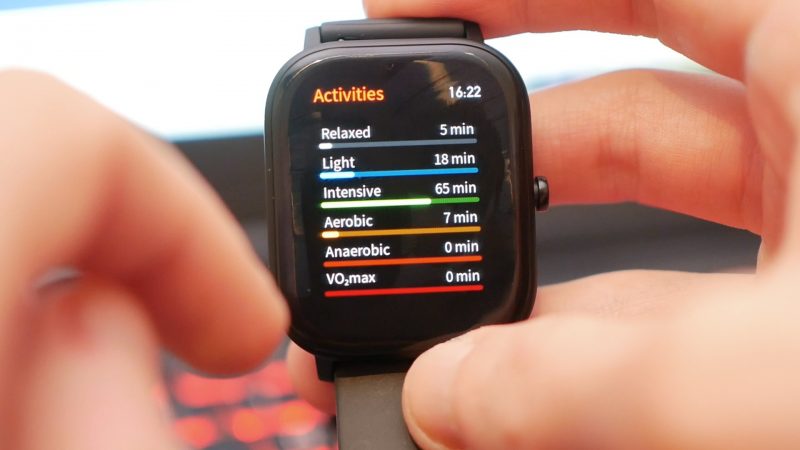 What makes the design of the GTS among my favourite of any Amazfit watch is it's small size and weight. I barely notice I'm wearing it even if it's on my wrist all day and it fits comfortably under a shirt. If you prefer thinner watches then the GTS is a perfectly designed watch for you.
back to menu ↑
Tracking Features
Amazfit have a standard set of tracking sensors in most of their smartwatches and the GTS is no different. A heart rate monitor, accelerometer, gyroscope and  air pressure sensor make up the suite of sensors on this small smartwatch. You won't find the more advanced sensors such as an ECG or stress monitor, but what you do get tends to work well. You can track individual exercises like running, swimming, cycling, skiing and weight lifting. During these exercises the watch will monitor the intensity of your workout along with your continuous heart rate.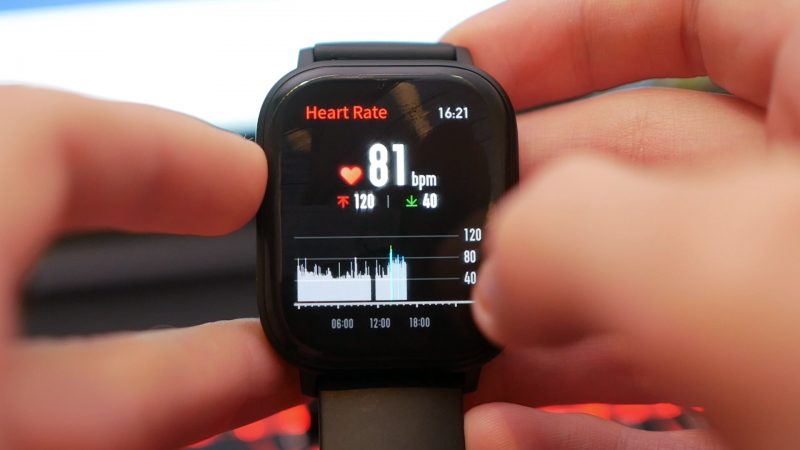 The watch will also measure your activity level throughout the day with a pedometer and intermittent heart rate detection. As you wear the watch over a few days or weeks it will build up a picture of your activity levels which you can analyse in the app.
I've found the most useful tracking feature of the GTS to be the sleep tracker. Thanks to the small size and thickness of the GTS it's perfectly comfortable to wear it while sleeping, one of very few smartwatches where this is the case. This allows you to track your sleep comfortably and accurately. Sleep tracking will reveal how long you were asleep for along with how might light and deep sleep you get; an important health metric.
back to menu ↑
Software
Amazfit have revamped their software for the GTS and there's one or two surprises. The first new feature is the modular screen, which makes use of the rectangular design and extra screen space. On the home screen there are three zones which can be interacted with independently, so if you tap on the weather icon you'll be able to see the full forecast, and if you tap on the heart rate icon you'll see your full days heart rate.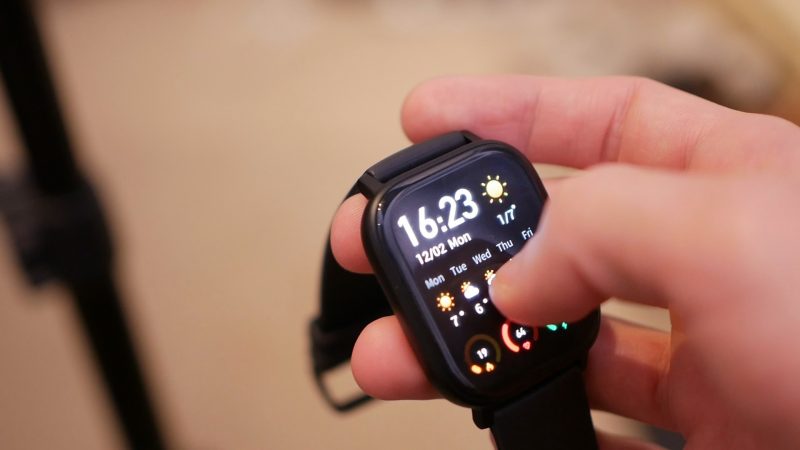 This is a new feature for Amazfit smartwatches and makes viewing data even easier than before. You'll also find a suite a built in apps including a music player,  calculator, event reminder, as well a PAI which is an overall score of your fitness and activity level where you earn points the more you are active.
The down side to Amazfit watches, including the GTS, is the inability to download any extra apps. You won't have access to an app store so the apps in the smartwatch are the only ones you'll be able to use. There's also very limited internal storage so you won't be able to put your own files in the watch.
Notifications
One of the main advantages of owning a smartwatch is the ability to quickly view messages away from your phone. The bright, sharp and fairly large screen on the GTS makes viewing your notifications a pleasure. As long as the phone is connected via Bluetooth it will display full notifications from WhatsApp, Facebook, Instagram and more. Some apps are not fully supported but all the major messaging ones are.
You'll only be able to view notifications as there is no way to directly reply. If receiving a call you'll be able to see who's calling and reject the call, but you won't be able to answer or speak from your phone as the watch lacks a microphone and speaker.
Mobile App
The Amazfit App is where you'll keep track of your data as well as download new watchfaces for your GTS. After a few days you'll see quite a lot of data appear in the Amazfit App when you sync it with your watch. You'll be able to take a closer look at your activity levels as well as your average resting heart rate. You can see how you compare to others in terms of sleep quality and you'll see how intense your exercises were.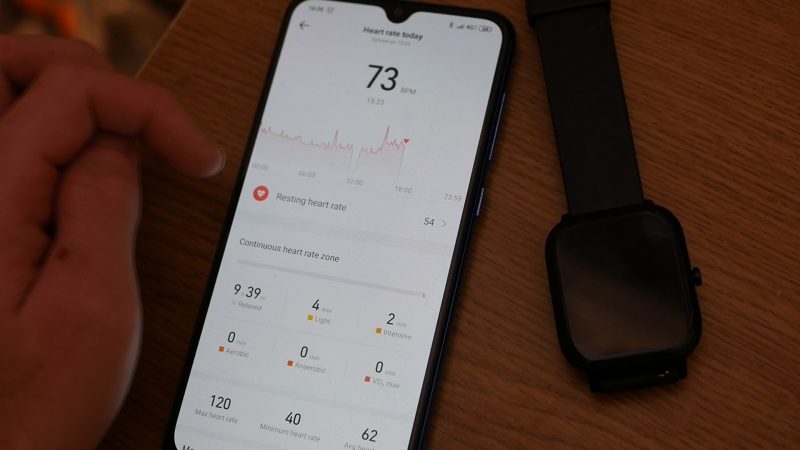 If you track your running/jogging/walking the GPS will activate and you'll be able to overlay where you ran over a Google Maps image. This is done in the Amazfit App and is a great way to visualise where you ran. Unfortunately there's no way to export this data or the images (apart from screenshots); it's unfortunate that Amazfit doesn't allow more integration with other services.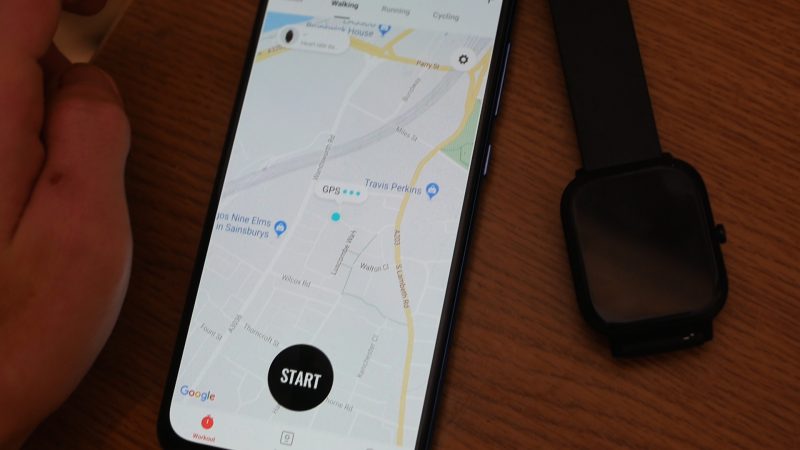 back to menu ↑
Other Features
Battery Life: One of the most amazing features of the previous Amazfit watch in this style (the Amazfit Bip), was its ability to last 6 weeks on a single charge. The GTS can't quite match up to that, but if you use power saving features it can last around 3 weeks. If you use most of the features regularly this will be reduced to around 2 weeks on a single charge. Still pretty impressive.
Water Resistance: According to Amazfit the GTS is waterproof up to 50m, in fact the app entourages you to use it while swimming with a dedicated tracking mode. Amazfit also states that you shouldn't go diving with the watch or expose it to fast moving jets which some what reduces the usefulness of this water proof design.
back to menu ↑
Summary
The GTS is the most comfortable and one of the best looking smartwatches I've owned. For the price it looks good and has a decent number of tracking features. Is it the most amazing smartwatch I've ever used? No. Can it compete with an Apple Watch? Absolutely not, but it's not supposed to. If you are looking for a small, comfortable, attractive smartwatch that can track your health and fitness then the GTS is hard to beat right now. If you wan't something closer to a smartphone on your wrist then you'll have to look elsewhere.
back to menu ↑
Price and Where to Buy
The GTS is available in the US and UK on Amazon.
Check Price on Amazon
Amazfit GTS
A great looking smartwatch with an excellent screen and decent tracknig features. Don't expect it to replace an Apple Watch though
PROS
Bright, Colorful Screen
Modular Display
Heart Rate Monitor and GPS
Cheap
Slim and Comfortable to Wear
Long Battery Life
CONS
No App Store
Can't Export Data from App
Pedometer Not Always Accurate
Check out my latest video!