The Amazfit Bip could be the best affordable smartwatch ever. It has a dizzying number of features for such a cheap device and it's designed to be easy to use and comfortable for everyone. Could this be the perfect introductory smartwatch for people who want to start tracking their health and fitness? Let's find out!
Amazfit Bip Review
Specs
| Specs | Amazfit Bip |
| --- | --- |
| Screen | Reflective Color, 1.28 inches |
| Resolution | 176 x 176 |
| Memory | N/A |
| Connectivity | Bluetooth, GPS |
| Sensors |  Heart Rate Sensor, Accelerometer, Gyro, Barometer, Compass |
| Tracking | Steps, Calories, Heart Rate, Distance, Speed, Sleep Quality |
| Notifications | Yes – Vibration Feedback and On Screen Alerts |
| Water Resistance | 1.5m |
| Battery |  190mAh – Up to 45 Days |
| Price | Check Price on Gearbest.com |
back to menu ↑
Design
The Bip is designed to be comfortable and easy to use. The screen is the most obvious feature and its small slightly rectangular shape sits perfectly on the wrist. It has a single manual control that activates the screen and unlocks the watch. It's not particularly showy in its design and it won't attract the attention of many people,perfect for those who don't like large, brash watches.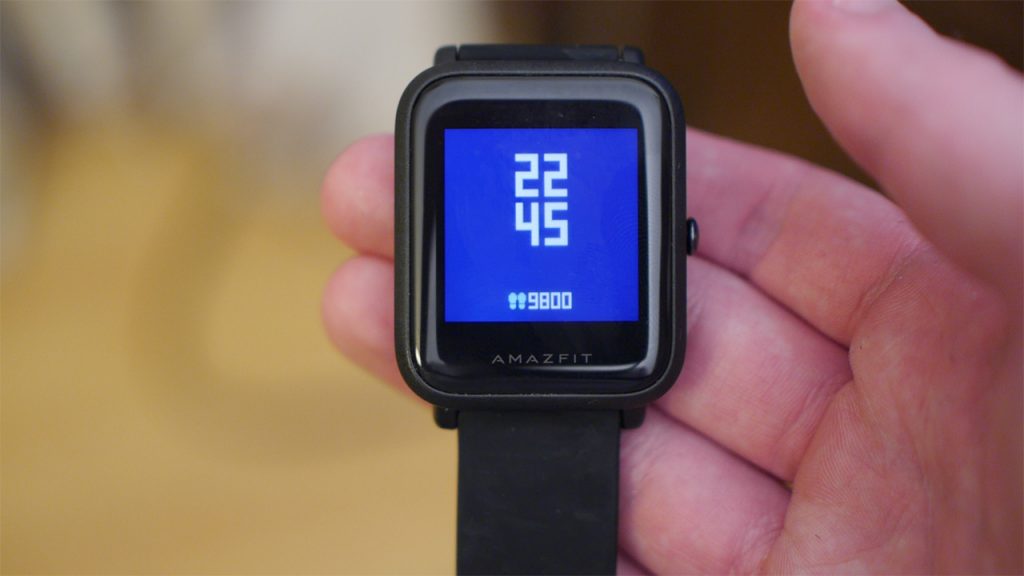 The watch is quite thin, in fact it's thinner than most normal watches. The Bip is unixex in its appearance and would suite a man or woman equally. As someone with very thin wrists I find the shape and width of the Bip very forgiving, in fact I barely notice I'm wearing it.
The Bips is great if you're looking for a smartwatch that doesn't stick out, that you can wear a shirt over comfortably or if you want a watch you can wear all day without feeling uncomfortable.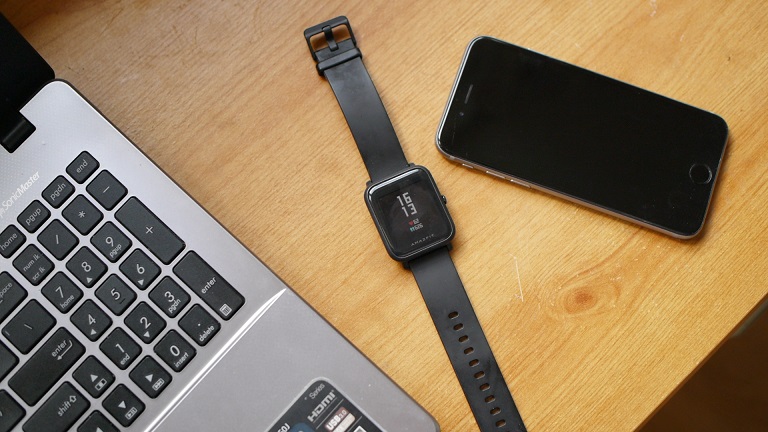 The Bip won't win any awards in the design category, but it doesn't really need to. It's basic but modern and most importantly, comfortable.
The menu system and software are both fairly basic but easy to use. The watch can display steps, heart rate and time on the main screen, and you can swipe across to look at a weather screen, set an alarm or use a compass. There isn't a huge amount of extra data available on the watch, especially compared to more advanced devices such as the Amazfit Pace, but this is the trade off for such a cheap device.
back to menu ↑
Tracking
One of the most impressive things about the Bip is the ability to track a lot of fitness and health metrics. The watch has a heart rate sensor, accelerometer, geomagnetic sensor, barometric pressure sensor and a GPS. All of this means that you can track your heart rate, steps, sleep quality, calories burnt and distance travelled. All this for a $70 is really quite astounding.
The accuracy of the tracking features isn't perfect, for example if I move my arm quickly then it may register that as a step and if you want to get an accurate heart rate reading you'll need to wear the watch high up on your wrist. These are rather minor issues though and the fact that this watch has both a heart rate sensor and GPS is amazing for a cheap watch with a full color touch screen.
The Bip has some built in programs for tracking basic activities such as running, treadmill and cycling, but it will essentially just track how far you go.
As for sleep tracking, the Amazfit Bip is also mostly accurate thanks to its small size; in fact it's the only smart watch that I've been able to wear overnight without feeling uncomfortable. Sometimes the watch measures some awake time during the night when there was none, but it's not a common error.
back to menu ↑
App
Like all smartwatches, the Amazfit Bip uploads the data it collects to an app where you can visualize it. The app that the Bip uses is the Mi Fit app, available on the Play Store and App Store. To connect to the Mi Fit app all you need to do is turn on the watch and make sure your smartphones Bluetooth is also turned on, once you establish a connection the first time the watch will automatically connect.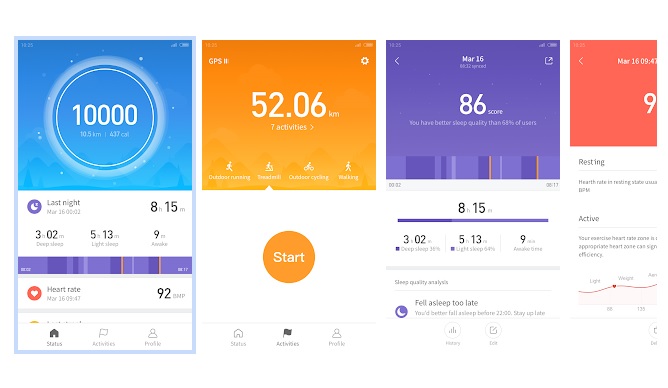 The Mi Fit app is very easy to use and shows you pretty much all the data you need to see on the first screen. You'll be able to see your past activity for the past days and weeks as well as your average heart rate. The information is displayed very efficiently, however there isn't much in the way of in depth analysis like you might find on the Fit Bit app.
If you are not looking for advanced analysis of your health data and just want to quickly visualize how far you walked or how much activity you managed over a certain period of time, then the Mi Fit App will do you just fine.
back to menu ↑
Battery Life
Probably the most amazing feature of the Bip is the battery life. Most smartwatches struggle to last a week without needing a charge, but the Bip can last for up to 45 days according to Amazfit! I've been using the Bip for three weeks and have only ever charged it once, yet I still have 44% remaining. My experience does seem to suggest the claim of a 45 day battery life is accurate.
There is a small catch to this astounding feature; the battery life will only last that long if you don't use the GPS. With the GPS on the battery life will be reduced considerably but still be better than pretty much all smartwatches. I'd advise activating the GPS only when you need it then turning it off when you don't.
back to menu ↑
Water Resistance
The Amazfit Bip has a water resistance rating of IP68, which means it can be submerged underwater up to 1.5m for 30 minutes. While this is better than most watches, and means you can wear your watch in the shower, I wouldn't risk going swimming with it.
back to menu ↑
Summary
Having used the Amazfit Bip for 3 weeks, I can safely say it's one of my favorite smartwatches for comfort, convenience and ease of use. If you are looking for your first smartwatch, or are looking for a great value fitness tracker with color touch screen, then you'll probably be happy with the Bip. The battery life is almost unbelievable considering the amount of tracking features the watch possesses; this makes the Bip stand out in an increasingly crowded market.
The best thing about the Bip is the price. It's one of the cheapest available and certainly the cheapest with this number of features.
back to menu ↑
Where to Buy
The Amazfit Bip is available from Gearbest.com or Amazon. Depending on your country either may be cheaper, so check both links!
Amazfit Bip Review
An amazingly good value smartwatch with an unbelievably long battery life
PROS
Cheap
Very long battery life
Comfortable design
Heart rate sensor
GPS
CONS
Not fully waterproof
Only basic data available on watch
Check out my latest video!