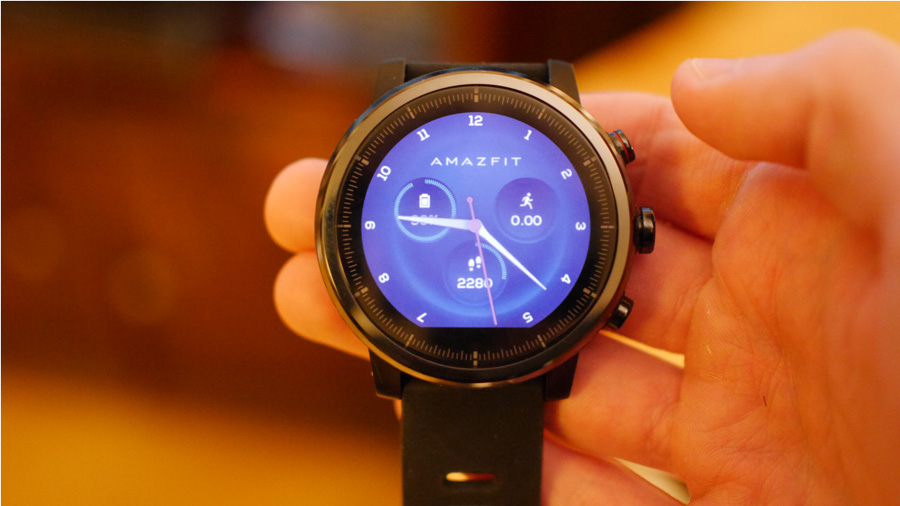 The Amazfit Stratos is the second generation touch screen smartwatch from Huami. The first, the Amazfit Pace, was well received as a cheap alternative to more expensive brands such as Samsung and Apple's smartwatches. The Stratos builds on the success of its predecessor and retains many of the same features, while the design is radically different and there are one or two key upgrades that could be game changers.
Amazfit Stratos Review
A waterproof touch screen smartwatch with excellent tracking abilities. One of the better value smartwatches out right now.
PROS
Looks great
Waterproof to 50m
Heart rate monitor
Responsive touch screen
User friendly app
CONS
Thick base
Can be uncomfortable if you have small wrists
Manual controls aren't that useful
Amazfit Stratos Review
Specs
| Specs | Amazfit Stratos |
| --- | --- |
| Screen | Reflective LCD, 1.34 Inch |
| Resolution | 300 x 320 |
| Memory | 512MB Ram, 4GB Interna |
| Connectivity | Bluetooth, GPS, Wifi, USB |
| Sensors |  Heart Rate Sensor, Accelerometer, Gyro, Barometer, Compass |
| Tracking | Steps, Calories, Heart Rate, Distance, Speed, Sleep Quality |
| Notifications | Yes – Vibration Feedback and On Screen Alerts |
| Water Resistance | 50m |
| Battery |  280mAh – Up to 5 Days |
| Price | Check Price on Gearbest.com |
back to menu ↑
Design
The most obvious difference between the Amazfit Stratos and the Pace is the design overhaul. The Pace was a very obvious smartwatch, whereas the Stratos has gone for a more classic watch design. The thickness has increased and the texture of the base has changed from smooth and shiny to matte.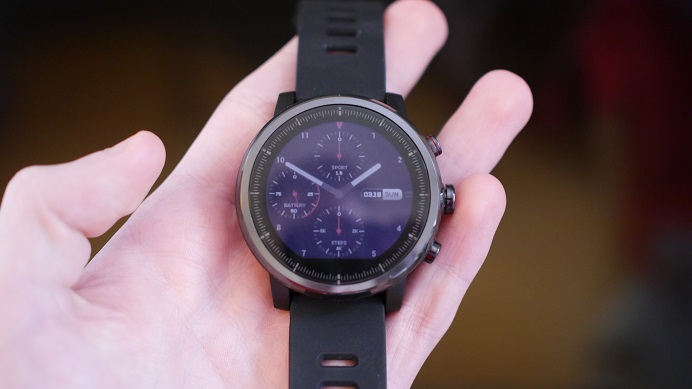 The watch is very rugged and would certainly be more suited to a mans wrist. For my wrists, which are on the skinny side, the watch is slightly too large and can become uncomfortable after constant use for a day.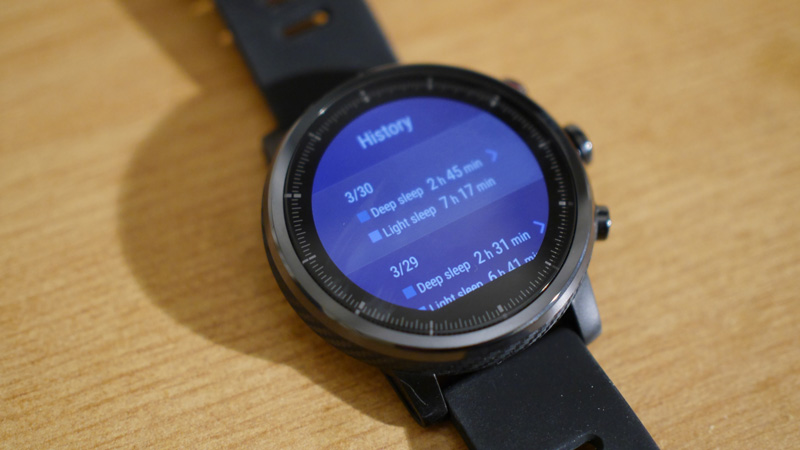 The watch still looks absolutely stunning and is certainly one of the more attractive pieces of wearable technology I own. The screen resolution is high enough so that no pixels are visible, however the watch face can appear a little dark and the backlight isn't as responsive as I'd like.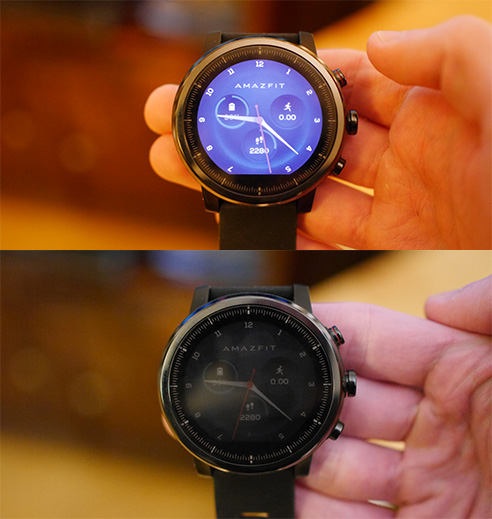 The watch has 3 manual controls which allow you to move through different functions, however I don't really see the point of this as the screen is totally responsive. It may have been a design decision in order to facilitate a more rugged and sports like appearance
Using the watch is very easy. You unlock it by clicking the top right manual control and then slide the touch screen between 14 separate screen which each display a certain type of information. You can then tap on these screen to see the information in more detail. For example if you tap on the heart rate screen you'll see a record of your previous average heart rate as well as your max/minimum bpm.
back to menu ↑
Tracking
The Stratos has a variety of sensors to track your movements, activity and health. It has a heart rate monitor that can track your heart rate continuously or only when you instruct it to. The accuracy of the heart rate monitor can vary, but it works best when the watch it attached tightly to your upper wrist.
Other sensors within the watch include an accelerometer, pedometer, GPS and compass. That's quite a lot of technology in such a small device and it makes the Stratos a powerful tool for measuring activity. If you are a particularly active, sporty person, then this could be the perfect watch as it has a variety of sports programs installed, this allows the watch to track specific metrics depending on what sport you are doing. There are dozens of sports included from jogging to climbing. Over time the watch will collect data and show you if your speed, stamina and endurance are improving (or not).
Even if you are not a sporty person, but still like the idea of tracking your activities, the Stratos has a lot to offer. You can set a step target each day and the watch will let you know when you meet it. You can also see how many steps you've taken just by looking at the watch face. The watch will also remind you when you've been sedentary for too long, encouraging you to get up and move if you've been sitting at a desk all day. I personally found these a bit annoying so I turned it off.
As well as tracking your activity the Stratos is also an excellent sleep tracker. If you wear your watch while you sleep then it will be able to detect how much deep sleep and light sleep had, as well as how long you were asleep for. I've found this to be very accurate; when the watch tells me I didn't have a great night sleep I can usually confirm this with how tired I feel.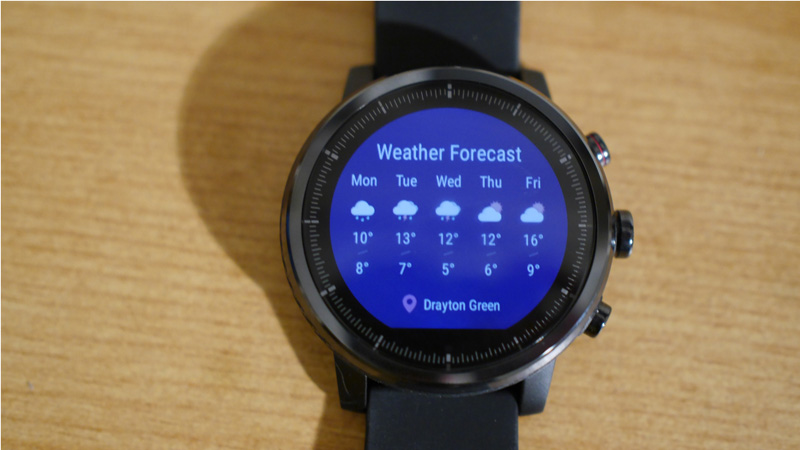 The other piece of useful data the watch provides is the weather, which is available on a dedicated screen. The watch collects weather data via its connection with your smartphone, and can provide a 5 day forecast. I've found myself using this feature more than any other as it's super simple to check, rather than having to use a dedicated website.
Overall I'm very impressed with the tracking abilities of the Stratos, even if I don't personally use all of the sporting features.
back to menu ↑
App
The Amazfit App is required for the watch to work and you'll need to sync them both when you first use the Stratos. Doing so it worth it though, as the App continuously collects the health data from the Stratos and allows you to visualise it in a user friendly format.
The App itself is responsive and stable, with no crashes so far. The connection to the watch is continuous and will drain a bit of battery from your smartphone, but it's not been too noticeable for me.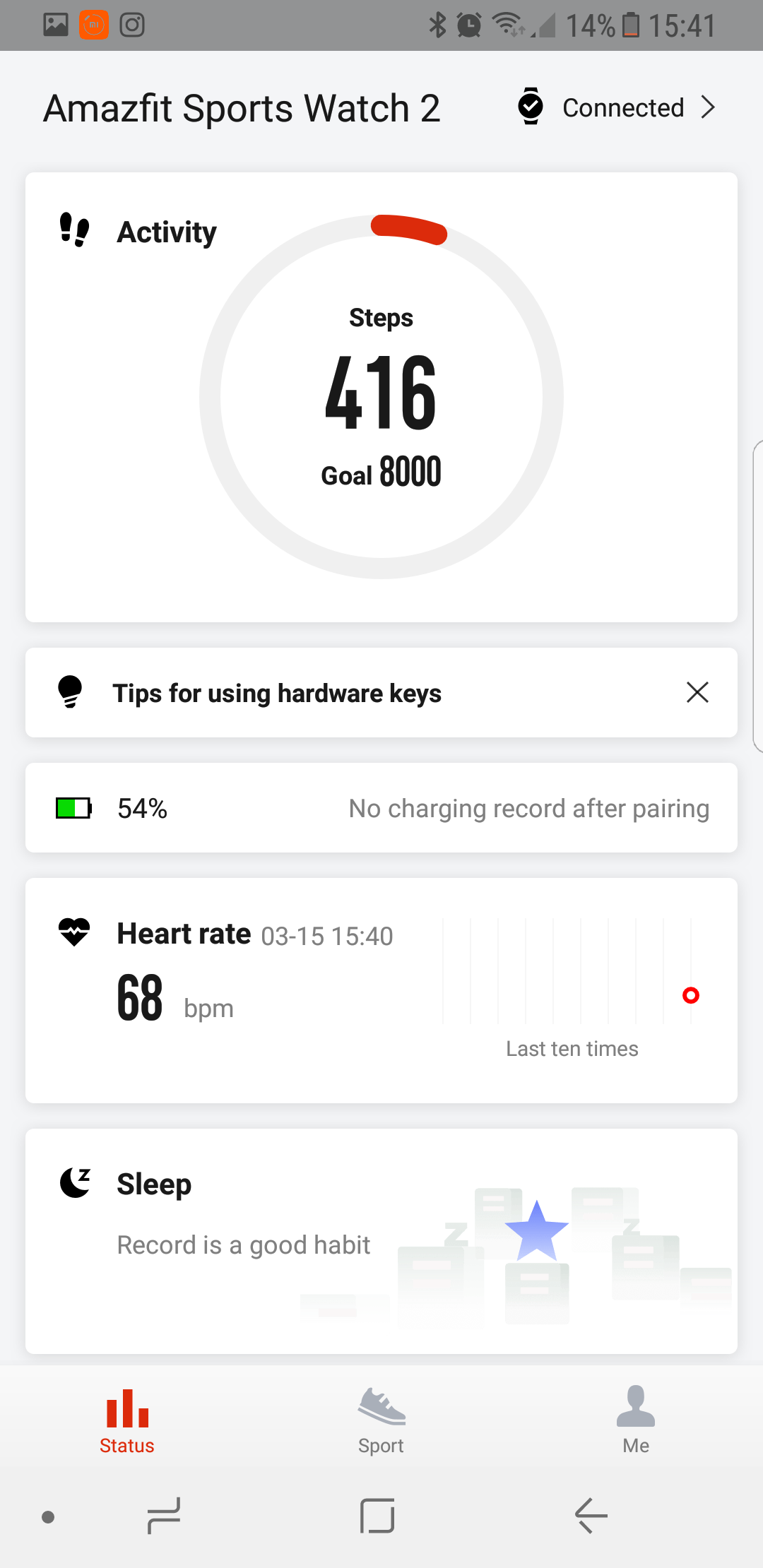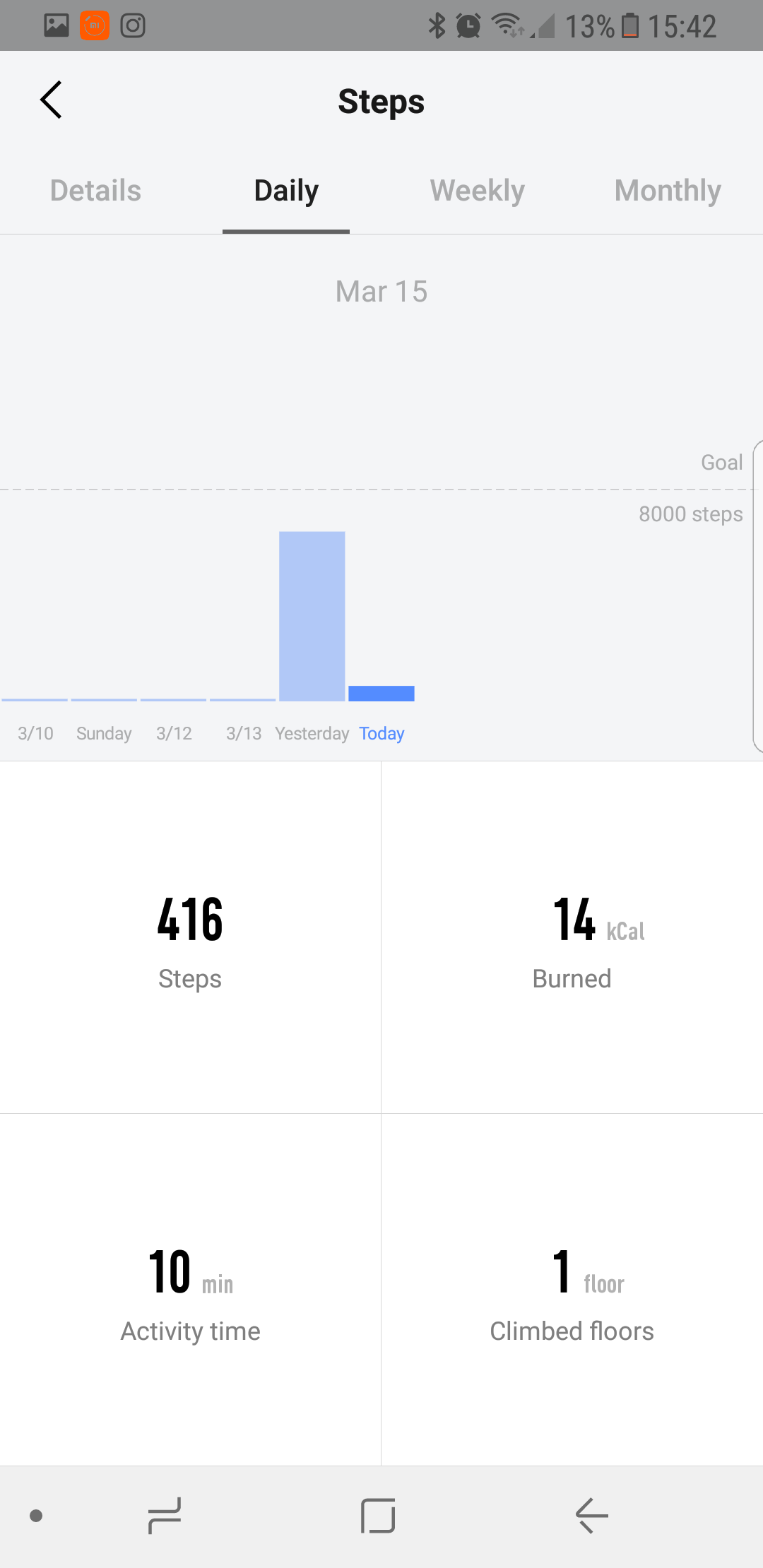 While the Stratos's touch screen allows you view pretty much all the data it collects, the App makes it much easier to see trends and historical data. Those who like graphs and tables will enjoy the Amazfit App, however you will have to get used to the many options and functions.
The App is also where you can select one of the many watch faces available. There really are a huge number to choose from,and more are created all the time, allowing you to completely change the look of your Stratos instantly.
back to menu ↑
Water Resistance
Probably the biggest upgrade that comes with the Stratos is water resistance. The previous version, the Pace, was IP67 rated, meaning it could only survive splashes of liquid. The Stratos is waterproof up to 50m depth, meaning you can wear it in the shower or even go swimming with it.
I have tested this by submerging the watch for several minutes, using it in the shower and yes, even swimming with it and I can conform that my Stratos still works perfectly.
This makes the Stratos perfect for swimmers, surfers, skiers, snowboarders, or anyone who fears breaking their smartwatch by getting it wet. The Stratos is only one of a few fully waterproof smartwatches with excellent tracking capabilities.
back to menu ↑
Summary
Should you buy the Amazfit Stratos? I've been using it for 3 weeks now and it's still on my wrist. I think it looks great and I love the fact that it's fully waterproof, so I literally never have to take it off if I don't want to. I do think it's on the thick side and those with thinner wrists may struggle to keep it on all day. If you want a smaller watch with similar capabilities, then check the Amazfit Pace which is still an awesome device.
If you know you like a larger watch and you're looking for a touch screen smartwach with heart rate, sleep and activity tracking, then the Stratos is probably the best option available right now, and it's pretty good value for money too.