Amazfit have a reputation for developing excellent value smartwatches that can match up to much more expensive rivals. Two of the most popular smartwatches in their range are the Amazfit Bip (check price) and the Amazfit Pace (check price). These two smartwatches look different, have different strengths and weaknesses and are prices differently. Having owned both devices I can tell you that they are both excellent value, but which one should you buy? This will depend on how you want to use your smartwatch. Let me take you through the strengths and weaknesses of the Amazfit Bip And Stratos, then you can device which is the better smartwatch for you.
Amazfit Bip vs Amazfit Pace
Specs
| Image | | |
| --- | --- | --- |
| Specs | Amazfit Bip | Amazfit Pace |
| Screen | Reflective Color, 1.28 inches | LCD 1.34 Inch |
| Resolution | 176 x 176 | 320 x 300 |
| Memory | N/A | 512MB Ram, 4GB Internal |
| Connectivity | Bluetooth, GPS | Bluetooth, GPS, Wifi, USB |
| Sensors |  Heart Rate Sensor, Accelerometer, Gyro, Barometer, Compass |  Heart Rate Sensor, Accelerometer, Gyro, Barometer, Compass |
| Tracking | Steps, Calories, Heart Rate, Distance, Speed, Sleep Quality | Steps, Calories, Heart Rate, Distance, Speed, Sleep Quality |
| Notifications | Yes – Vibration Feedback and On Screen Alerts | Yes – Vibration Feedback and On Screen Alerts |
| Water Resistance | 1.5m | IP67 |
| Battery |  190mAh – Up to 45 Days |  280mAh – Up to 5 Days |
| Price | Check Price on Gearbest.com | Amazon |
back to menu ↑
Analysis
While these two smartwatches are made by the same tech company and have some similar capabilities, they are actually very different. The Amazfit Pace a tracking focused smartwatch with a large touch screen with various apps; it's larger and thicker with a lot of tracking information available on the screen. The Amazfit Bip on the other hand is smaller, thinner, cheaper with an extremely long battery life; it's more of an general smartwatch with less tracking information available on screen.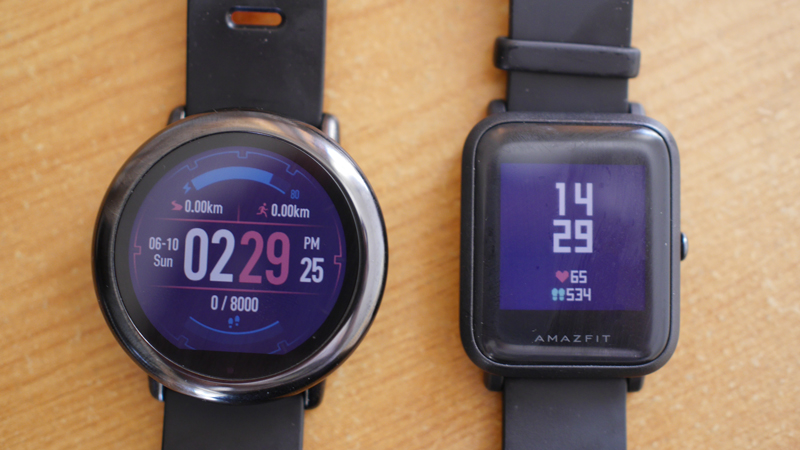 One absolutely key difference between the two is battery life, in fact for the Amazfit Bip the battery is its main selling point. The Stratos has an average battery life of around 5 days (less if GPS is on), which is still pretty good compared to other smartwatches. The Bip on the other hand has a better life of up to 45 days, which is unheard of among smartwatches with a full touch screen. The Bip has the best battery life of any smartwatch and is perfect for those who just want to wear their device for as long as possible without worrying about charging it.
Other differences between the two include memory, software speed, type of screen and of course, price. Let's go into the detail of the differences between the two watches so you'll be able to decide between them.
back to menu ↑
Design
Looking at both watches, the first think you'll notice is the difference in the screen. The Pace has a 1.34 inch circular screen with a higher resolution. The clarity of the screen is similar to a smartphone and the touch screen is as responsive. The Bip has a much more simple color screen which is not as clear, and the responsiveness isn't as good.
Both screens have a back-light that will activate on touch or if you move your wrist as if to look at the time. The back-light on the Bip is actually more powerful than the Pace and makes it better for viewing in direct sunlight, but this is the only advantage of the Bips' screen over the Pace. The Amazfit Pace has without doubt the better screen of the two, with clearer images, text and a much higher pixel count.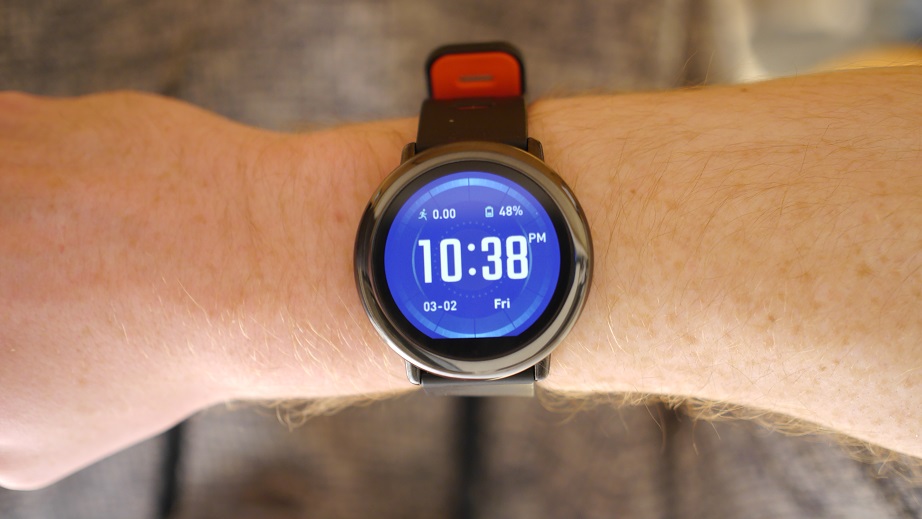 While the Pace has the superior screen, this comes with the caveat of a much thicker screen. The Bip in comparison to the Pace is much thinner and likely to be more comfortable for a greater number of people.
The Bip's square frame is clad in a plastic and is certainly more basic looking, whereas the Pace uses more premium feeling materials and certainly stands out more when worn on the wrist.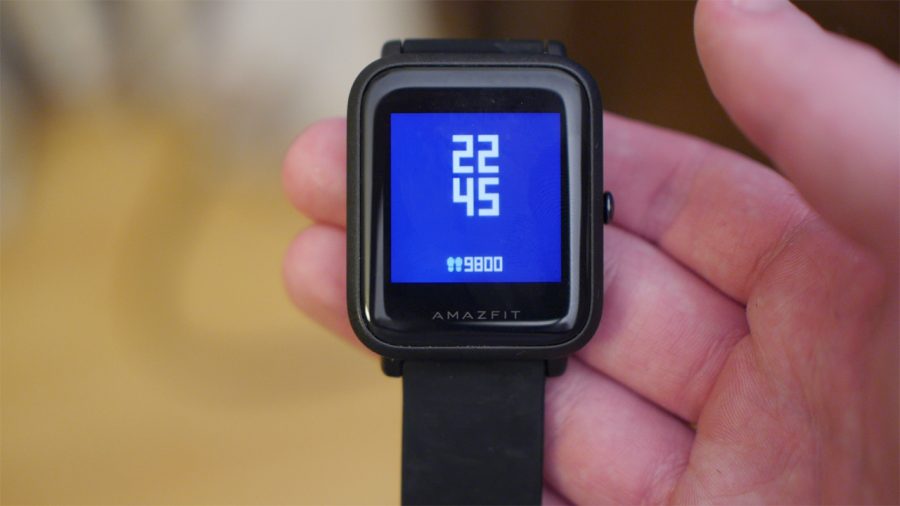 Both watches come with a silicone strap, however the Pace features a more attention seeking orange color scheme whereas the Bip is more subtle. The straps in both watches are replaceable and there are plenty of options for both devices, including metal and leather straps.
back to menu ↑
App
The Amazfit Pace uses the Amazfit App, which is also used by most other Amazfit smartwatches. You can connect constantly via Bluetooth and track a variety of metrics. The Amazfit App makes it very easy to view both short term and long term trends in your health; for example you can see your latest heart rate reading as well as an average over the past few days or weeks. The same can be said for your steps, calorie burn and distance traveled.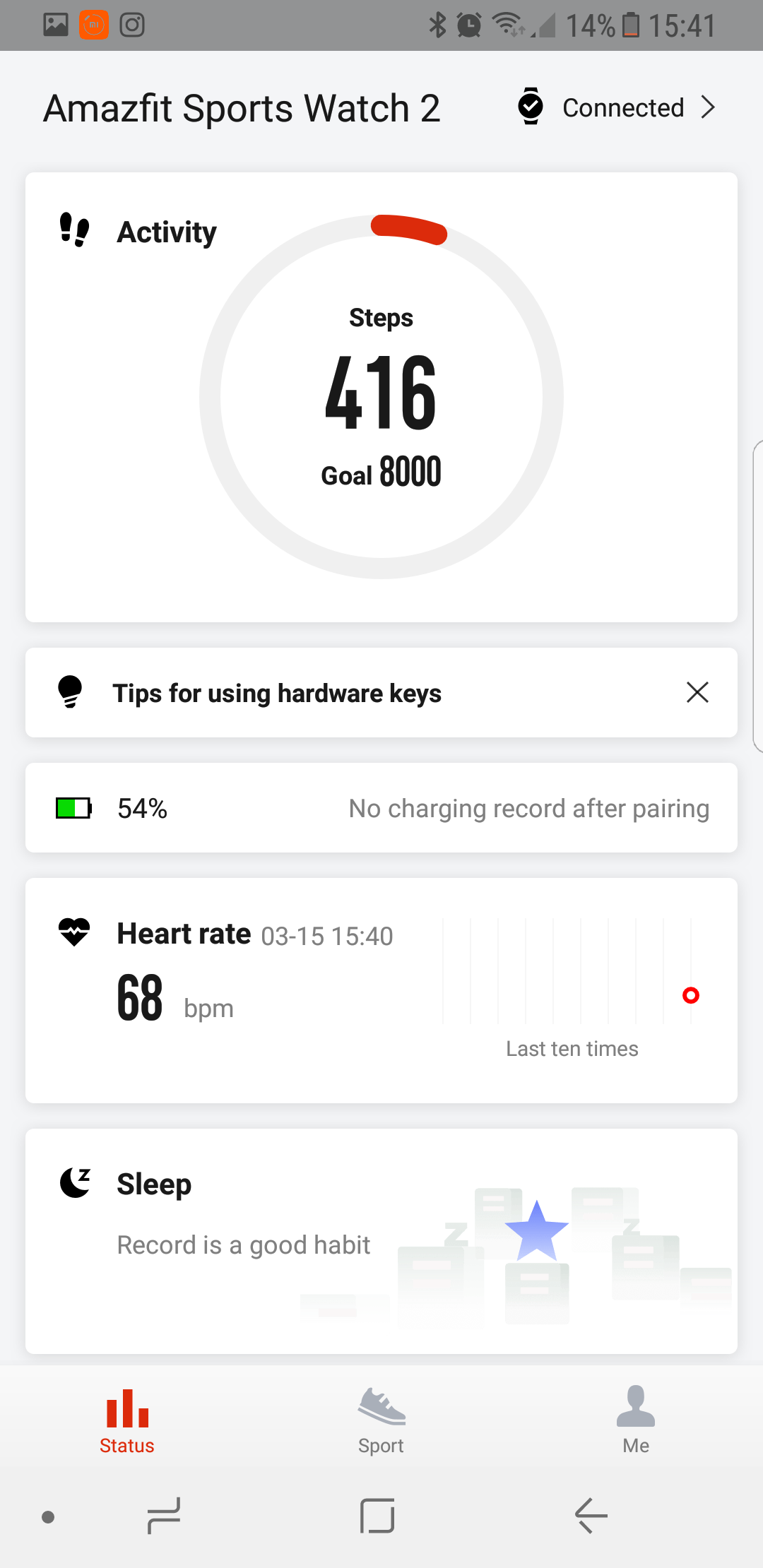 The Bip is the only watch in the Amazfit range that uses a different app to monitor health data, in this case the Mi Fit App. This is a great app for quickly viewing your health data and it shows pretty much all the basic data on the main screen. On the other hand there are fewer options for seeing data trends over a long period, but the app is still very user friendly and easy to use. One big plus for the Mi Sphere app is that it compares your data to others in your area (anonymously); for example it will tell in percentage points how much lighter of heavier you are that the average for your height and age.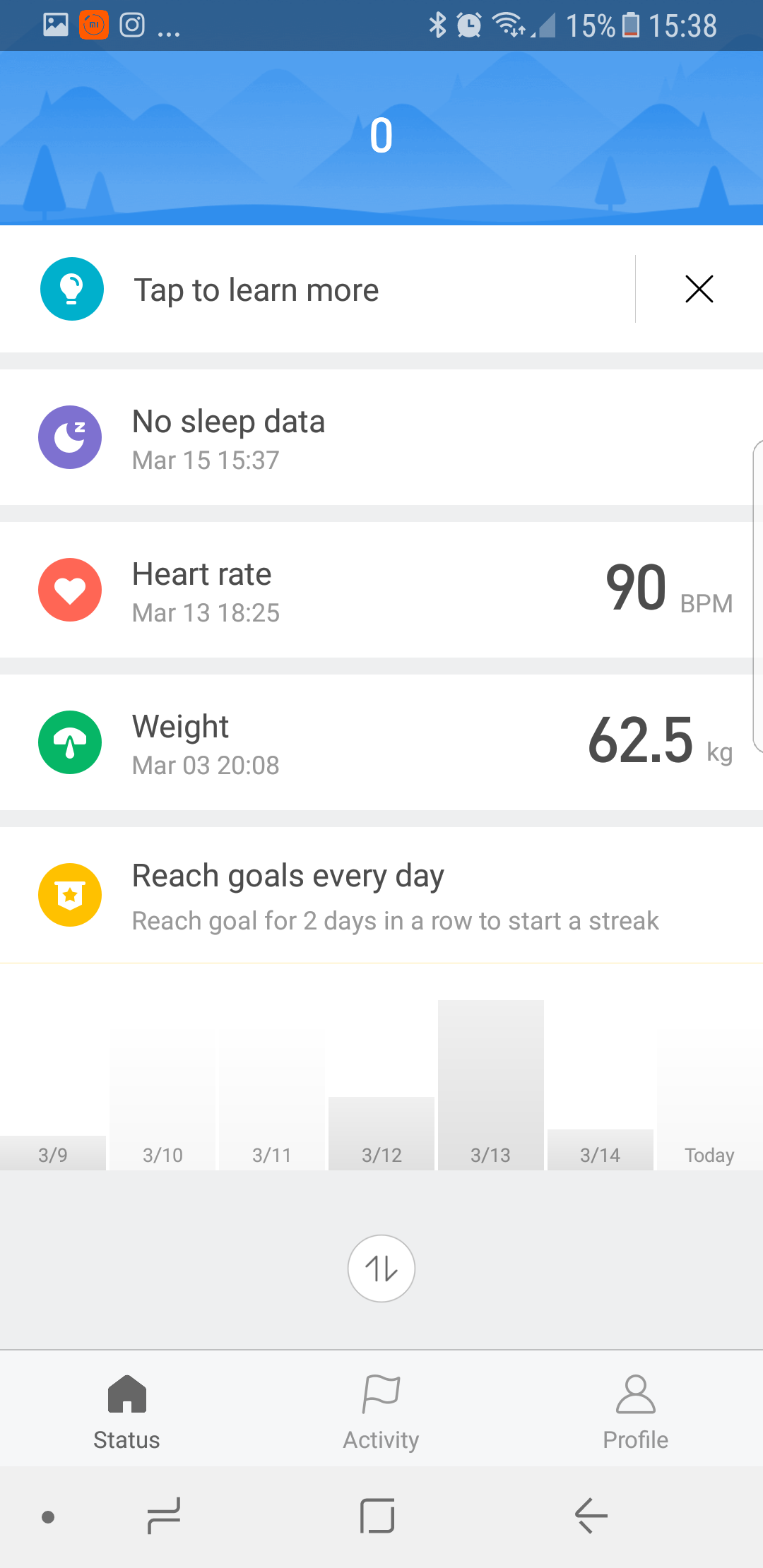 back to menu ↑
Strengths/ Weaknesses
Amazfit Pace
PROS:
Large Screen
High Resolution
Responsive Touch Screen
Built in Sports Tracking
4GB Internal Memory
CONS:
Thick – Might Not be Comfortable for Smaller Wrists
More Expensive
5 Day Battery Life
Screen More Prone to Scratching
Amazfit Bip
PROS:
45 Day Battery Life
Very Small and Comfortable to Wear
Very Cheap
Same Tracking Ability as More Expensive Devices
Bright Backlight
CONS:
Low Screen Resolution
Limited Apps/Functionality
Design Not as Attractive
No Internal Memory
back to menu ↑
Conclusion – Which Should you Buy?
I own both of these devices and they are both great, but they are designed for a different target audience. If you want a general purpose smartwatch with some tracking abilities, but you don't necessarily want to spend a lot of time checking it or charging it, then the Amazfit Bip is perfect for you. I often wear my Bip on a daily basis as I can just put in on and forget about it; it doesn't stand out and there isn't a huge amount you can do with it other than check your heart rate, the weather and of course, the time!
Check Price on Amazon
The Amazfit Pace on the other hand is a bit of a show stopper, it certainly does stand out and it's large clear screen is great for trying out various watch faces. I find myself wearing the Pace when I want to track my workouts or if I'm on a night out and want an attractive timepiece on my wrist. The Pace allows you to view your health data straight from the screen and there are dozens of awesome watch faces available to download which completely changes the look of the watch.
Check Price on Amazon
If you want cheap and cheerful, then get the Bip, but if you want a more serious smartwatch and you're willing to pay the premium, then get the Pace.