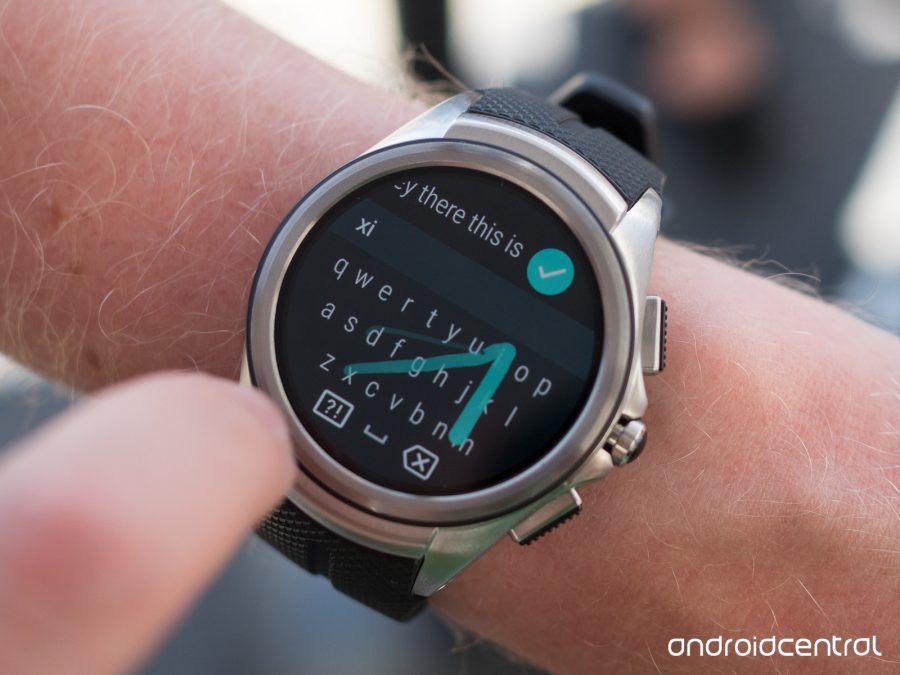 So you want a smartwatch, but you want one that will not only be able to notify you of incoming messages to your smartphone, but allow you to reply to them directly from your watch. One of the best things about owning a smartwatch is that you never miss a call or message, and you don't have to be constantly checking your phone all day.
Still, if it's a urgent message that needs replying to, it makes sense that you should be able to do so without hunting down your phone first. Thankfully some of the latest smartwatches have a messaging functionality built in to enable you to send text messages from your watch and it's not as difficult as you may think, even with such a small screen!
5 Smartwatches That Let You Send Text Messages
Samsung Gear Sports
The Samsung Gear Sports is one of the most popular smartwatches of the past few years; which is not surprising considering how many features it packs into its tiny body. Perfect for tracking health and sports data, the Gear Sports features a heart rate monitor, tracks your steps, distance, speed and calories, it's waterproof to an impressive 50m and features NFC technology which allows you to use your watch as a tap payment device.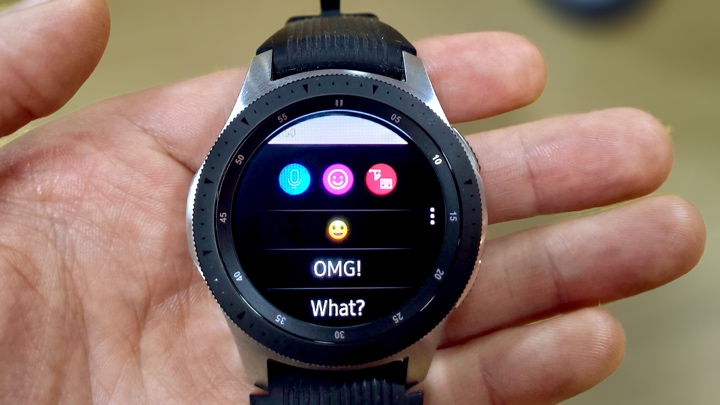 Most importantly for our purposes, it features full notification alerts and allows you to reply to messages straight from the watch. This is accomplished by using the turntable bezel to select characters on the screen; while this is a unique way of texting compared to the touch screens we are all used to, it's actually very intuitive and you can create a message very quickly.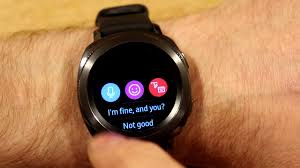 The Gear Sports does feature a full touch screen with a stunningly high resolution, which is even more impressive considering it has a long 7 day battery life. As you can tell I am a big fan of the Gear Sports and Samsung really have pulled out all the stops to create one of the best all round smartwatches ever. You can get the Gear Sports on Amazon, where it is currently cheaper than anywhere else!
Check Price on Amazon
back to menu ↑
Moto 360
Most people will fondly recall Motorola for their epic 00's era phones, but the company is starting to make a name for itself in the wearable tech category. The Moto 360 is one of their headline devices and it's proving to be very popular, with over 200 reviews and a 4 star rating on Amazon.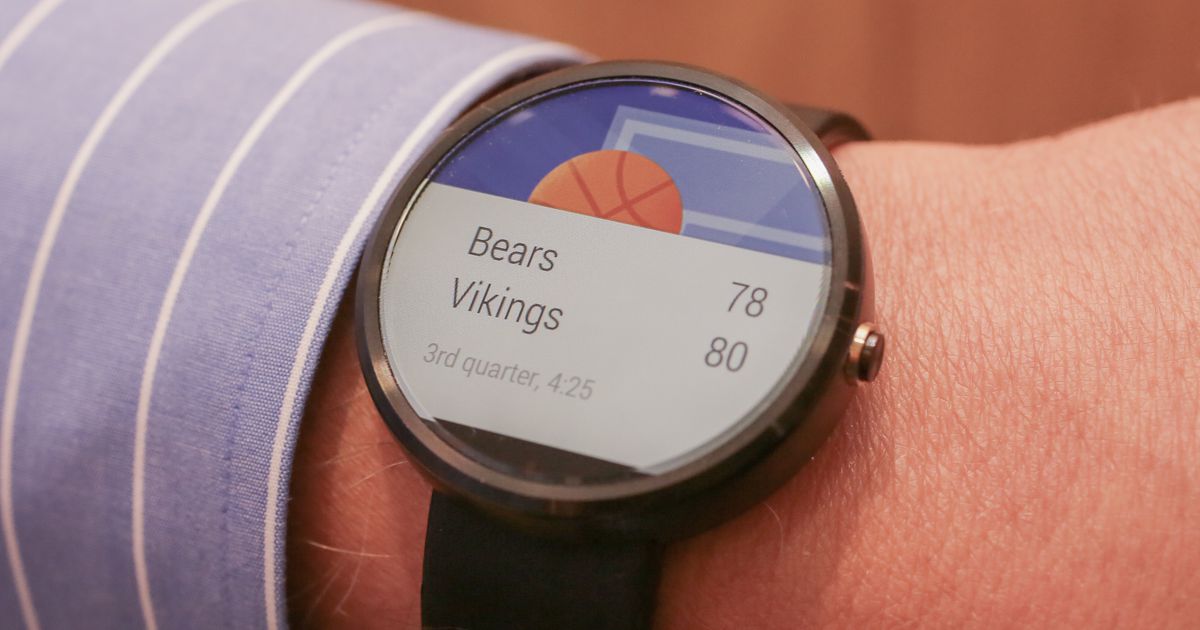 The Moto 360 features all the health tracking and notification abilities of a premium smartwatch, but at a much lower price. The Moto 360 allows you to create and reply to text messages and emails using your voice. The latest version of Android Wear features a very accurate voice control function, allowing you to dictate your messages straight to your watch. While it's probably not recommended for lengthy emails, the Google software is accurate enough to create short messages very quickly.
You can also download keyboard apps to directly type your message out, depending on how large your fingers are you may find this very easy or a bit of a struggle.
Apart from the amazing voice function the Moto 360 features a stunning metal cased body and edge to edge screen, as well as a heart rate monitor and pedometer for health tracking. Unfortunately the batter will only last a day or two, but considering the low  price and stunning design, it's still definitely worth considering.
Check Price on Amazon
back to menu ↑
LG Watch Urbane
The LG watch Urbane might be one of the best looking smartwatches on this list, especially if you prefer a classical timepiece like I do. The Urbane merges the classic style with the latest technology and allows you to forget your phone for a while and control your digital life on your wrist.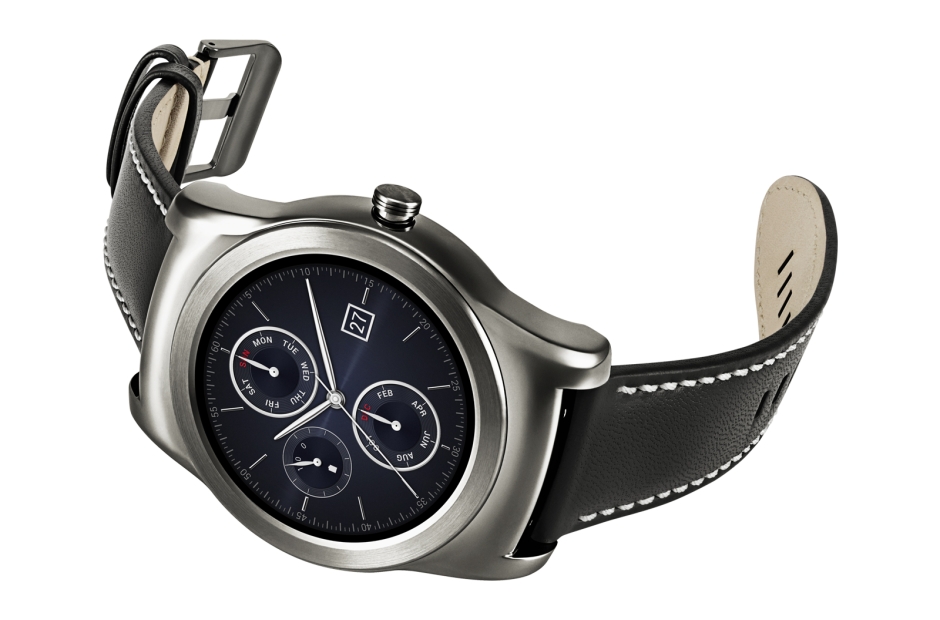 Using "OK Google" commands, you can control and reply to any messages that are pushed to your watch, and the improved accuracy of the voice recognition means you can speak normally and the software will still recognize each word. You can also use a keyboard app to type out your messages, and with such a large screen it's not too clumsy to do so.
A stainless steel body and leather strap gives the Urbane a very premium feel, while the large OLED screen allows you to use a variety of apps in full color. What's more, the high capacity battery can keep the Urbane going for longer than the average smartwatch.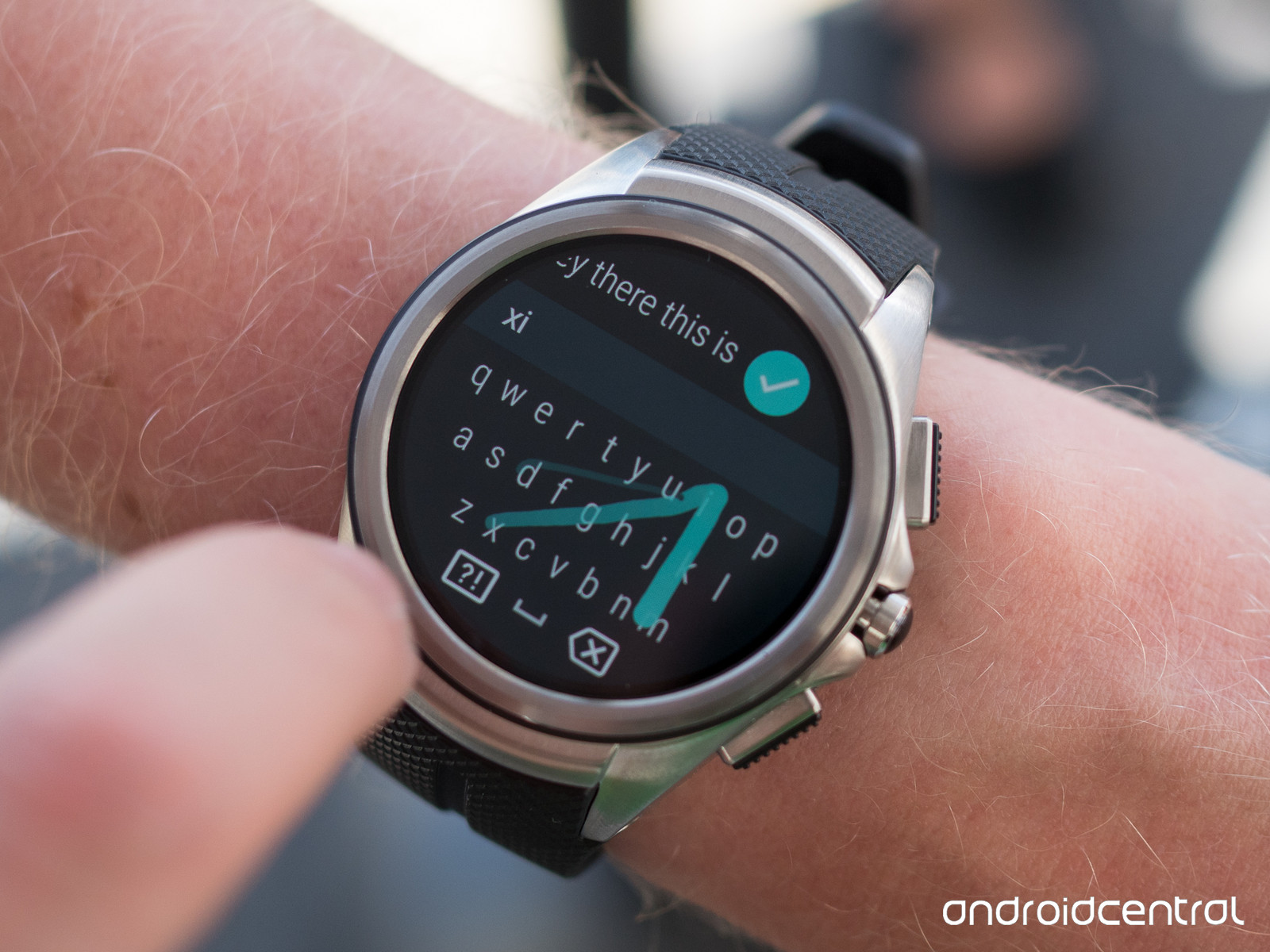 Overall the Urbane is one of the smartwatches best suited to replace your phone, or at least ensure you don't have to have it glued to your hand all day.
Check Price on Amazon
back to menu ↑
Apple Watch SE/ Series 6
Very few smartwatch lists would be complete without the Apple Watch. While it's one of the most expensive smartwatches out right now, it is also one of the best. While you are locked into Apples ecosystem, the benefit is a silky smooth user experience with possible one of the clearest screens ever. There's also now the slight cheaper Apple Watch SE which comes with many of the same features as the more expensive version.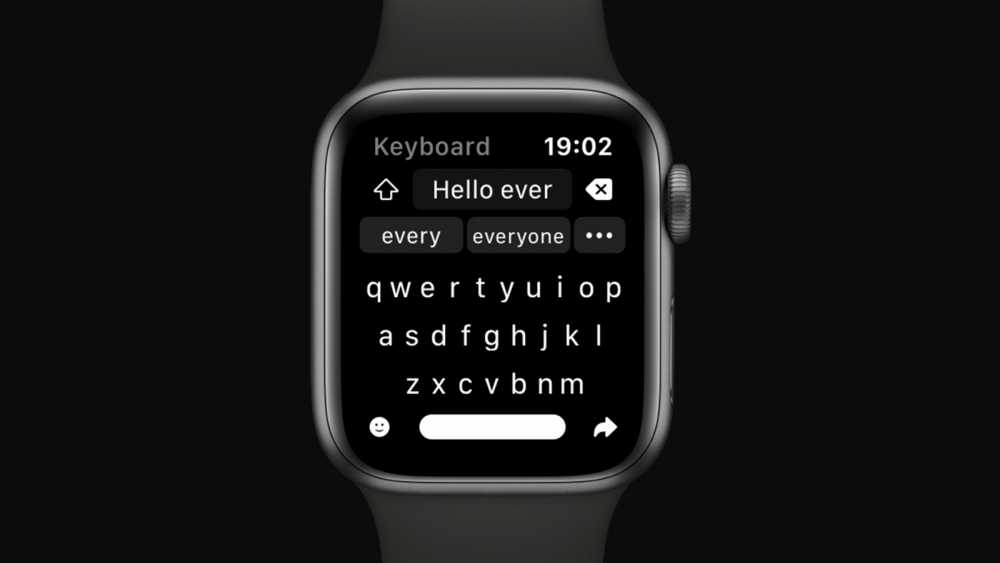 The messaging function on the Apple Watch works in one of two ways; you can either send default reply's that are built into the software or you can dictate a message with your voice. The default replies are useful for short and sharp answers and the dictating feature is for when you need a longer message.
The Apple voice recognition software is different from Google, but if you've used Siri lately you'll know it's come leaps and bounds over the past few years in terms of accuracy.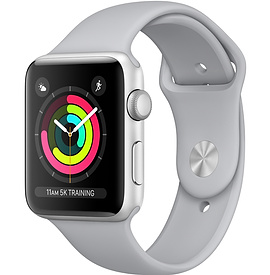 The Apple Watch also features a huge number of apps as well as enough sensors to monitor your health and fitness; these include a heart rate sensor, altimeter, Accelerometer, and gyroscope. The design of the watch is typically Apple, with a sleek and smooth metal body. The screen is one of the brightest and clearest ever and looks just as good as an iPhone screen.
Check Price on Amazon
back to menu ↑
Ticwatch E2
You may have never even heard of the Ticwatch brand, neither had I if I'm honest, but they have flown under the radar and produced the most popular smartwatch that can also send messages. Just checkout the Amazon page where the Ticwatch E2 has hundreds of reviews with a 4 star rating. This is definitely worth checking out!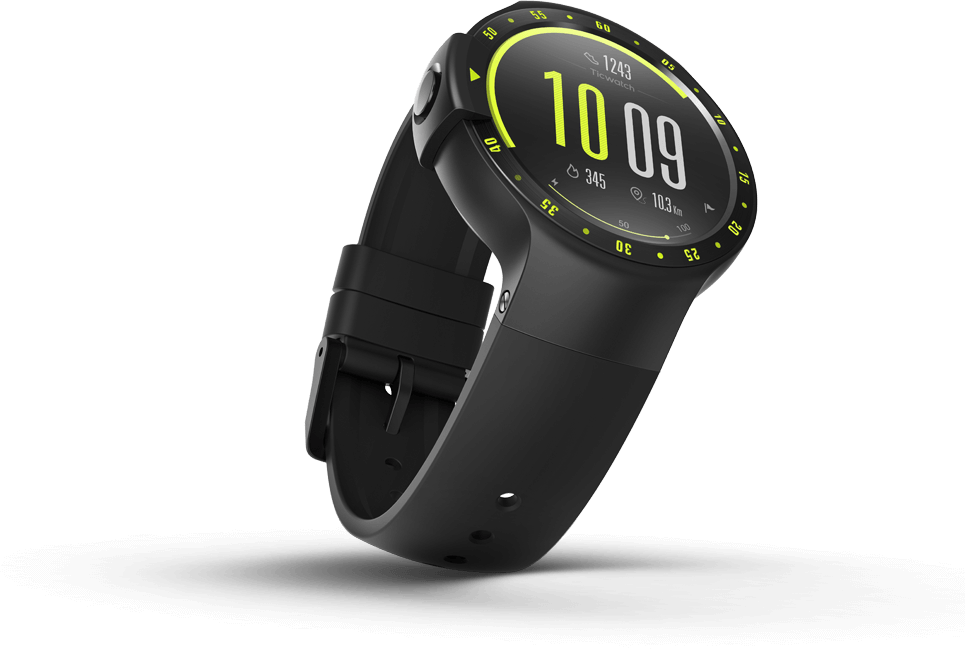 The Ticwatche E smartwatch features more sensors that you can shake a stick at, it's got GPS built in, a large circular screen, Google Play apps and voice recognition. It's the latter that allows you to reply to messages and emails using your voice, as well as make phone calls to your contacts. Not bad a for a smartwatch well under the $200 mark.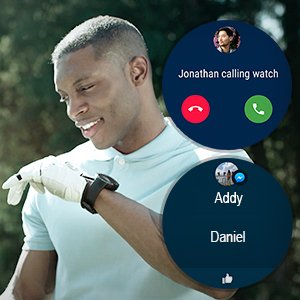 One of the reasons this watch is so popular is that it has most of the features found in much more expensive smartwatches, and it looks just as good too. If I were to buy a new smartwatch I think this would be among my top choices right now.
Check Price on Amazon