The Verge and Amazfit Stratos are the two flagship smartwatches by Amazfit, one of the industry leaders in health tracking smartwatches. Both smartwatches feature full touch screens, various sensors for tracking health as well as a notification system connected to your phone. If you are wondering which of these smartwatches you should get then carry on reading as there are definitely differences which could swing your opinion either way.
Amazfit Verge vs Stratos
Specs
| Specs | Amazfit Stratos | Amazfit Verge |
| --- | --- | --- |
| Screen | 1.34 Inch Reflective LCD |  1.3 Inch AMOLED Color Display |
| Resolution | 320 x 300 | 360 x 360 |
| Memory | 512MB Ram, 4GB Internal | 512MB Ram, 4GB Internal |
| Connectivity | Bluetooth, GPS, Wifi, USB | Bluetooth, GPS, Wifi, USB |
| Sensors | Heart Rate Sensor, Accelerometer, Gyro, Barometer, Compass | Optical sensor, Heart Rate Sensor, Accelerometer, Gyroscope, Geomagnetic Sensor, air pressure sensor, Barometer, Ambient light sensor, Wearing detection sensor |
| Tracking | Steps, Calories, Heart Rate, Distance, Speed, Sleep Quality | Steps, Calories, Heart Rate, Distance, Speed, Sleep Quality |
| Notifications | Yes – Vibration Feedback and On Screen Alerts | Yes – Vibration Feedback and On Screen Alerts |
| Microphone | No | Yes |
| Water Resistance | 50m | IP68 |
| Battery | 280mAh – Up to 5 Days |  280mAh – Up to 5 Days |
| Watch Face | Interchangeable via App | Interchangeable via App |
| Price | $$ | $$ |
| Where to Buy | Gearbest.com | Amazon |
back to menu ↑
Screen
Probably the biggest difference between the Verge and the Stratos are their screens. The Verge has a 1.3 inch AMOLED screen while you'll find a slightly larger 1.34 inch LCD screen on the Stratos.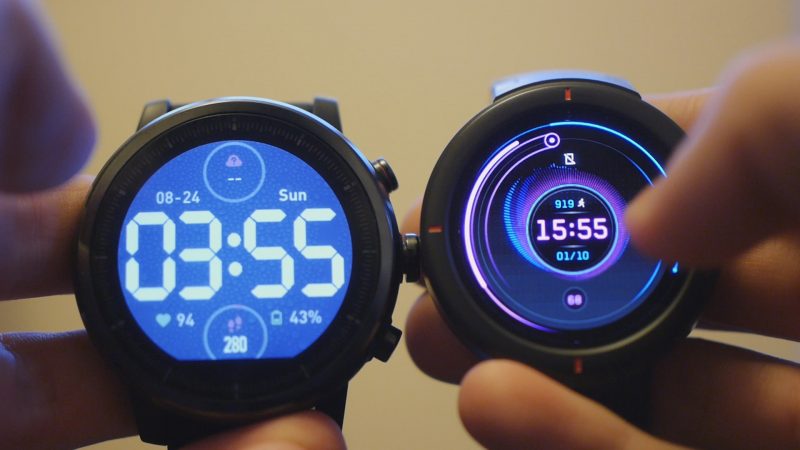 The different screen technologies have their strengths and weaknesses and your decision may largely be based on what's more important to you, so let's take a look at both screen types to find out.
LCD Screen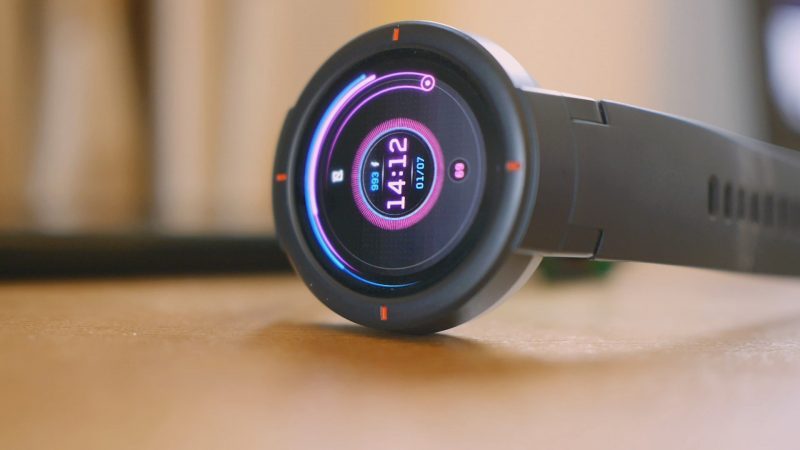 PROS:
Less color saturation
Low Battery Use
Easy to See in Direct Sunlight
Can Be "Always On"
CONS:
Lower Resolution
Slower Refresh Rates
Less Vibrant Colors
AMOLED Screen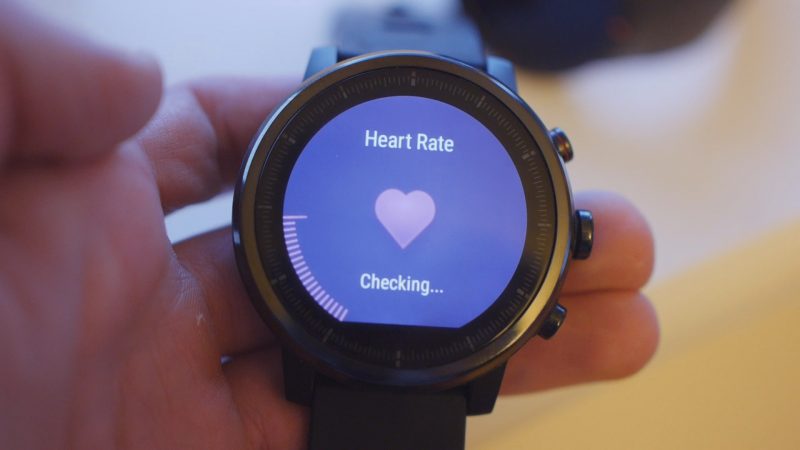 PROS:
Brighter Colors
Deeper Blacks
Faster Refresh Rates,
CONS:
Drains Battery
Not "Always On"
Hard to See in Sunlight
As you can see the strengths of one screen type mirrors the weaknesses of the other. As someone who owns both watches I can say with confidence that the Verge screen is far brighter and more colourful than the Stratos. The icons are sharper and the colors pop, whereas the Stratos screen cannot display colors nearly as well. It's true that the screen on the Verge is not always on and will automatically go blank after 20 seconds or so of no usage, whereas the Stratos will always display its screen.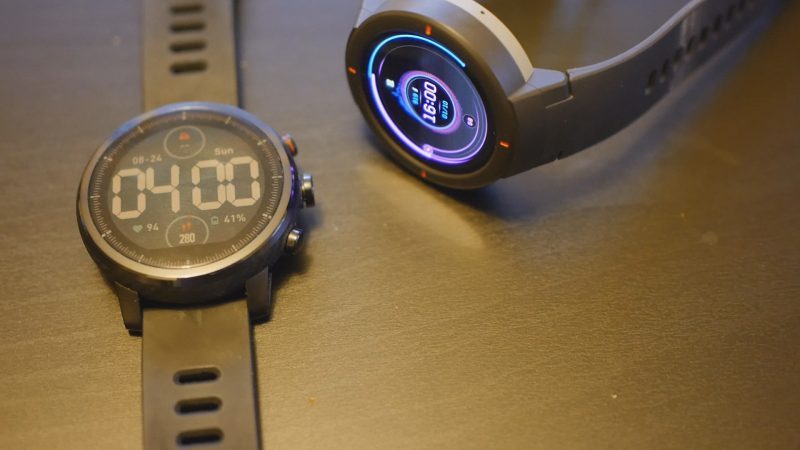 I've not found this to be a huge issue when using the Verge as it has a sensor which detects when you move your arm to use it, at which point the screen will automatically activate. This means you don't actually need to touch anything to see the time.
I've found the strengths of the AMOLED screen to outweigh the weaknesses and I do prefer the Verge's screen to the Stratos, however you may feel differently.
back to menu ↑
Design
While the screen on the Verge may be superior, the overall design of the watch is another matter. The Stratos and Verge couldn't be more different in terms of design, materials and attractiveness. The Stratos has been designed as a rugged, premium sports watch that could also be worn on a day to day basis. The exterior is made from a mixture of glass and a toughened, textured plastic. It has the appearance of a premium watch and looks great on the wrist.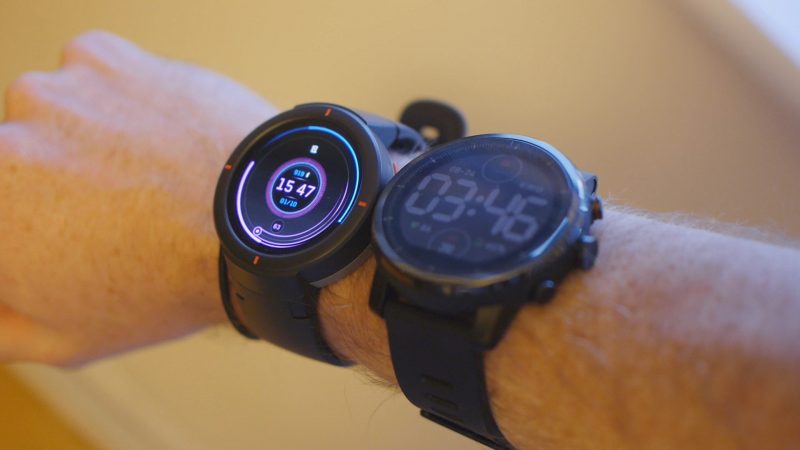 The Verge on the other hand is far more basic. An almost entirely plastic body that encircles the screen with a rather bland color scheme, there is nothing premium in the design of this watch.
I'm pretty sure Amazfit designed the Verge to be rather bland on purpose so it didn't compete with its own product too much. To be honest the blandness of the Verge isn't a huge issue as it doesn't look "bad" per-say, just not nearly as stylist as the all black and glass Stratos.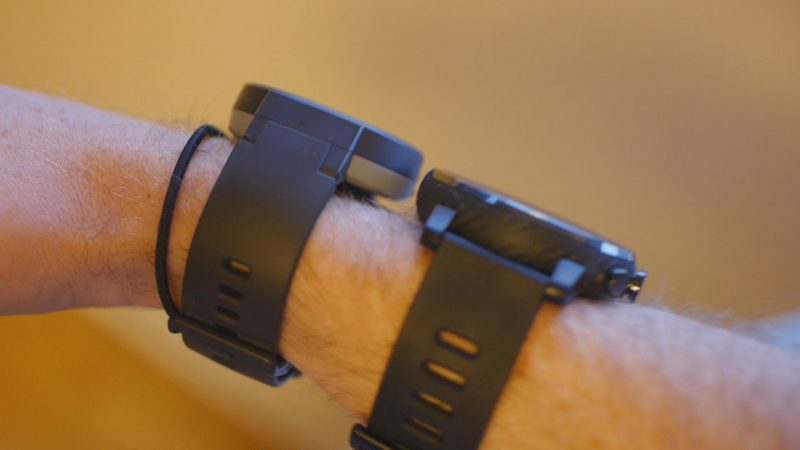 If you are looking for a fashion accessory as well as a fitness tracker then the Stratos is miles ahead, but if you are more interested in functionality over style then the Verge could be more for you.
Both watches are on the thick side which may pose an issue for people not used to large watches. The Verge is 12.6mm thick while the Stratos is 15mm. I've found both watches comfortable to wear all day but they stick out if you wear a tight jumper or shirt.
back to menu ↑
Hardware and Tracking
All Amazfit smartwatches come fitted with a range of sensors for tracking your health and fitness. The Verge, being the newer model, has the advantage of being equipped with more modern sensors; the heart rate sensor in particular has received an upgrade and is more accurate than previous watches. Both watches come fitted with GPS to track your workouts. Both are fairly accurate, at least enough to map a run.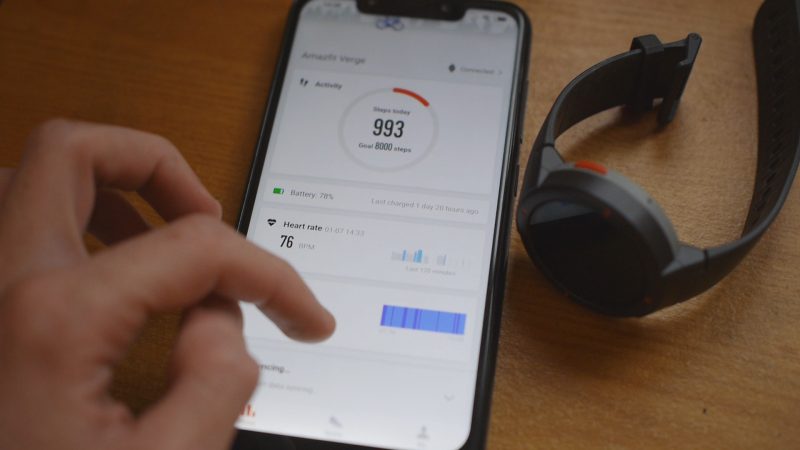 I've found the tracking on the Verge to be slightly more accurate, particularly the heart rate and pedometer. Having said that, the Stratos can still track heart rate and steps with reasonable accuracy. I've only noticed errors when sitting still, but during exercises the two sensors work well.
You'll find pretty much the same tracking functionalities in both watches as well as the ability to visualize data on the watch itself and the App.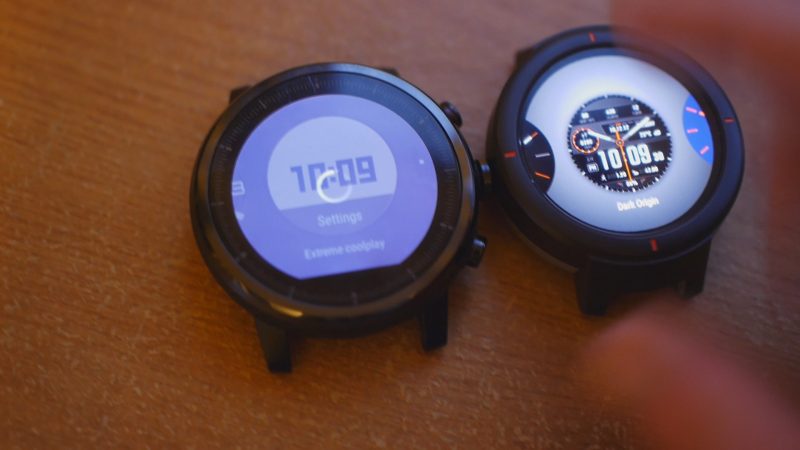 Speaking of the App, both watches use the same one to sync data to your phone and deliver notifications. The App is called Amazfit Smartwatch and it available on both Apple and Android phones. The app's primary function is to visualise your health data collected over a long period of time or during a particular activity. It does both reasonably well and the amount of data you can trawl through is quite impressive. If you want to check your average heart rate over a whole week or see how much deep sleep you get over 5 days, it's all a quick tap away.
back to menu ↑
Battery Life
A very important aspect of owning a smartwatch is how long it will last before it becomes dead weight on your wrist. The reason I avoid the Apple Watch series is because of the abysmal battery life. I simply don't want to charge a watch every day. Thankfully this isn't a requirement for either of these watches, in fact both should last around 5 days before need to charge.
back to menu ↑
Other Differences
Water Resistance: The Amazfit Verge is only splash-proof whereas the Stratos is fully waterproof up to 50 metres. Swimmers or anyone who wants to track water based exercises should only consider the Stratos in this case.
Microphone: The Verge has a microphone and speaker included in its body, allowing you to take and receive calls directly from your watch. The Stratos has no microphone and will only alert you to a call which you'll then need to take from your phone.
back to menu ↑
Summary
There are clearly some major differences between the Verge and the Stratos, but hopefully I've made it clear what they are. Essentially the Verge is a better fitness tracker with a brighter screen and a microphone, whereas the Stratos is a much better looking watch that's fully waterproof. It's difficult to say for sure which is better as it will be subjective and I can honestly say I've been happy using both of them.
Both the Stratos and the Verge are available now; check the links below to see the cheapest places to buy them.

Amazfit Verge
Advances fitness smartwatch with an excellent screen and microphone for taking calls

Amazfit Stratos
Stunningly designed smartwatch with fully waterproof body and always-on screen
Check out my latest video!