It wasn't long ago that Chinese products had a poor reputation, but lately the tide has been turning and Chinese companies like Huami and Xiaomi are giving traditional tech companies a run for their money. These companies are setting their sights on the growing smartwatch market and there are plenty of amazing products at surprisingly low prices. Let's take a look at the best Chinese smartwatches that are currently available; I've only chosen those that are quality products with premium features.
Amazfit Stratos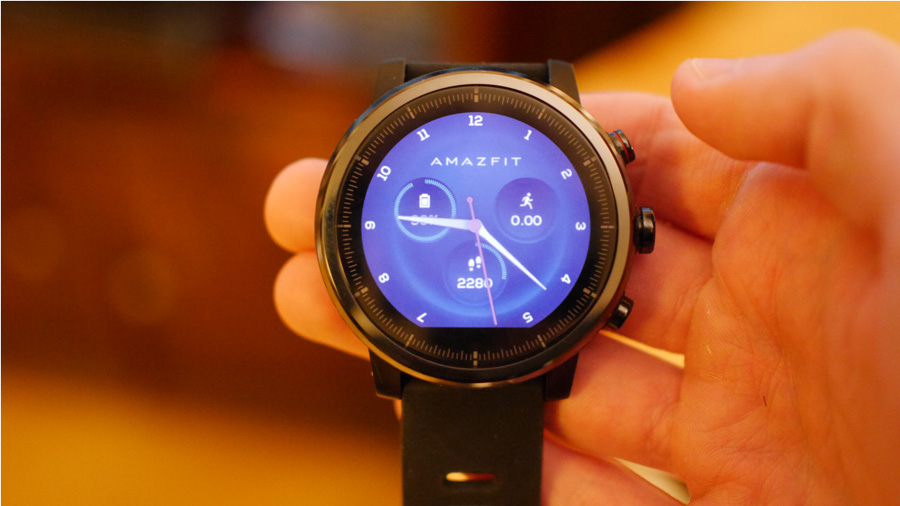 One of the best cheap smartwatches out now is the Amazfit Stratos. This growing smartwatch brand has a range of devices and this is their flagship. The Stratos is fully waterproof and comes with both GPS and heart rate monitor. The watch is built with premium glass and is one of the best looking smartwatches I've even used.
The Stratos is on the thick side but I've still found it comfortable to wear all day. You'll be able to track your fitness, sleep, steps and daily calorie burn with the Stratos and have it all synced to your smartphone for later analysis. This is one of the best smartwatches for under $200 in my opinion, providing both function and style.
PROS:
Many Tracking Features
GPS + Heart Rate Monitor
Cheap
Excellent App
CONS:
Thick
Transflective Screen Lacks Vibrancy
back to menu ↑
Kospet Hope 4G Lite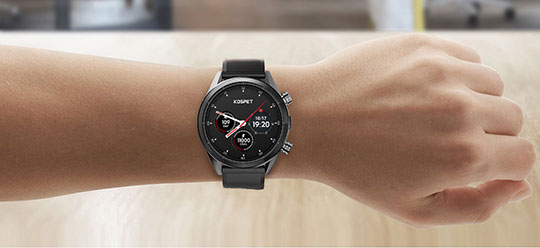 This powerful smartwatch is basically a mini phone on your wrist. With 4G connection and a nano simcard slot, the Kospet Hope can pretty much do everything your smartphone can do. Make and receive calls straight from your watch, send messages, whatsapps and even video calls thanks to the 8mp camera. Powered by 3GB of RAM, this is a very powerful smartwatch for its relatively low price.
The 1.39″ AMOLED screen looks crisp and vibrant, displaying icons and text as sharply as you would expect from a phone. The Kospet comes with several tracking features including a heart rate monitor, pedometer and professional sports mode. GPS + GLONASS provides super accurate location tracking which you can view on the watches map app. The Kospet is one of the most feature packed smartwatches for under $200, in many ways it matches up to the Apple and Samsung watches but at a much lower price.
PROS:
GPS + Heart Rate Monitor
4G Data Connection
Camera
Bright, Clear Screen
3GB RAM
Premium Materials
CONS:
More Expensive
Thich Body
Check Price on Gearbest
back to menu ↑
Amazfit Bip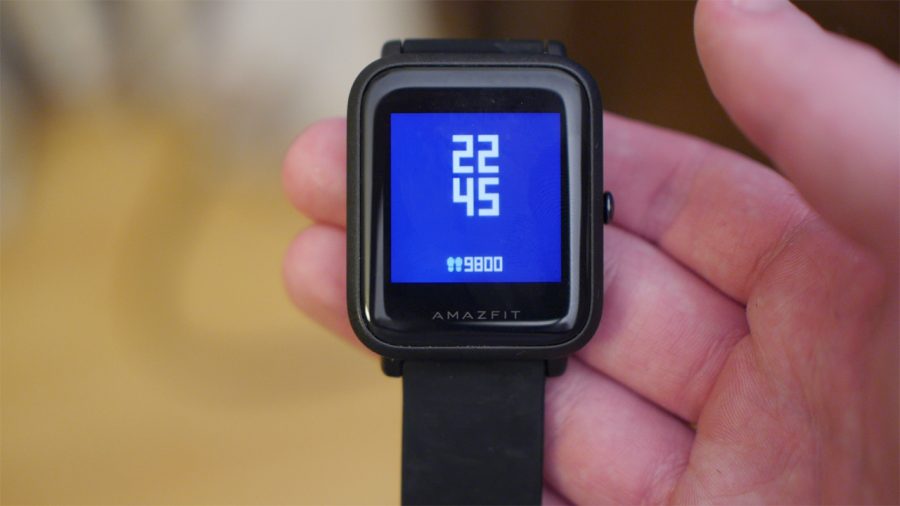 Here's another Amazfit smartwatch, this time on the cheaper end of its range. The Bip has proven to be an extremely popular watch thanks to its super low price and excellent features. The Bip comes fitted with both GPS and a heart rate monitor; quite amazing for the price and size of the watch. It's most amazing feature, however, is the battery life. The Bip can last 5 weeks on a single charge which is by far the longest battery life of any smartwatch out right now. The basic color screen and not entirely accurate heart rate monitor are weak points, but the Bip provides many of the features of a watch three times its price.
PROS:
Very Cheap
GPS + Heart Rate Monitor
Sports + Sleep Tracking
6 Week Battery Life
CONS:
Basic Screen
Plastic Body
No Apps
Check Price on Gearbest.com
back to menu ↑
Huawai Honor Magic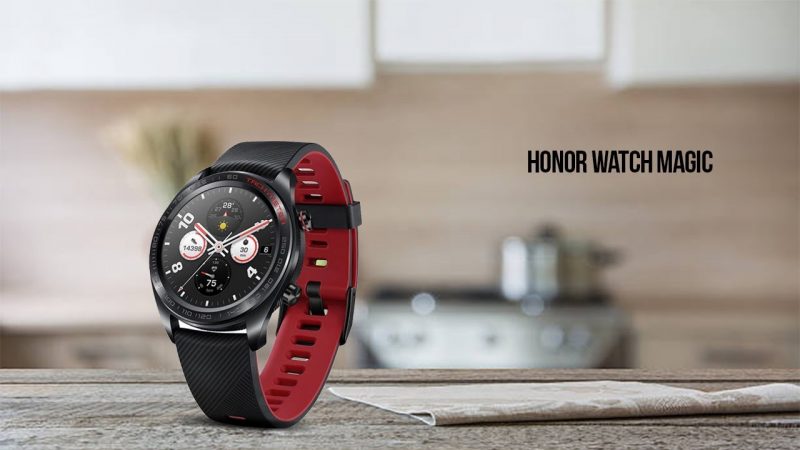 Another feature packed smartwatch from Huawai for not much over $100. The Honor Magic is one of the first smartwatches to monitor blood pressure continuously, adding to the existing heart rate monitor. This makes the Huawai Honor one of the best value health tracking watches out now. The watch isn't quite as powerful as other smartwatches on this list but it makes up for this with a stunning design and additional sensors, such as NFC.
At only 9.8mm thick the Honor Magic is among the thinner smartwatches available now, certainly one of the thinnest with this many features. The 1.2 inch AMOLED screen is designed to be bright and easy to read both indoors and outdoors. It utilises manual dial selection rather than touch screen, which can often be more intuitive if done right. Huawai has places a lot of emphasis on the health tracking capabilities of this watch along with its premium design and long battery life.
PROS:
GPS + Heart Rate Monitor
Waterproof
NFC
Clear, Bright Screen
Thin Body
Long Battery Life
CONS:
Small Screen
Not Much RAM
Check Price on Gearbest.com
back to menu ↑
Zeblaze THOR 4 Dual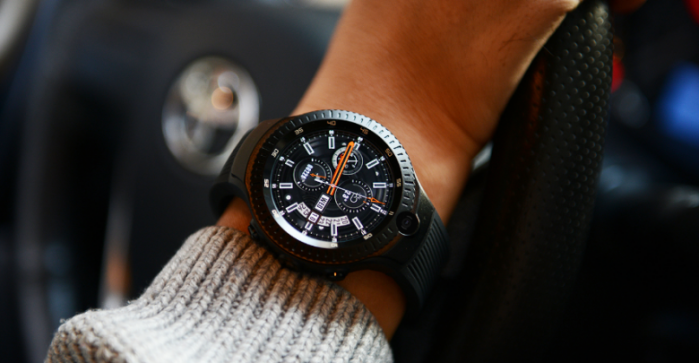 Another 4G smartwatch for under $200 with a 1.4″ AMOLED screen with high definition display and Gorilla Glass. The Zeblaze Thor 4 is a feature packed smartwatch that also includes TWO 5mp cameras. Take video calls straight from your watch or have full conversations over WhatsApp and Facebook Messenger. The Metalic body is stylish and not too thick. GPS and GLONASS promises super accurate location detection and movement tracking. The Zeblaze includes all the standard tracking features including heart rate, sleep, steps, speed and calorie burn.
This is one of the cheapest smartwatches with 4G data capability and despite its low price in neither looks nor feels cheap. If you are looking for a mini smartphone you can wear on your wrist then the Zeblaze is worth checking out.
PROS:
4G Data Connection
GPS + Heart Rate Monitor
Two Cameras
Large AMOLED Screen
Metalic Body
Low Price
Check Price on Gearbest.com
back to menu ↑
Amazfit Verge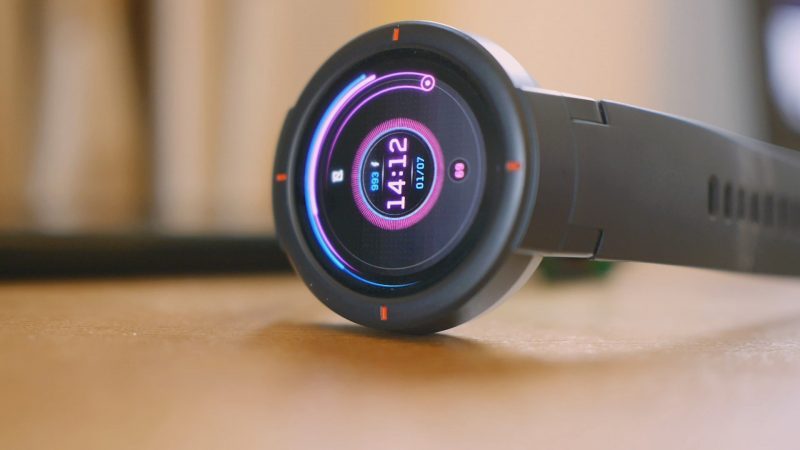 The final Amazfit smartwatch on this list and the newest in the line-up. The Verge features more advanced tracking features than previous watches as well as a new screen and operating system. The OLED screen is bright, colorful and fully responsive. This is also the only Amazfit watch with an inbuilt microphone, allowing you to dictate messages and take calls straight from your watch. The Verge features all the sports tracking features you'll ever need and its new sensors will provide more accurate readings. The Verge is a great watch for the price, particularly if you want to track your fitness and health.
PROS:
Advanced Heart Rate Monitor
GPS + GLONASS
Microphone
Vibrant OLED Screen
Advanced Sports Tracking
Low Price
Check Price on Gearbest.com
See Also: Amazfit Watch Comparison Table 
Check out my latest video!