Smartwatches were considered a luxury item not too long ago, but as time goes on these tiny gadgets are becoming must have products. With popularity comes variety and lower prices, and thankfully the cost of smartwatches has tumbled over the past few years. Many companies are providing ultra cheap smartwatches with premium features like heart rate monitoring. Let's take a look at the best of these cheap smartwatches that you can get for $100 or less.
Best Smartwatches Under $100: 2019 Update
Amazfit Bip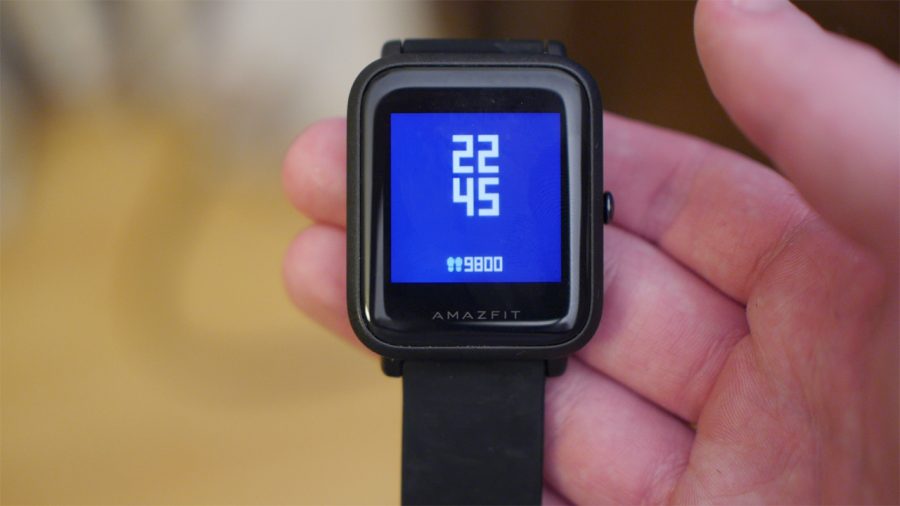 Probably my favourite cheap smartwatch and the one that I wear the most often. The Amazfit Bip is a small, light, cheap smartwatch with a 1.2 inch color display. The Bip also features a heart rate monitor, GPS, Gryoscope, Compass and Accelerometer. All of these sensors mean you can track pretty much any activity or just monitor your day to day fitness levels. The most amazing feature of the Bip is its battery life; a single charge will last up to 6 weeks, meaning you'll hardly ever have to charge your watch. The Bip connects to your phone via bluetooth and can display messages and notifications such as Whatsapp and Facebook Messenger. For such a cheap device the Amazfit Bip is hard to beat.
PROS:
Amazing Battery Life
GPS and Heart Rate Monitor
Full Color Touch Screen
Light and Thin
Check Price on Gearbest.com
back to menu ↑
Pebble Time Round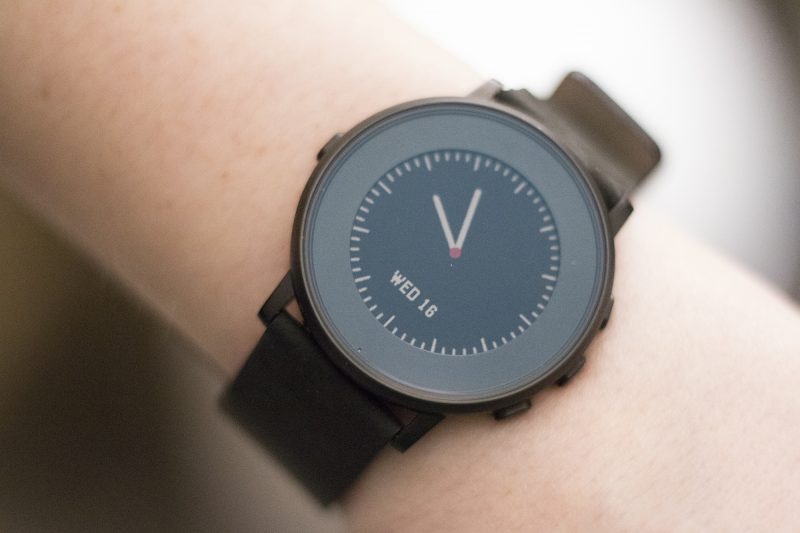 Is it even a smartwatch? Yes! The Pebble Time Round looks gorgeous, but hidden behind that round watch face is some decent tracking capabilities. The E-Ink display isn't touch screen but can still show notifications and calendar events when connected to your phone. Pebble boasts that the Time Round is the smallest and lightest smartwatch ever made, making it extremely comfortable for any user. This tiny form factor means that you'll feel comfortable sleeping while wearing it, which is good because one of its best feature is sleep tracking. You'll be able to view daily and weekly trends in the Pebble Phone app once its collected enough data.
The Pebble Time Round is perfect for anyone who wants a "normal" looking watch with the added benefit of smartwatch tracking. You'll have to do without more advanced features like heart rate monitoring and GPS though.
PROS:
Tiny and Light
Attractive Design
Good Built Quality
E-Ink Display Looks Good
CONS:
No GPS or Heart Rate Monitor
Check Price on Amazon
back to menu ↑
Huawai Fit Smart Fitness Watch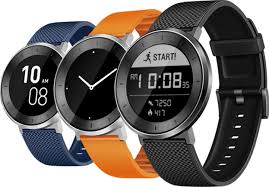 The rapidly expanding Chinese company Huawai has got its sights set on the smartwatch market and one of its lower cost offerings is the Huawai Fit Smart. This very cheap watch is designed primarily as a fitness assistant, with build in fitness programs are real time tracking of exercises. The Fit Smart also comes with a heart rate monitor and full water resistance, so even water based sports can be tracked. The 1.04 inch screen looks attractive but cannot display color and the body of the watch is light and modern in appearance. For anyone searching for a cheap smartwatch specifically to track fitness and workouts then the Huawai Fit Smart is design for you.
PROS:
Fully Waterproof
Full Fitness Tracking
Heart Rate Monitor
Stylist Design
CONS:
No Built in GPS
No Color Screen
Check Price on Amazon
back to menu ↑
Tic Watch E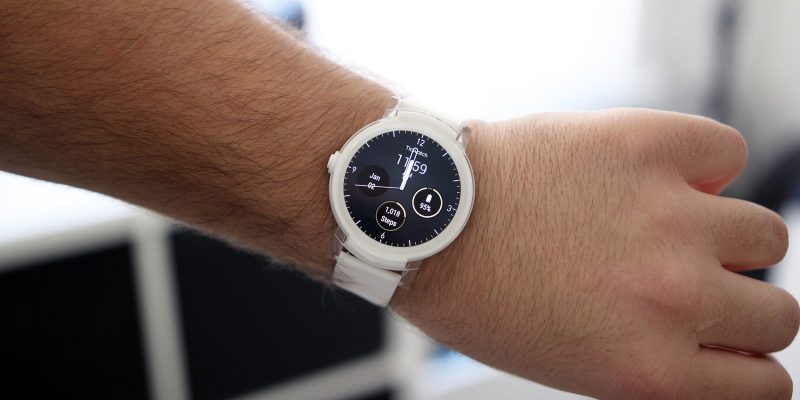 Strictly speaking the Tic Watch E cost slightly over $100, but only by a $10 or so if you catch it in a sale. I still want to include it on this list as it's such good value. This android wear smartwatch is great for someone who wants the full smartwatch experience without paying a premium for it. The stylish looking watch comes with a large color OLED touch screen, built in GPS, heart rate monitor and microphone.
You can download apps from the Google Play store, use the Google Voice Assistant and dictate messages and answer calls straight from the watch. You'll also have access to full activity and fitness tracking along with sleep data. This is the cheapest "full" smartwatch out right now, just beware of the less than ideal battery life.
PROS:
Large OLED Display
Access to Google Play
Heart Rate + GPS
Full Fitness Tracking
Microphone
CONS:
Poor Battery Life
Thick Body
Check Price on Amazon
back to menu ↑
Garmin Vivosmart HR+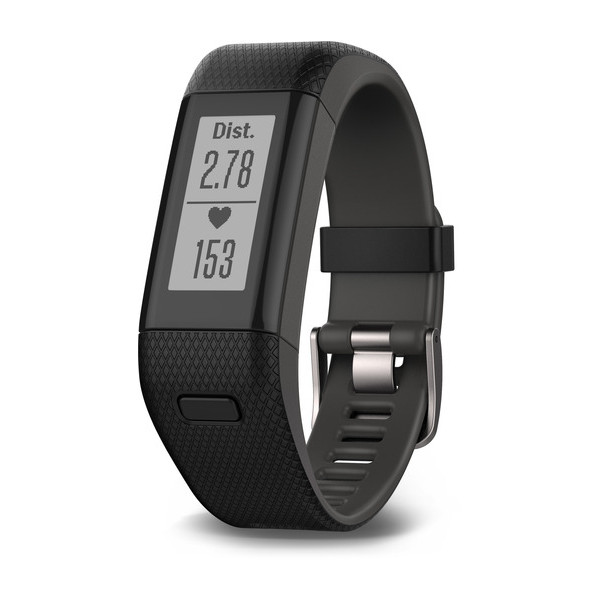 Garmin are front runners in producing activity and fitness based products and their range of smartwatches is no different. While the Vivosmart HR+ is more or a fitness band than a full smartwatch, it's still work considering thanks to its accurate 24/7 heart rate monitoring system and GPS integration for tracking pace, speed and distance. The Vivosmart does have a few other smartwatch features such as notification display and a touch screen display. You'll also have access to Garmin's amazing App, Gamin Connect, which syncs all your data and displays it in a ready to read format with plenty of graphs and trends.
PROS:
Heart Rate and GPS
Build in Fitness Programs
Access to Excellent Garmin Connect App
Touch Screen
CONS:
Very Small Screen
No Extra Apps
back to menu ↑
Xiaomi Mijia Quartz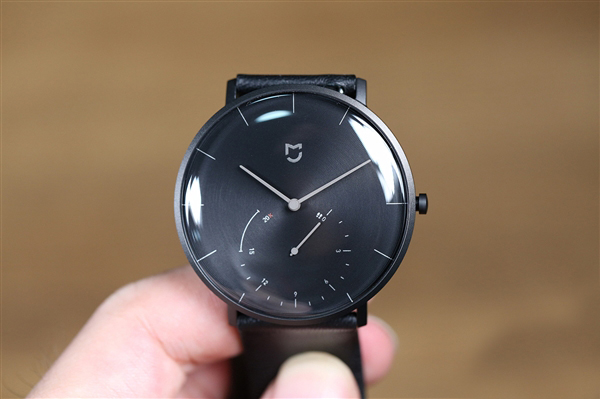 The most basic watch on this list, lacking many of the "smart" features; what makes this watch stand out is its excellent design. A stainless steel watch face and leather strap makes the Mijia Quartz one of the best looking smartwatches ever. If you are not interested in tracking your heart rate or fitness and just want a good looking watch that can notify you of messages, events and calls then the Mijia Quartz could be just what you are looking for. The stunning watch face is completely waterproof so you don't need to take it off in the shower or when washing. The Mijia Quartz does come with a pedometer, so basic tracking of steps and distance travelled is possible. Finding a watch made with such premium quality materials for under $100 is rare.
PROS:
Stylish Design
High Quality Materials
Smartphone Notifications
CONS:
Limited Activity Tracking
No GPS or Hear Rate Monitor
Check Price on Gearbest.com
See Also: Every Amazfit Smartwatch Compared
Check out my latest video!