The Zeblaze 4 Thor Pro and the Kospet Hope 4G are two powerful stand alone android smartwatches, they are also very good value for money. If you are looking for a relatively cheap smartwatch that can do everything the premium brands boast about, then you'll probably have to choose between these two watches.
We are going to take a close look at both watches to see which is the better choice. I'll show you the unique features of each watch and where they differ. By the end of this article you should have a good idea which one is best for you.
Kospet Hope 4G vs Zeblaze 4 Thor Pro – Specifications
Specs
Kospet Hope 4G
Zeblaze 4 Thor Pro
Screen Type
AMOLED
LTPS Crystal Display
Screen Size
1.39″
1.6″
Resolution
400 x 400
360 x 360
CPU
Quadcore 1.3Ghz
Quadcore 1.25Ghz
RAM
3GB
1GB
Storage
32GB
16GB
Cameras
8MP x1
5MP x1
Connectivity
GPS, 4G, Bluetooth
GPS, 4G, Bluetooth
Body Material
Metal + Ceramic
Zinc Alloy
Tracking Features
Heart Rate Monitor, Accelerometer Proximity Sensor
Heart Rate Monitor, Accelerometer Proximity Sensor
Size
49mm X 17.5mm
46.7mm X 15.7mm
Price
$170
$150
Where to Buy
Gearbest.com
Gearbest.com
Both the Zeblaze 4 Thor and Kospet Hope 4G are full Android smartwatches with features designed to replace your smartphone. You have full access to the Android Wear App store and can make calls and text using 4G with a Nano Sim Card. I don't think a smartwatch can ever completely replace a smartphone, but these two watches are about as close as you can get right now for such a low price.
Screen
It's what you are going to be looking at every day, so the screen of your smartwatch better be clear, bright and easy to use. The Kospet and Zeblaze use completely different display technology, each with some advantages and disadvantages. The Kospet Hope has a 1.39″ AMOLED display with a resolution of 400 X 400. AMOLED displays are becoming popular in smartphones for their low energy consumption and their ability to display "true blacks" and excellent color contrast.The Kospet screen is bright, colourful and a pretty high resolution considering the screen size. The downside of an AMOLED display is that it's difficult to see in direct sunlight and doesn't display text and image as sharply as other screen types.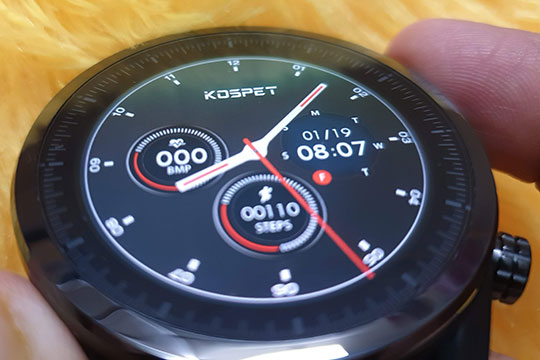 The Zeblaze 4 Thor Pro utilises an LCD LTPS display with a resolution of 360 X 360. The resolution is lower in the Zeblaze but the screen technology makes up for it by displaying more accurate colors with a brighter back-light. The Zeblaze screen is also slightly bigger at 1.6″, giving you more real estate to view images and text. Overall the Thor 4 screen is easier to use and slightly brighter, but the Kospet Hope display is sharper with lower battery consumption.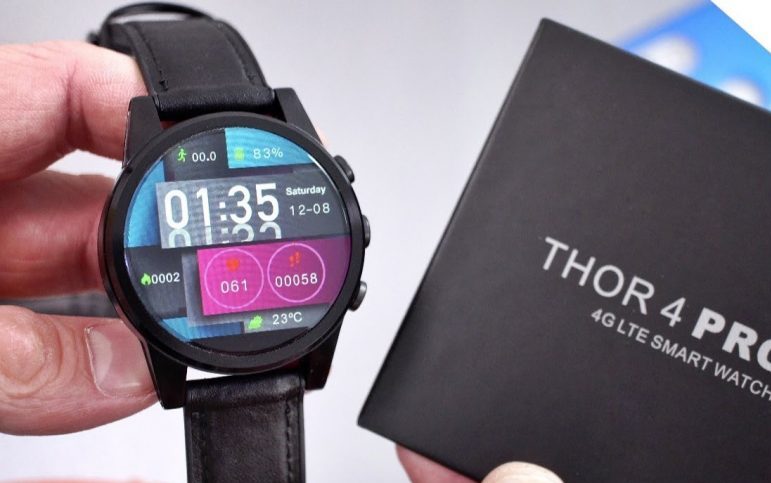 Design
There's not a huge difference in the basic design principles of both of these watches. They are both pretty thick, rugged looking with large glass screens and a metallic body. The Kospet Hope (check price) is the thicker of the two at 17.5mm, which may be too thick for some. You'll find some manual controls on the side of both watches, but they are mainly for show as the touch screen does the job of controlling your watch much more efficiently.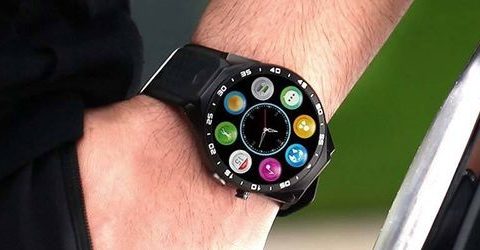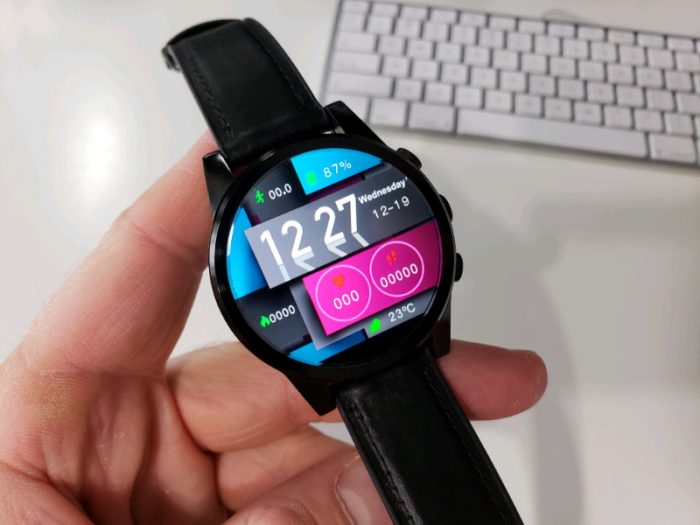 Both watches are made from relatively premium materials (i.e. not plastic) and both seem well constructed. The larger screen on the Zeblaze (check price) does make it stand out a bit more and its slightly thinner body gives it the edge in terms of design.
Power/Storage
Here's where we start to see a big difference between these two smartwatches. The Zeblaze feature a 1.25ghz Quad Core processor and 1GB of RAM, which is enough to run most Android Wear apps smoothly while also ensuring excellent screen responsiveness. The Kospet goes a few steps further and packs in an impressive 1.3GhZ processor and a massive 3GB of RAM, which is almost as much as some modern smartphones! You could argue that the Kospet Hope is overpowered for what it is, but all that RAM will allow you to run any app and have lightning fast response times.
As for internal memory the Kospet leaps ahead once again, providing 32GB of ROM opposed to just 16GB in the Zeblaze.
Connections
The reason why these two devices are considered among the best "standalone" smartwatches is because they give you the option of using a bluetooth connection as well as a 4G connection. Other standalone watches force you to use 4G is you want to make and receive calls, however this can be costly as well as battery draining. Both the Kospet and Zeblaze also allow you to link to your smartphone via Bluetooth and make and receive calls/texts, which means you won't be charged extra for using another device on your data plan.
Both watches also come with GPS + GLONASS for accurate location tracking. With both watches the effectiveness of this will depend on your location and signal strength and will likely not be as good as the GPS in your smartphone.
Tracking
Both watches have identical tracking capabilities and come fitted with a heart rate monitor, pedometer and proximity monitor. Both watches can track your daily activities and workouts. You can view your data on the watch itself over a period of days and even months. Neither watch is designed specifically for sports tracking and their size makes it awkward to wear while exercising, but for casual tracking of steps and heart rate they are both evenly matched.
Camera
If you need proof that both the Zeblaze 4 Thor  and Kospet Hope are trying to be alternatives to your smartwatch then look no further than the camera embedded on the size of the body. There are only a few smartwatches with cameras as of now, although personally I can't really see the point.
Technically the Kospet has a superior camera with an 8MP sensor compared to the 5MP sensor on the Zeblaze. I can't see much use for these cameras as the image quality isn't going to be good and I think it would be much more useful if the cameras were on the front of the body so they could be used for video calling.
Summary
If I had to choose between these two watches I would choose the Kospet Hope. It's slightly more expensive, but the more powerful processor, larger screen and better battery life make it worth while. I have to admit that it's a very thick watch and the Zeblaze is probably the better looking of the two, but power and usability are key factors if you truly want a smartwatch that can (in some ways) replace your smartphone.
Price and Where to Buy
Amazon doesn't seem to stock either of these watches yet but you can get them both on the Chinese website Gearbest.com which ships to over 200 countries. Sometimes they have sales on smartwatches so check the price using the buttons below!
Kospet Hope
Zeblaze 4
Check out my latest video!