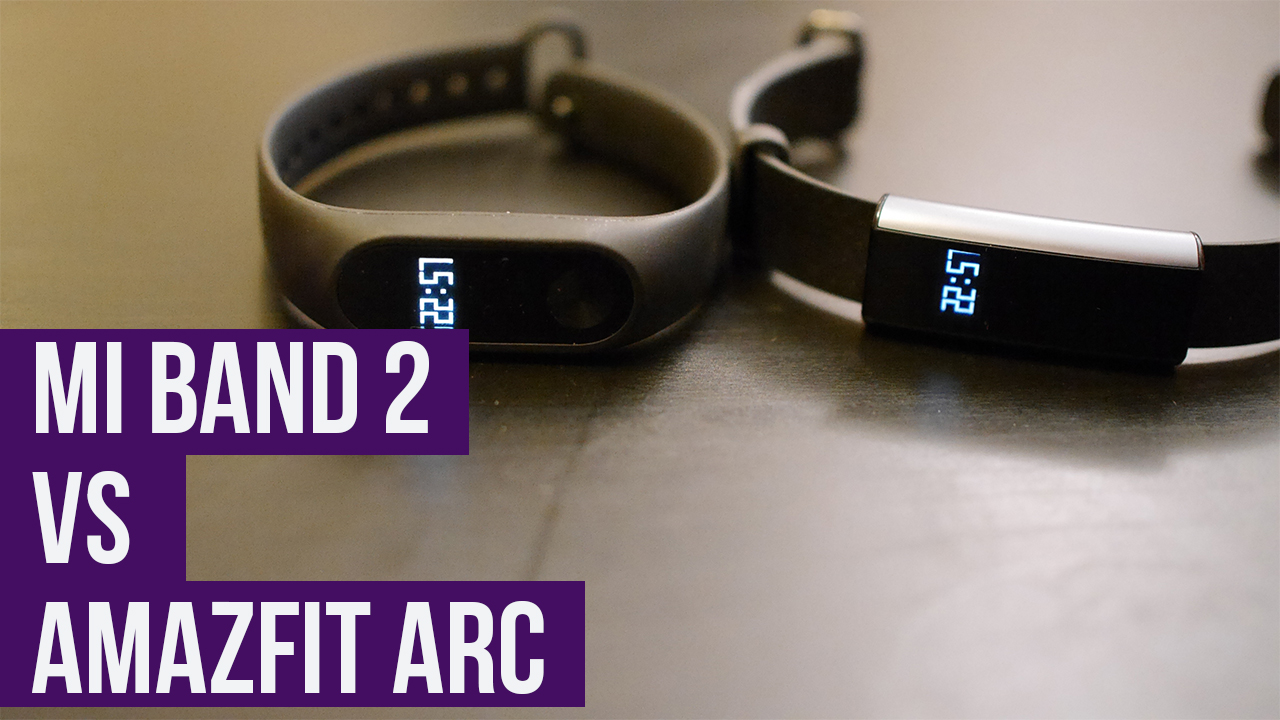 Are you looking fora cheap fitness band that has many of the functions of a more expensive smartwatch but at the lowest price possible? These tiny fitness bands offer exactly that, a way to track your health without the need for a huge device that needs charging every few days. The Mi Band 2 and Amazfit Arc are both sub $60 devices and offer an impressive array of functions, but which one is best? In this post I'm going to compare both of these devices, both of which I've used for over a month. I'm going to compare the specs, design and tracking capabilities to show you which cheap fitness band is best for you.
Xiaomi Mi Band 2 vs Amazfit Arc
Specs
| Specs | Amazfit Arc | Mi Band 2 |
| --- | --- | --- |
| Screen Size | 0.42 OLED Curved | 0.42 OLED |
| Screen Resolution | 72 x 40 |  72 x 40 |
| Battery | 70 mAh (20 days) |  70 mAh (20 days) |
| Sensors | Heart Rate Sensor, Accelerometer | Heart Rate Sensor, Accelerometer |
| Tracking | Steps, Distance, Calories, Sleep Tracking, Heart Rate | Steps, Distance, Calories, Sleep Tracking, Heart Rate |
| Weight | 20 g | 19g |
| Size | 24.80 x 1.90 x 1.10 cm | 15.7×40.3×10.5 mm |
| Waterproof | IP67 (splash proof) | IP67 (splash proof) |
| Replaceable Strap | No | Yes |
| Price | Check on Gearbest.com | Check on Gearbest.com |
back to menu ↑
Design
One of the few major differences between these two cameras is their design. Both have gone for a different style with has its strengths and weaknesses. Design is subjective, but let's take a close look at both watches and break down the positives and negatives.
Amazfit Arc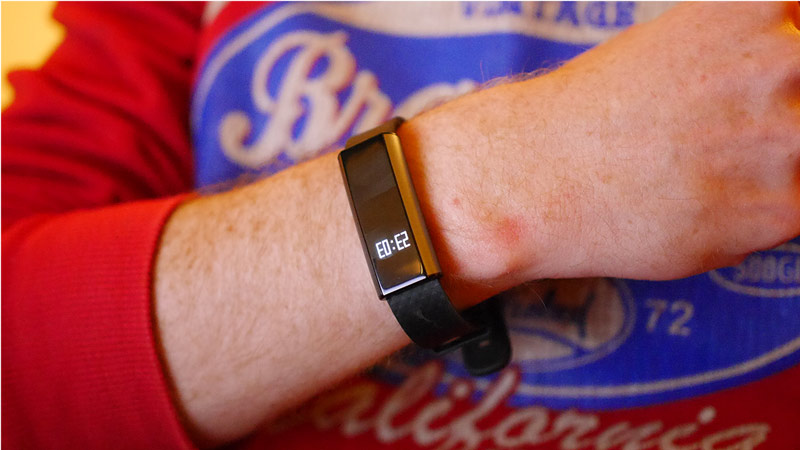 The Amazfit Arc is a very small watch with a long rectangular face. It's strap is made of textures runnder with a normal watch clasp. The screen has a single touch button which isn't visible, but simply touch the screen to go see on screen data.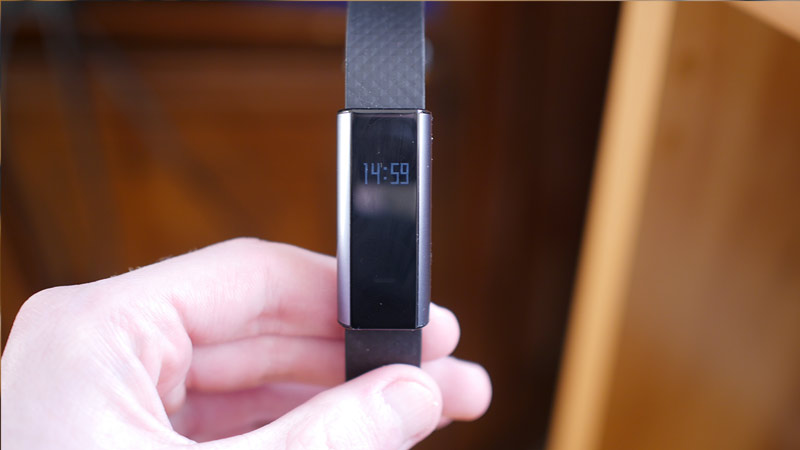 You can adjust what information is available on screen using the app, but the default setting gives you access to the time, steps taken, calories burned, heart rate and battery.
The main advantage of the Amazfit Arc design is the curved screen, which makes it very comfortable to wear even when sleeping. You'll barely notice it under a shirt because it's so light.
Mi Band 2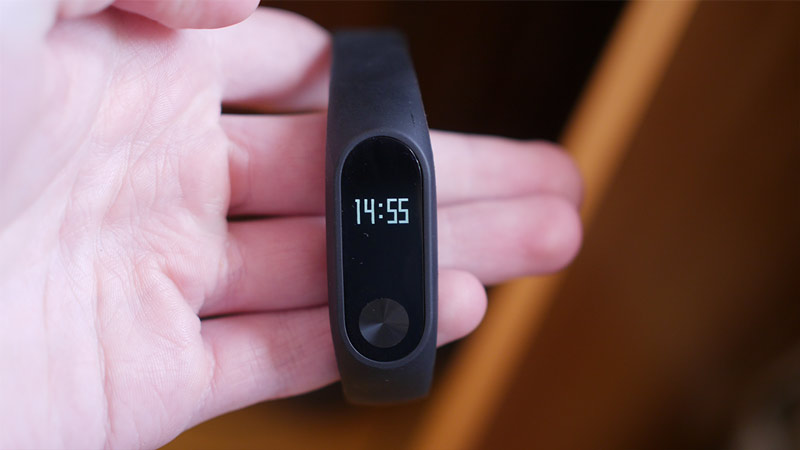 The Mi Band has a smaller elongated oval shaped screen which is detachable from the strap. This means you can purchase different straps, of which there are dozens of colors and designs. The strap that comes with the MI band is rubber with a clip on clasp, which is slightly difficult to put on at times.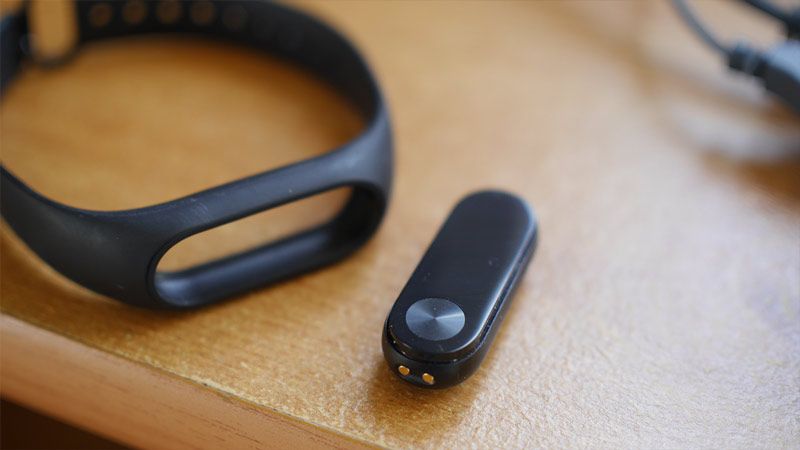 The Mi Band screen is not curved and can become uncomfortable if it moves around your wrist too much, I certainly prefer the curved design of the Amazfit Arc.
Out of the two I prefer the design of the Amazfit Arc due to its comfort. I also think it's a more premium looking device with a higher quality strap and larger screen.
Winner: Amazfit Arc
back to menu ↑
Tracking
Both of these fitness bands have identical tracking abilities. Both have a heart rate sensor and an accelerometer which are able to track heart rate, sleep, steps, calories and distance traveled.
The only difference between them is how they use and display this data, which is all dealt with in their respective apps
Winner: Draw
back to menu ↑
App
In any smartwatch the app is perhaps the most important feature. A bad app will make for a poor experience, as the app is where you visualize all of the health data collected. The app needs to be bug free, easy to use and provide useful data in a visually appealing way. The Amazfit and Mi Band use their own apps and they both look quite different.
Mi Band 2
The Mi Band 2 uses the Mi Fit app to collect and visualize health data collected by the fitness band. Once paired via bluetooth, the watch will continuously send collect data and syn it with the app.
I've found the app to be extremely user friendly, with most of the data available at just a few touches. As the Mi Bad is quite a popular watch, the app can compare your data with others in your area which may privide that extra bit of motivation. The App does a great job of showing the data in a easy to read attractive format, but it's slightly more difficult to get to historic data and view more detailed graphs.
Amazfit Arc
The Amazfit Arc app is slightly more detailed in the information that it provides, providing more in the way of graphs and visual data, however you'll need to play around with the many options to find it. The App also has several fitness programs built in over many sports.
It's hard to say which is the best app; I prefer the style of the Mi Fit app, but the Amazfit Arc provides more useful data. I think it will be down to your personal preference, but in either case you'll have access to the same information one way or another.
Winner: Draw
back to menu ↑
Other Considerations
Battery: Both fitness bands have a super long battery life of 20 days, and it only takes half an hour to charge them both back to full capacity
Water Resistance: Again, both have the same water resistance of IP67, meaning you can get the watches wet, but it's not advisable to take them underwater.
Notifications: Both fitness bands will alert you to messages, calls and alarms if connected to your smartphone.
back to menu ↑
Conclusion
As you've probably realized, there isn't much that's different between these two fitness bands. This is probably because they are both produced under the same parent company, Xiaomi, even though they have a different brand attached to their names.
What it comes down to is the design and the app, and both of these are objective. I personally prefer the design of the Amazfit and I also find the app more useful too. Remember you are going to be wearing this on your wrist all day, so design and especially comfort are hugely important. You don't want to buy a fitness band then end up taking it off for most of the day because it's uncomfortable. In this regard the Amazfit is the clear winner, but it also lacks the ability to change its strap, which may be appealing to some.
The final area of comparison is the price, and there is a difference here. The Mi Band 2 tends to be cheaper than the Amazfit Arc by around $20 or so, which is likely why the latter has a more premium look. Is it worth spending the extra $20 just for a different design? In my opinion it is, but if you want the absolute cheapest fitness band then the Mi Band 2 will provide you with almost the same experience.
back to menu ↑
Where to buy
The cheapest place to buy both of these fitness bands is Gearbest.com, which is where I got mine. For some reason this website is consistently cheaper than amazon, but the shipping time is longer.
Click here to see Mi Band 2 on Gearbest
Click here to see Amazfit Arc on Gearbest.