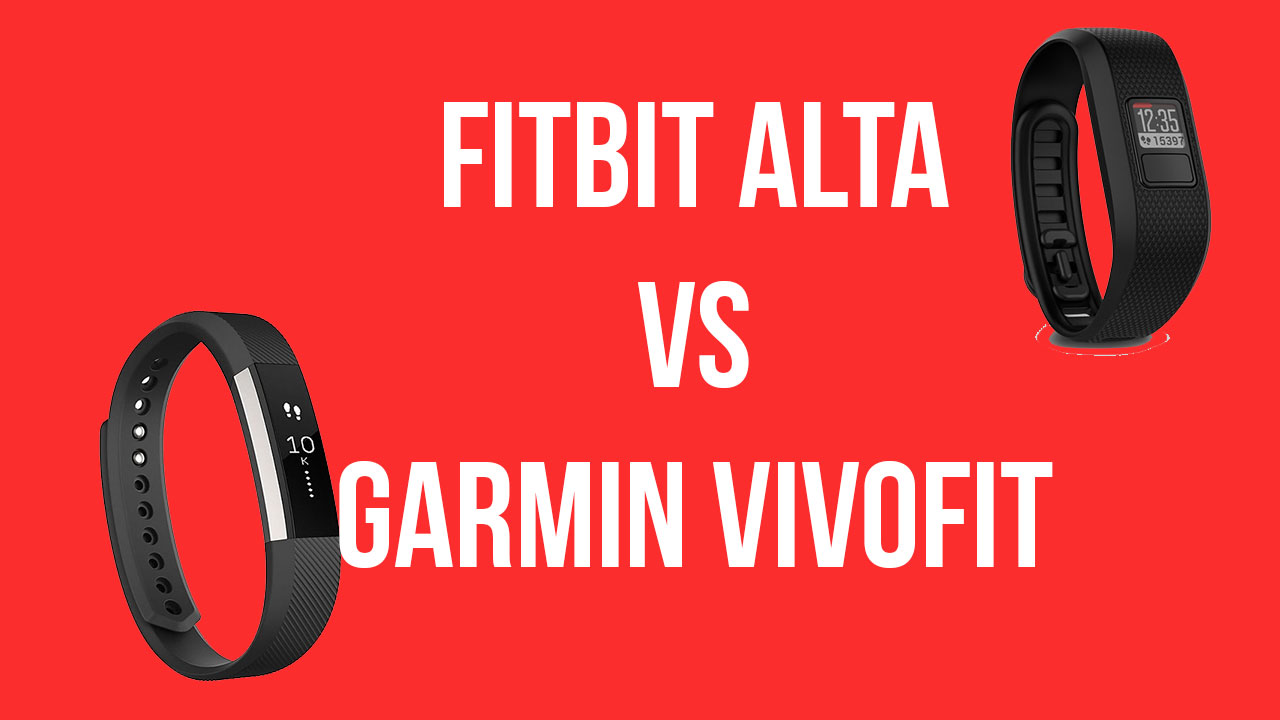 The Garmin Vivofit 3 and the Fitbit Alta are both mid range fitness trackers from the two leading wearable tech companies. If you are looking for an inexpensive, slim fitness tracker that will monitor your steps, calorie burn and heart-rate, you're probably going to be choosing from one of these two products. This is a thorough comparison of both products, and their respective apps, to establish their strengths, weaknesses and ultimately which is the better fitness tracker.
---
Summary
Garmin is hot on the heels of Fitbit with their fitness trackers and the Vivofit is a compelling device. Technically it has more features than the Fitbit Alta, but still fails to match up to the Alta's user experience and craftsmanship. The Alta [See on Amazon] is a superior fitness tracker, but the Vivofit is still excellent value at its now reduced price [See on Amazon]. Continue reading for detailed comparison.
---
Garmin Vivofit 3 vs Fitbit Alta: Comparison Table
| Specs | Garmin Vivofit 3 | Fitbit Alta |
| --- | --- | --- |
| Price | $62.98 | $126 |
| What it tracks | Steps, Calories, Distance | Steps, Calories, Distance |
| Water Resistant | 5 ATM - Suitable for Swimming | Splash Proof |
| Sleep Monitoring | Yes | Yes |
| Heart Rate Monitor | No - Compatible with External Device | No |
| GPS | No | No |
| Screen | sunlight-visible, transflective memory-in-pixel (MIP) -10 mm x 10 mm | 1.4 Inch OLED |
| Smartphone Notifications | No | Yes |
| Battery | Replaceable Coin Cell - 1 Year + | 5 Days |
| Where to Buy | Amazon | Amazon |
First things first, there's a pretty bit price gap between the two products. The Garmin Vivofit used to be more expensive, but has recently received a price cut. Fitbit usually produce the most expensive fitness trackers, but they are usually excellent quality with a wide range of features. It the Fitbit Alta worth paying double, or is the Garmin Vivofit a bargain find?
Design
As you are going to be wearing these things on your wrist all the time, appearance matters. Both of these fitness trackers are a similar shape, size and weight, but which is better looking?
Garmin Vivofit Default Design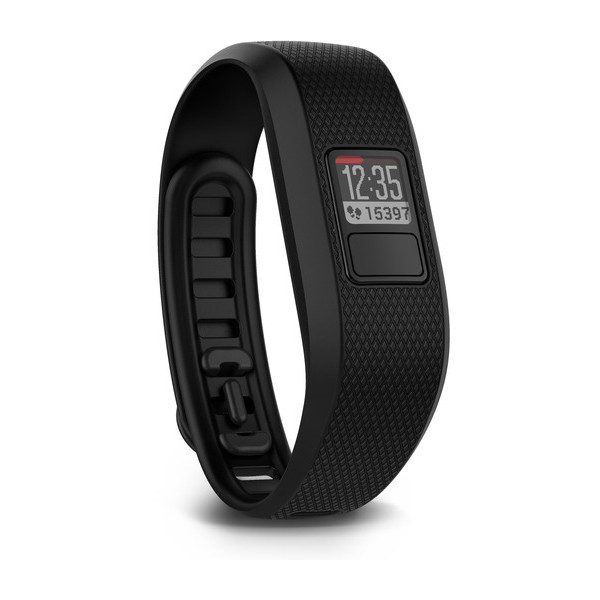 The default look of the Vivofit is sleek, basic and doesn't draw attention. The silicone strap is has a ribbed texture which I personally think looks great, but obviously that's subjective. The screen is pretty small and not particularly colorful, which is a detriments to the overall look of the camera. It's an "always on" display which constantly shows a step tracker.
Garmin Vivofit – Alternative Straps
Here are a few of the alternative straps available for the Vivofit, none of which are particularly outstanding. Garmin tends to shy away from making their products into fashion accessories, where as fitbit is more keen on outlandish strap options.
Fitbit Alta Default Design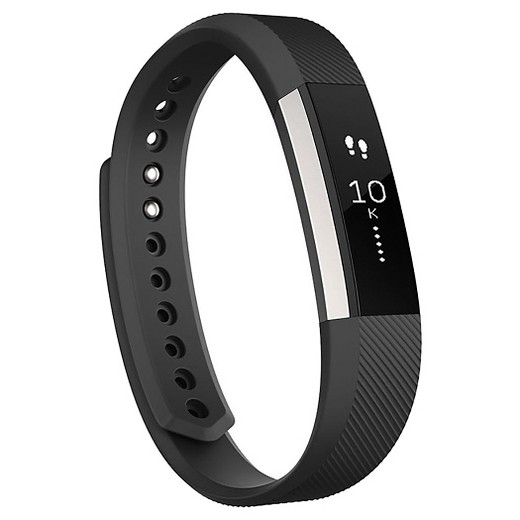 The Fitbit Alta is slightly thinner but with a larger, elongated screen which is both brighter and clearer than the Vivosmart. The strap is very basic, but is easy detachable with literally dozens of alternatives available.
Fitbit Alta – Alternative Straps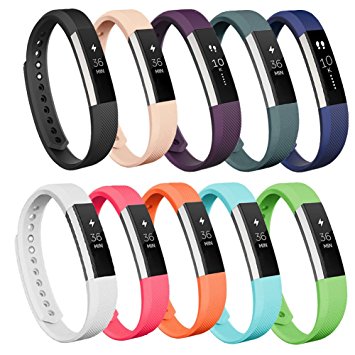 As one of the most popular fitness trackers ever, the Alta has a seemingly endless number of straps available, including metal and silicone ones. The sheer number of designs available along with the clearer screen makes the design of the Alter superior in my opinion,
Design Winner: Fitbit Alta
Tracking Capabilities
The most important aspect of any health/fitness band is its ability to monitor various aspects of your activity. Out of these two watches, which is the best at capturing data about you and your health?
Garmin Vivofit: 
The Vivofit can track how many steps you take, the distance you travel and how many calories you burn. It can also track the quality of your sleep and alert you when you've been inactive for too long. There is no internal heart rate monitor, but it can connect to a separate Garmin heart rate monitor and use data from that.
For the price and quality of this watch, the tracking abilities are about right, however there are fitness watches available at a similar price with internal heart rate monitoring. Another big consideration is accuracy, there's no point monitoring all your stats if it fails to track half the time. Garmin have a reputation for reliable tracking in their fitness devices, and most reviewers agree that accuracy of data is rarely an issue.
Fitbit Alta 
The Fitbit Alta has almost exactly the same tracking abilities as the Garmin device. It track steps with a pedometer, distance, and calorie burn. It will also monitor sleep and alert you to inactivity. One difference is that the Alta has no ability to monitor heart rate, even by connecting to an external device.
The Fitbit is almost twice the price of the Garmin, so I would have liked to see some most tracking features such as heart rate and even blood pressure. So why pay so much more for a Fitbit is they track the same data? Fitbit has probably the most reliable tracking technology in the business, so if you want to guarantee accuracy then the Fitbit won't let you down. It's software, apps and data analysis are also industry leading
Winner: Garmin Vivofit
Water Resistance
Water resistance is important to some, where as others don't really care. If you want to swim or shower without taking your fitness tracker off, then you're going to need a device that's waterproof to at least 2 metres. Do either of these fitness trackers meet that requirement?
Garmin Vivofit – Waterproof to 5m and can be used in the shower. Unless you are going diving, then your Vivofit should survive any wet environment.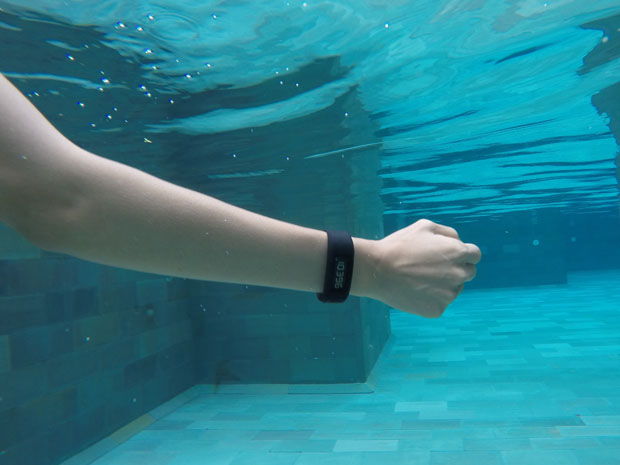 Fitbit Alta – The Fitbit is only rates as splash proof, which means it will survive in the rain, or after a sweaty gym session, but you can't take it swimming or in the shower.
Winner: Garmin Vivofit
Connectivity & App
It's often overlooked, but possible the most important feature of any health tracker isn't the tracker at all, but the software and app that powers it. If the app is not intuitive or doesn't display data is an attractive format, then you won't get nearly as much out of your tracker as you could.
Garmin Vivofit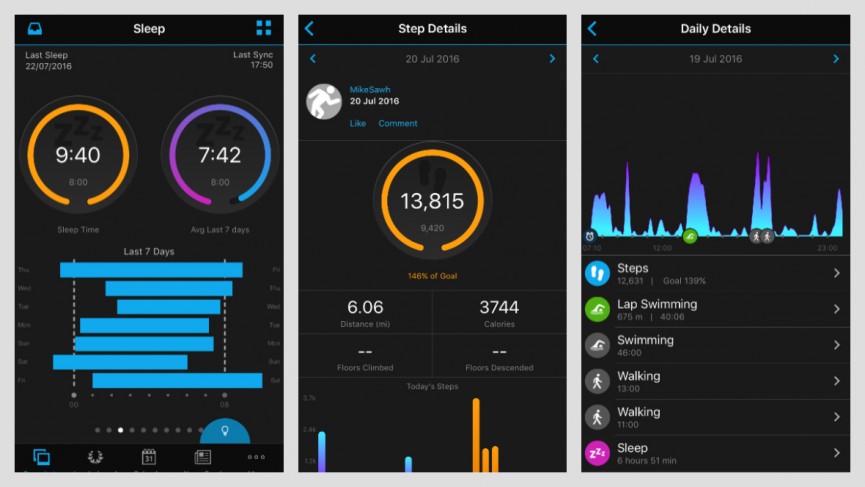 The Vivofit has a dedicated app for all its health trackers called Garmin Connect.  The Vivofit connects to your phone wirelessly via Bluetooth and the data should be visible almost instantly. When you fire up the app it will show you a snapshot of your days activities and from there you can go into the finer details.
The app itself is intuitive, stable and provides a wide range of data sets to monitor your health and fitness with. I like the dark color scheme and the color coded sections make spotting key data even easier.
Because Garmin Connect is used by all of Garmin's devices you'll notice some counters remain blank, such as the number of stairs climbed. This is because the Vivofit lacks the necessary equipment to track this data; it would have been great if Garmin Connect could be customised for different devices so that this empty data could not be shown.
Fitbit Alta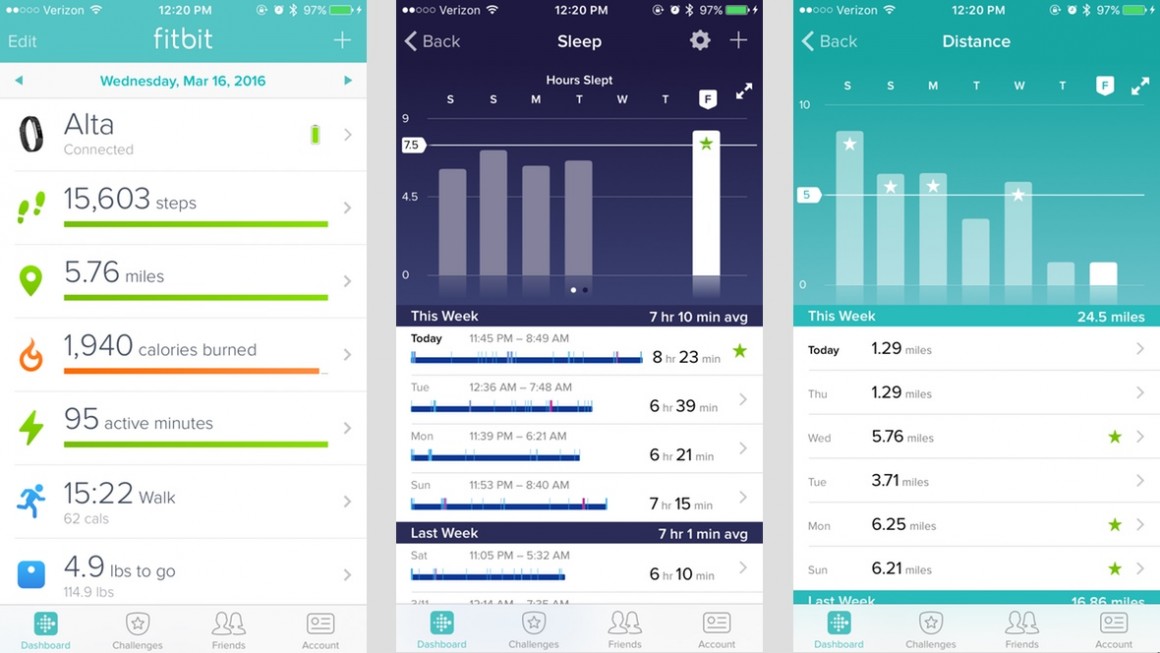 The Fitbit Ecosystem has been by far the most popular for health geeks across the world. Why? Because of its simplistic interface that provides actionable data in an attractive format. This holds true for the Fitbit Alta and is really where the extra cost goes.
The Fitbit app displays all your vital info on the first page, then allows you to take a deeper look into your activities. There is a food database built into the app, so you can accurately measure your calorie intake and monitor your nutrients intake. You can also connect to myfitnesspal if you prefer.
The app is bright, intuitive with a huge number of options that has been specifically designed to work with Fitbits limited range of trackers.
The Fitbit Alta can also keep a constant connection to your phone and notify you of calls and messages, something that's not possible with the Garmin Vivofit
Winner: Fitbit Alta 
Conclusion
These are both capable fitness trackers, and if you've never owned a fitness tracker before either will impress you. It's hard to ignore the price difference and you are certainly paying a premium for the Fitbit brand, however you are also getting the best fitness tracking software available. The Garmin on the other hand offers more varied tracking as well as water resistance for nearly half the price.
The Garmin Vivofit is probably the best value fitness tracker at this price range, and if you are a swimmer the Garmin is pretty much your only option. Despite this, and the higher price tag, I'd still recommend the Fitbit Alta for most people. I can't stress how important software is when it comes to fitness tracking, and the Fitbit has Garmin beat here. Not to mention the fact that the Alta looks better and provides smartphone notifications. You can get the Fitbit Alta on Amazon.com