If you are really not in the mood to spend over $1000 for the latest smartphone then don't dispare, there are plenty of awesome options that are almost as good. Today we are going to look at an older phone from one of the big boys and a newer budget phone from a relative newcomer. Both the Samsung Galaxy S8 And Redmi Note 6 Pro offer a great smartphone experience for under half the price of a brand new iPhone, but which one is better? I've been using both and comparing them to find out. If you are struggling to choose between the Redmi Note 6 Pro and the Samsung Galaxy S8, then read on.
Samsung Galaxy S8 vs Redmi Note 6 Pro
Specs Comparison
Specs
Redmi Note 6 Pro
Samsung S8
Screen Size
6.26 Inch
5.8-inch
Screen Resolution
1080 x 2280
1440 x 2960
PPI
403
570
Cameras
x2 Front Facing: 20mp & 2mp

x2 Rear Facing: 12mp & 5mp

1 Front Facing: 8mp

1 Rear Facing: 12mp

Processor
Snapdragon 636
Snapdragon 835
Connectivity
Wi-Fi, GPS, Bluetooth, Micro-USB, 4G, IR Blaster
Wi-Fi, GPS, Bluetooth, Micro-USB, 4G, NFC
Sensors
Fingerprint sensor, Proximity sensor and Accelerometer,
Fingerprint sensor, Proximity sensor and Accelerometer, Iris Scanner
Memory
64gb Internal (Expandable)+ 4GB RAM
64/128GB Internal (Not Expandable) + 4GB RAM
Battery
 4000 mAh
3000 mAh
Size
157.90 x 76.38 x 8.20
148.9 x 68.1 x 8.0 mm
Price
$220/ £175
$450/£400
Unique Features
Camera AI, Image re-focus
Waterproof, USB C Fast Charging
Where to Buy
Gearbest.com
Amazon
So which will it be, the Redmi from Xiaomi, or the Galaxy S8 from Samsung? Just from looking at the specs you culd argue that the Samsung is way ahead, but it's also much more expensive. Specs can also be deceiving, it's how the phone works in the real world that matters. With that in mind, let's have a more detailed look at both of these phones.
back to menu ↑
Design
Both of these phones look great, but there are significant differences that could be make or break for you.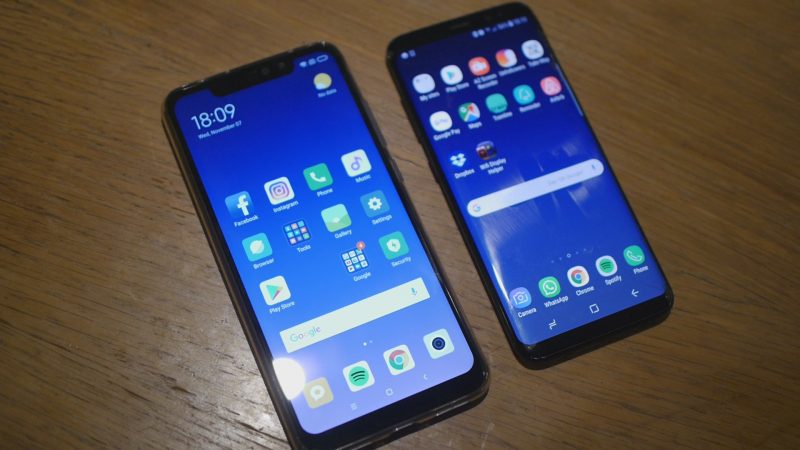 The Redmi Note 6 Pro is big, blue and bold. It's got a 6.26 inch screen and a body slightly thicker than the Samsung. While it's big to hold in your hand, it's not uncomfortable or hard to use. If you are used to using standard sized phones then it may take a few days to get used to, but when you do the extra screen real estate is worth it.
You'll also notice the notch at the top of the phone which houses the two front facing cameras; a modern design feature which is usually found on much more expensive devices.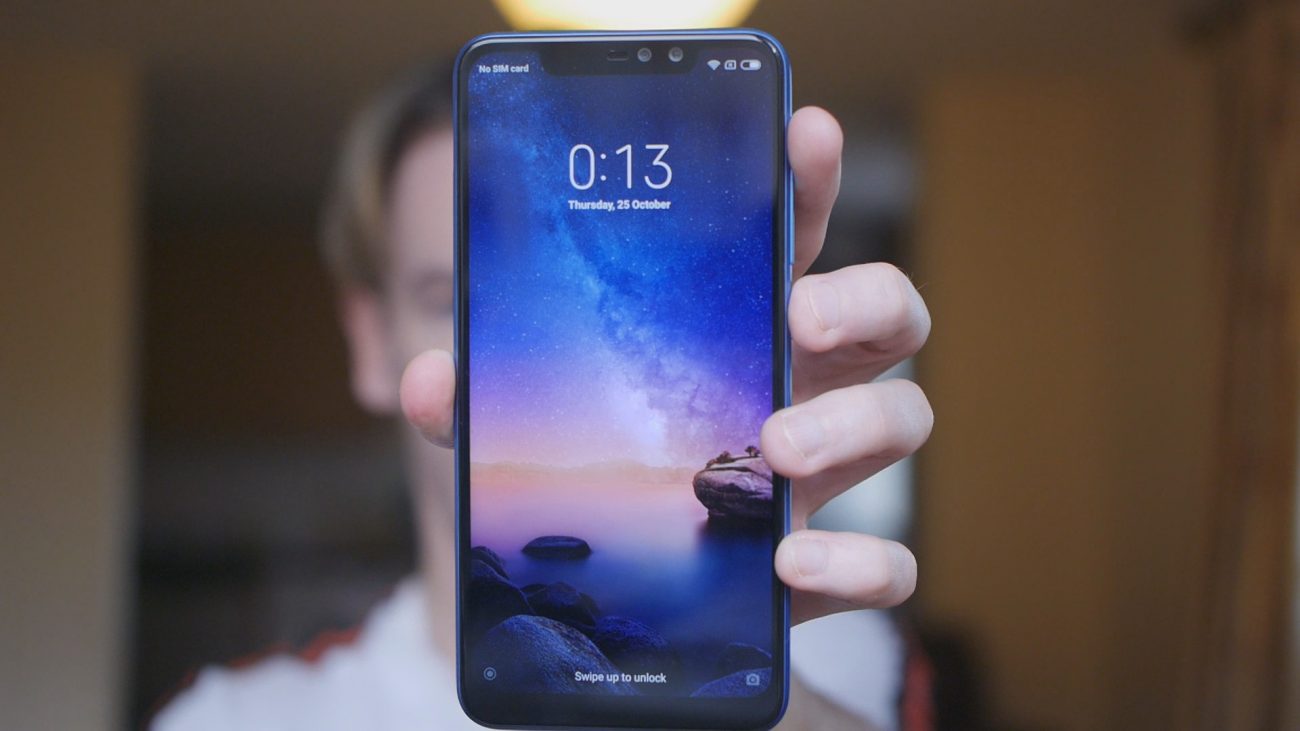 The body of the phone is mostly plastic, but it doesn't feel cheap or vulnerable. I actually prefer plastic backs as they are far less likely to smash and can still look good if done right.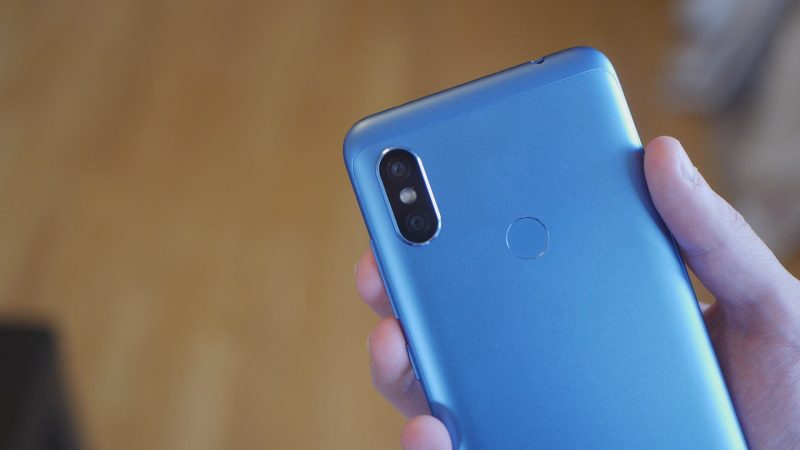 The Samsung is both smaller and thinner in size and is closer to what we would consider a "normal" phone size. The 5.8 inch screen curves around the edge of the phone providing a seamless display, whereas the Redmi has a significant bezel.
The Galaxy S8 features higher quality materials but is therefore more vulnerable. I've dropped my Galaxy S8 a few times which has caused several cracks in the screen, and the fall was not from a particularly high place. Both phones have no physical home button, with the only physical keys being on the side to control power and volume. Both phones also come with fingerprint scanners on the rear, however the Redmi's is much better places in the centre compared to the awkward position of the Galaxy S8's next to the camera.
It's hard to say which looks better. I prefer the body of the Redmi, however the notch means you can't view notifications on the top bar of the phone. The Samsung S8 does not have this problem and I do like near boarder-less screen, but the body is too slippery and prone to fingerprint marks.
back to menu ↑
Screen
While the Redmi Note 6 has a larger screen, the S8 has a clearer one. Despite being over a year older, the S8 offers over 100ppi more than the Redmi and can also display 4K. The Redmi's screen cannot match more expensive phones, but is still bright and clear. Remember the Redmi is under half the price of the S8.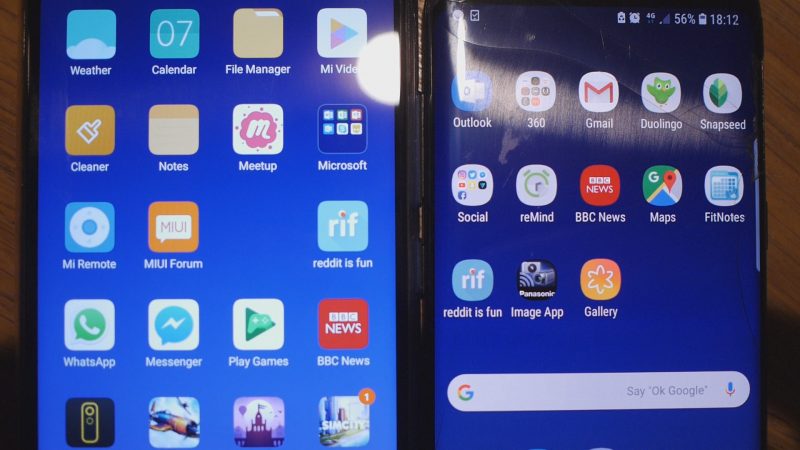 The difference in screen quality will mostly be noticed when playing games and watching video, however in reality you won't notice much of a difference day to day. In fact I often set my Samsung screen quality to a lower setting to preserve battery.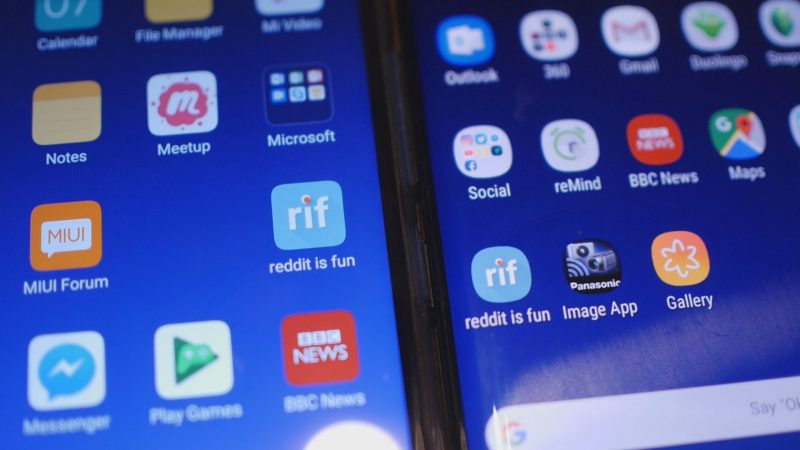 back to menu ↑
Cameras
Let me summarise this section pretty quickly: For photos choose the Redmi Note 6 Pro, for video the Samsung S8. It's a shame that one phone couldn't rule them all, but that is essentially how these phones differ. The Redmi has 4 cameras (amazing for the price!), the two front facing ones are for selfies and can shoot super clear 20mp photos, with the extra 2mp camera allowing you to re-focus the background. The Samsung's single front facing 12mp camera cannot compete.
Front Facing Cameras: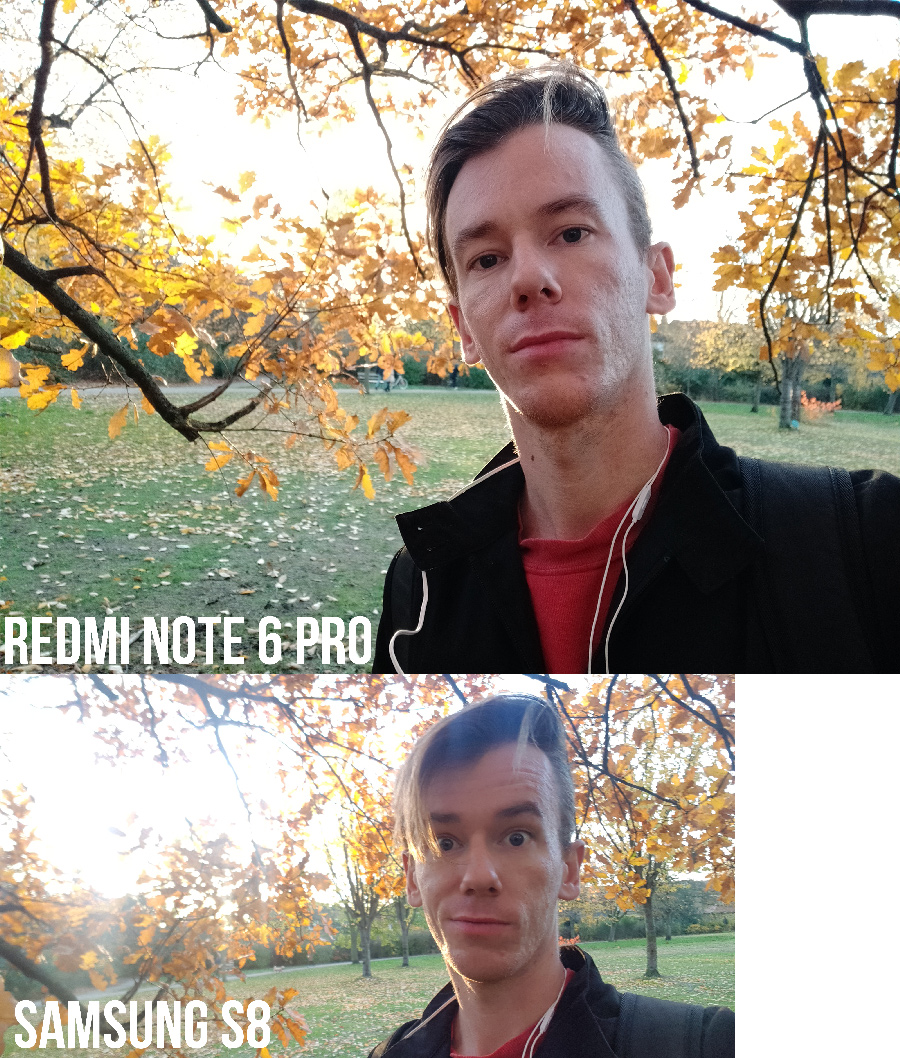 With the rear cameras the battle is closer, with both cameras using similar sensors, however the advantage is with the Redmi thanks to its second pair of duel cameras working together. I've managed to get some awesome shots with both phones, but the Redmi allows you to again refocus your image and has more intricate manual controls.
Rear Camera Examples: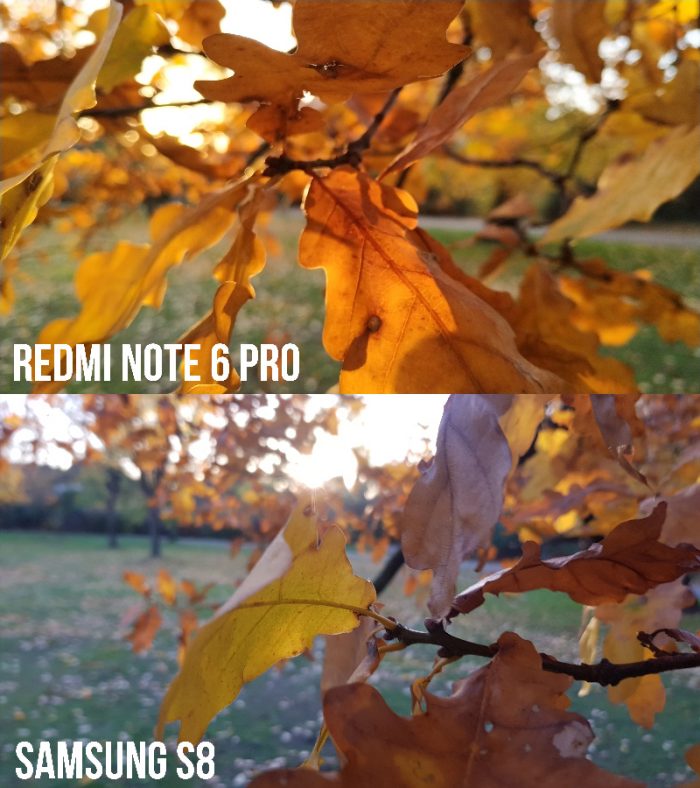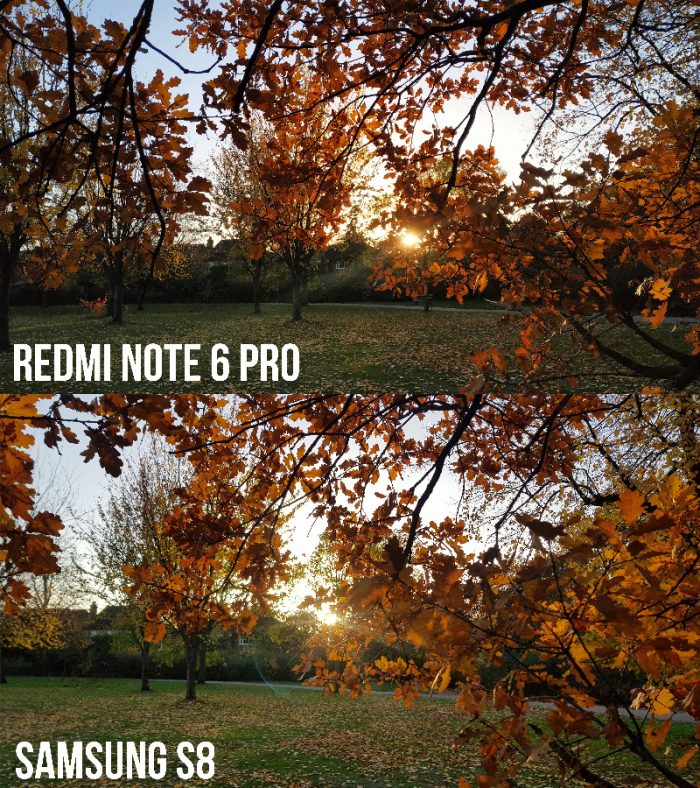 The Samsung tends to produce more accurate colors, but at an overall lower quality and less dynamic range.
When it comes to video the S8 is the clear winner. It's able to record 4K video and shoot in slow motion. The Redmi can only shoot HD video and has hardly any options to control video.
You'll need to decide what you are most likely to use your phone for, photos or video, then choose accordingly.
back to menu ↑
Performance and Gaming
Both of these phones will be able to run every game and app in the App store, but not neccessarily at the highest frame rate of graphical setting. The Snapdragon 838 that powers the S8 is slightly dated, but still among the top performing processors right now. The 636 powering the Redmi is newer but is also designed to be much cheaper.

Looking at the specs of both processors the Samsung 838 wins out, but not by much. It's slightly more powerful with a higher clock speed, ram speed and download speed, however the difference isn't huge. The Redmi's 636 has double the CPU threads compared to the S8, which means it's likely to be better at multitasking. Both phones utlize 4GB of RAM, so they are evenly matched in that regard.
In reality I've found both phones to be extremely responsive and able to run apps effectively. I would actually say the Redmi is slightly faster to respond commands and open apps, which may be down to its processor not having to work with a 4K screen. I've also found that Samsung's pre-installed software can slow it down somewhat, but it's not too noticeable.
You will be able to play games at a higher frame rate and higher graphical setting with the S8, but this only applies to a few games like PUBG, which still runs fine on the Redmi. Considering the price difference between these two phones, the Redmi holds up very well in terms of performance.
back to menu ↑
Other Features
NFC: The Samsung S8 is equipped with NFC for contactless payment. I've actually found this very useful and it's a shame that it's not included in the Redmi
IR Blaster: A feature long missing from Samsung devices is an IR Blaster, which is included in the Redmi. This allows you to use your phone as a remote for your TV or other compatible devices. Probably not as useful as NFC, but better than nothing!
Expandable Memory: This is quite a big one for me, because I tend to fill up my phones memory quickly. The Redmi Note 6 Pro comes with a Micro SD Card reader which allows you to expand your memory up to 256GB. The Samsung is limited to internal memory.
Waterproof: The Samsung is fully waterproof, so you can wash it under a tap and it will be fine. In fact you can fully submerge it and it should survive for quite a while, I've never had the guts to try it though. The Redmi is not waterproof so keep away from swimming pools.
Battery Life: The Redmi has a far better battery life than the Samsung, which has struggled to last a day from the moment I bought it. You can go without charging the Redmi for at least a day and a half with average use.
back to menu ↑
Verdict
This is a hard one to call. On the one hand the Samsung is clearly the technically superior device, despite being over a year old. It has a brighter and better screen and a faster processor. Still, I find myself viewing the Redmi Note 6 Pro as a much better deal. For half the price you get nearly the same performance, a bigger screen, the ability to expand memory, awesome photography cameras and an operating system largely devoid of bloatware. You can pretty much do everything the Samsung can do on the Redmi (save for payments and swimming!), so if you are really looking for an excellent value phone I'd have to give it to the Redmi in this case.
back to menu ↑
Where to Buy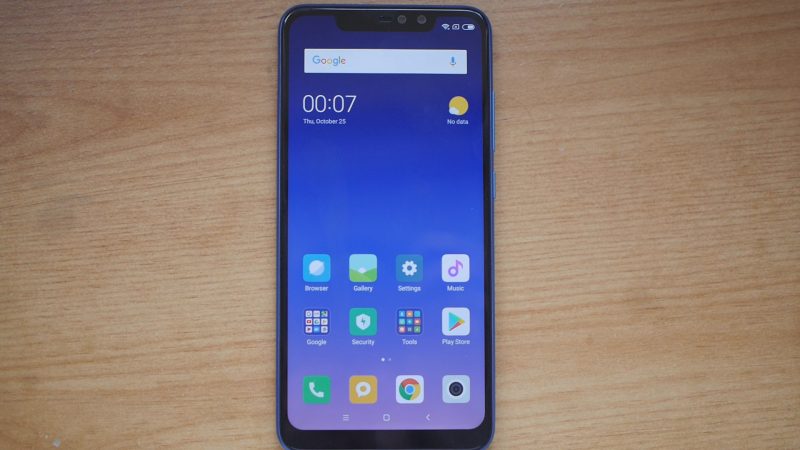 The Redmi Note 6 Pro is available from Gearbest.com for the lowest price I've seen and they ship to 200 countries.
Check Latest Price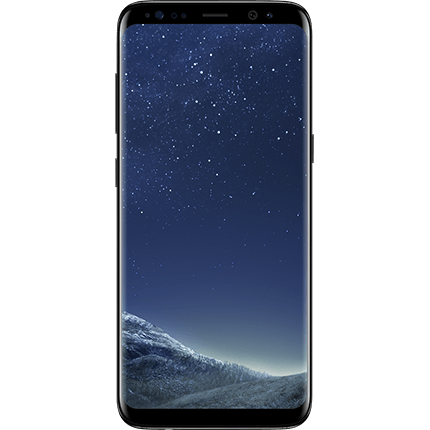 The Samsung S8 is still available from most phone carriers and you can get an unlocked version on Amazon for $450
Check Latest Price
Check out my latest video!