Are you looking for an affordable but powerful smartphone that can shoot awesome photos, play the latest games and run the biggest apps smoothly? You don't need to buy the most expensive phones to have all of these features and more, there are plenty of devices out there that work almost as well but for less than half the price. The Redmi Note 7 Pro and Pocophone F1 are two devices that are in this category of cheap but powerful. The Redmi is newer and the Pocophone is very popular. Let's take a close look at these two devices and see which one is the better option in 2019.
Redmi Note 7 Pro vs Pocophone F1
Specs Comparison
Specs
Pocophone F1
 Redmi Note 7 Pro
Screen Size
6.18 Inch IPS LCD
6.3 Inch IPS LCD
Screen Resolution
1080 x 2246
1080 x 2340
PPI
403
409
Cameras
x1 Rear Facing: 20mp

x2 Front Facing: 12mp & 5mp

x2 Rear Facing: 48mp & 5mp with depth sensor

1 Front Facing: 13mp

Processor
Snapdragon 845
Snapdragon 675
Connectivity
Wi-Fi, GPS, Bluetooth, Micro-USB, 4G, IR Blaster
Wi-Fi, GPS, Bluetooth, Micro-USB, 4G, NFC
Sensors
Fingerprint sensor, Proximity sensor and Accelerometer,
GPS & GLONASS, Fingerprint (rear-mounted), accelerometer, gyro, proximity, compass
Memory
64gb Internal (Expandable) – Up to 8GB RAM
64/128GB Internal (Expandable)  – Up to 6GB RAM
Battery
 4000 mAh
4000 mAh
Size
155.5 x 75.3 x 8.8 mm
159.2 x 75.2 x 8.1 mm
Price
$275- $350 / £225 – £300
$350/£300
Unique Features
Camera AI, Image Re-Focus
Camera AI, Image Re-Focus
Where to Buy
Gearbest.com (Ships to 200 Countries)
Gearbest.com (Ships to 200 Countries)
back to menu ↑
Design
Both the Pocophone F1 and Redmi Note 7 Pro utilise similar designs, but then again so does almost every phone made in the last 5 years! There are a few key differences though so let's take a look.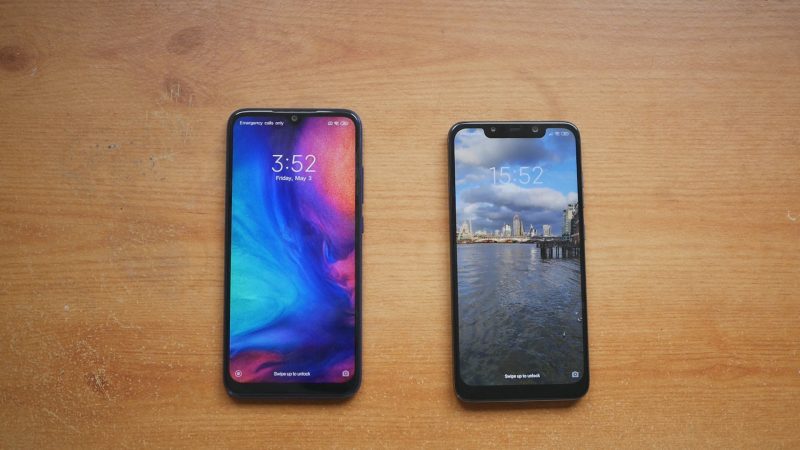 The Pocophone F1 screen to size ratio is lower than that of the Redmi thanks to its larger notch and thicker bezel. The Note 7 Pro screen is larger with a slightly higher resolution and therefore has slightly more real estate to view videos and play games.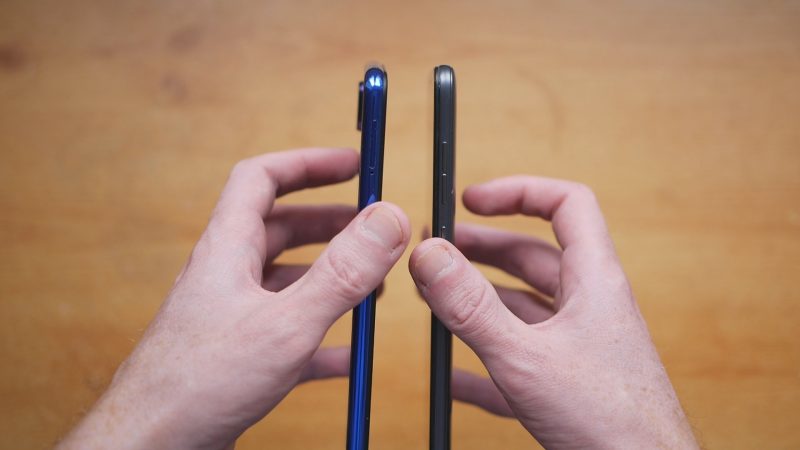 The Redmi utilises a teardrop notch which is far less intrusive to the screen, however it only houses one forward facing camera whereas the Pocophone has two. The screen technology used in both phones is identical so you won't really notice a difference in quality or sharpness.
The Pocophone is slightly thicker than the Redmi but only by 7mm. The rear fingerprint scanner is also in a different position for each phone, with the Pocophone placing it under the cameras and the Redmi placing it in the centre of the body. The position of the Redmi's fingerprint scanner is far more user friendly and easier to use.
Overall I do prefer the design of the Redmi Note 7 Pro. This is mostly down to the larger screen and appropriately placed fingerprint scanner. I also very much prefer the reflective color used in the chassis of the Redmi whereas the Pocophone sticks to black. As I said at the start the designs of both these devices are not hugely different and you shouldn't make you decision just based on this.
Winner: Redmi Note 7 Pro
back to menu ↑
Cameras
Even though these devices are considered "budget" they both posses powerful cameras that can shoot excellent photos and videos. The Redmi has 4 cameras in total which are able to detect depth and the Redmi can shoot huge 48mp photos for superior cropping options
When we compare photos taken with both cameras we can see some differences. The two phones use similar sensors from Sony but the software setup is slightly different.
Looking at these daytime photos shot with the Pocophone and Redmi it seems as if the Pocophone shoot slightly sharper and deeper images whereas the Redmi can shoot brighter and more detailed photos.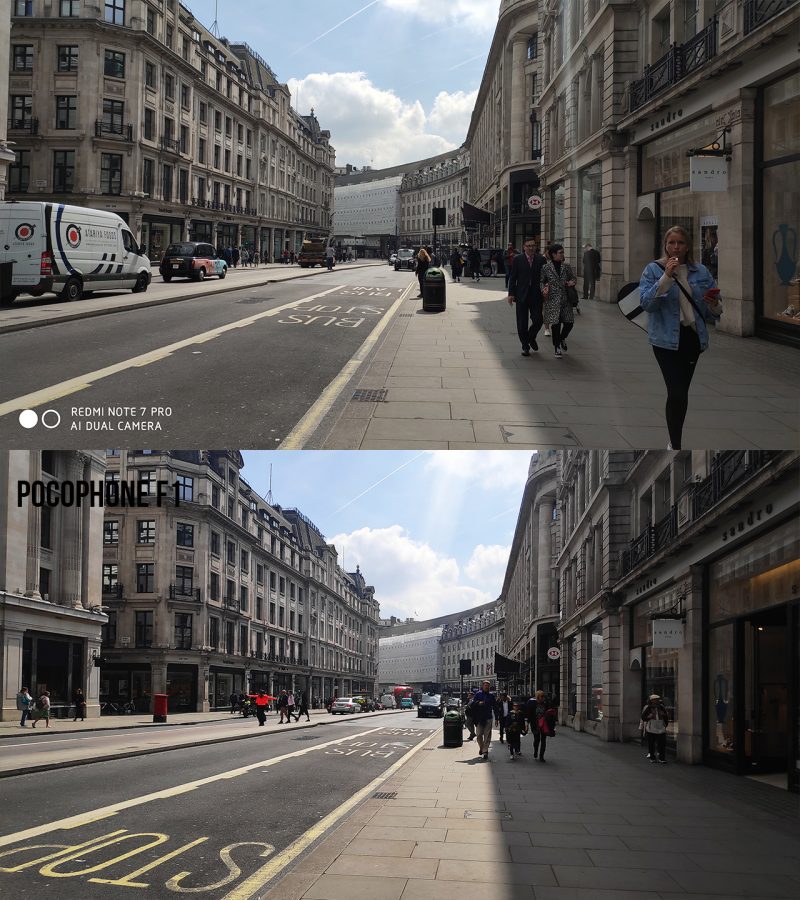 The Redmi photo's have a quite ethereal look with a slight blur. I personally quite like the effect however it's not as realistic as the Pocophone images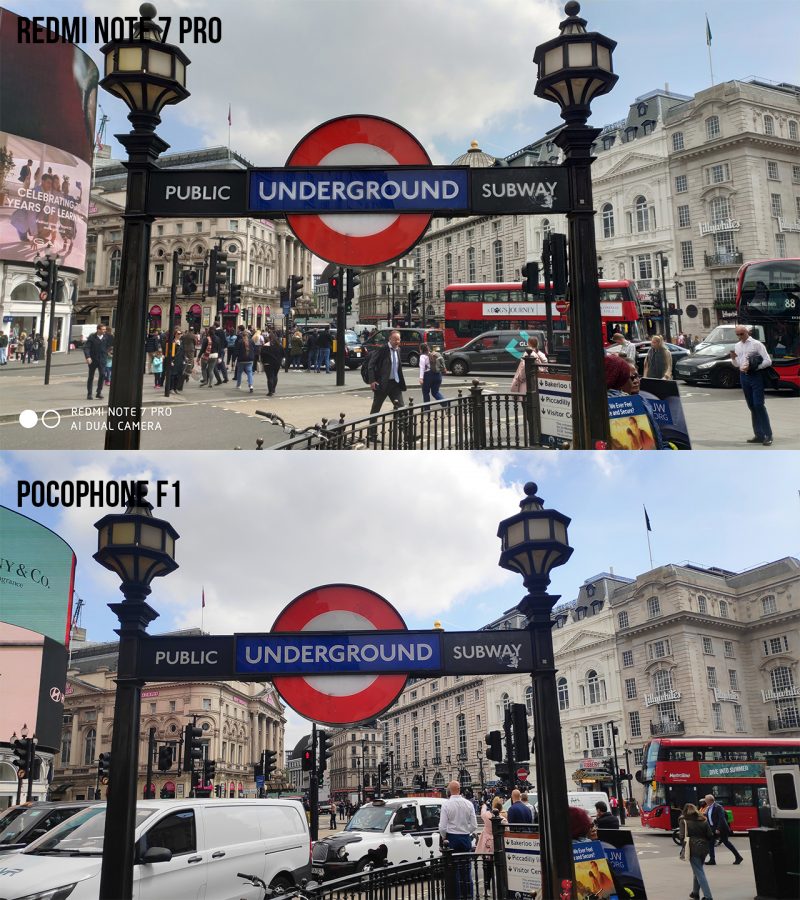 When it comes to color the Redmi shoots deeper colors, particularly reds, oranges and other brighter colors. Dynamic range seems to be superior in the Redmi photos and if we zoom into darker areas you'll see more details and less noise.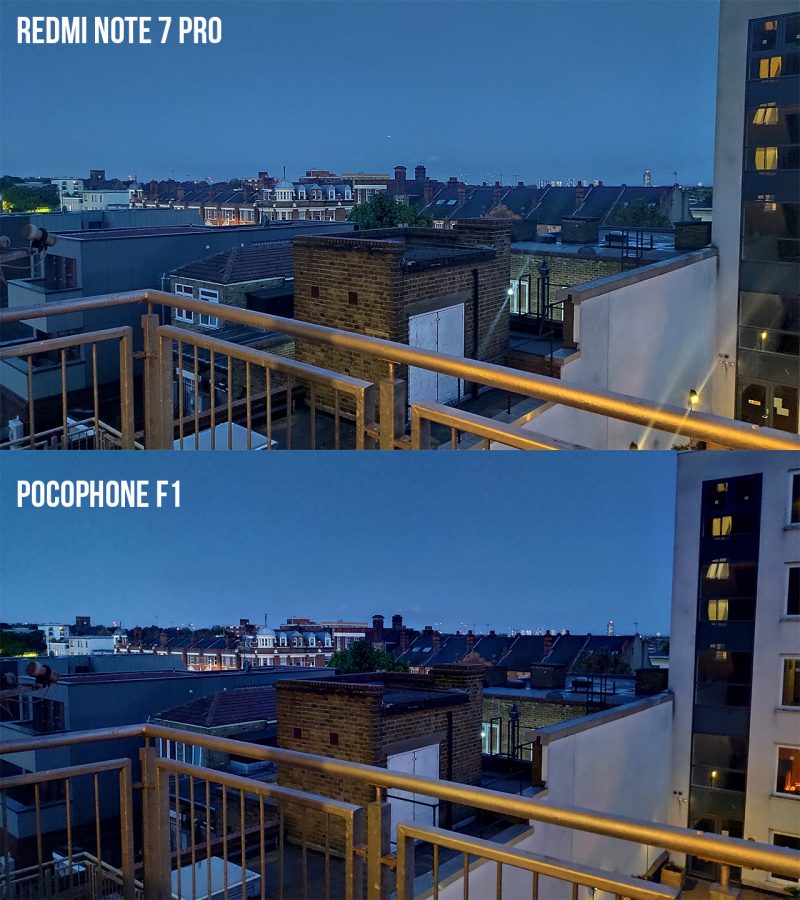 Both cameras have a night mode for low light photos and both work well. The Redmi captures more details but struggles with brighter artificial lights.
The Redmi's 48mp mode is where it really stands out from the crowd. When activated the Redmi shoots huge images that can be cropped without losing quality. These images take up a lot of space so you won't be using it for every image but the ability to do this is quite impressive.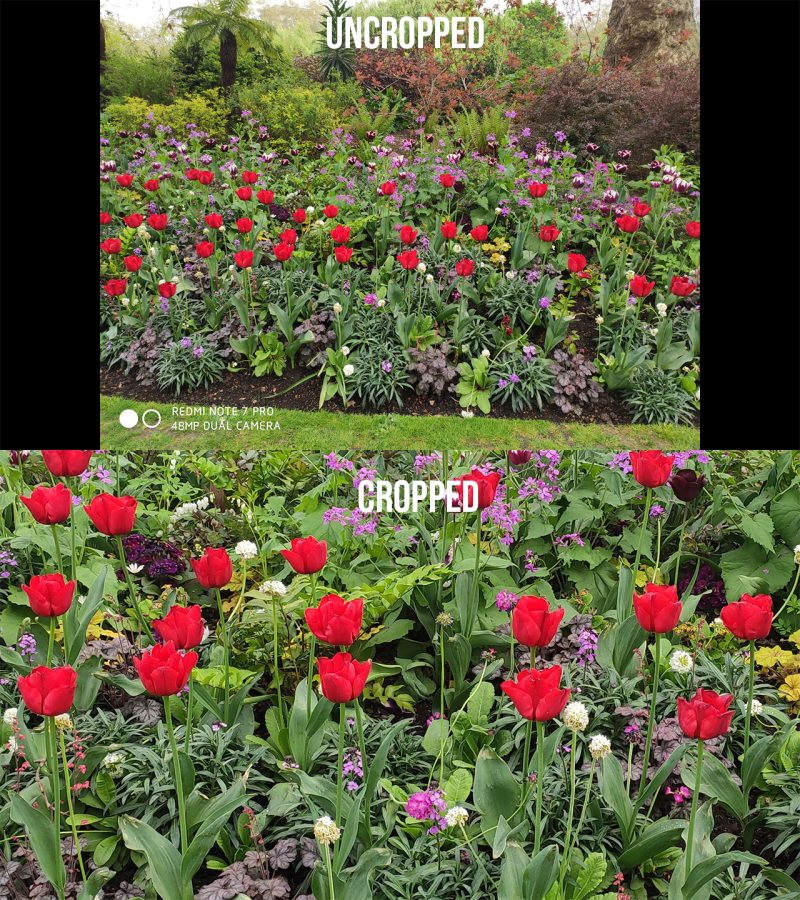 When it comes to front facing cameras the two devices take a different approach. The Redmi Note 7 Pro uses a single 13mp sensor whereas the Pocophone sacrifices some screen space for two front facing lenses that are 12mp and 5mp respectively.
The Pocophone has the advantage in this regard as is has a whole camera dedicated to depth, meaning it can create a more accurate blurred effect. Having said that the difference between the two when taking selfies isn't huge.
Winner: Redmi Note 7 Pro
Video 
These devices are pretty evenly matched when shooting video. Both have 4K options, slow motion and camera AI. The video's shot with both cameras are clear, sharp and colorful and you would likely be happy with either. I would say that the Redmi slightly over-saturates its video and the Pocophone shoots brighter videos overall.
Some differences between the video capabilities of these phones include different frame rate options. The Redmi Note 7 Pro can has the option to shoot HD video at 60fps, great for action shots or for smoother video generally. On the other hand the Pocophone is able to shoot super slow motion video up to 960fps. You'll need to decide which feature is more important to you.
Winner: Pocophone F1
back to menu ↑
Performance and Gaming
Playing the latest games and running the latest apps shouldn't be an issue for either of these phones, but which one is faster overall? The Pocophone is powered by a flagship processor, the Snapdragon 845, which is a huge achievement for such a cheap phone. Coupled with RAM up to 8GB (although most models come with 6GB), this is still the most powerful phone in its price range.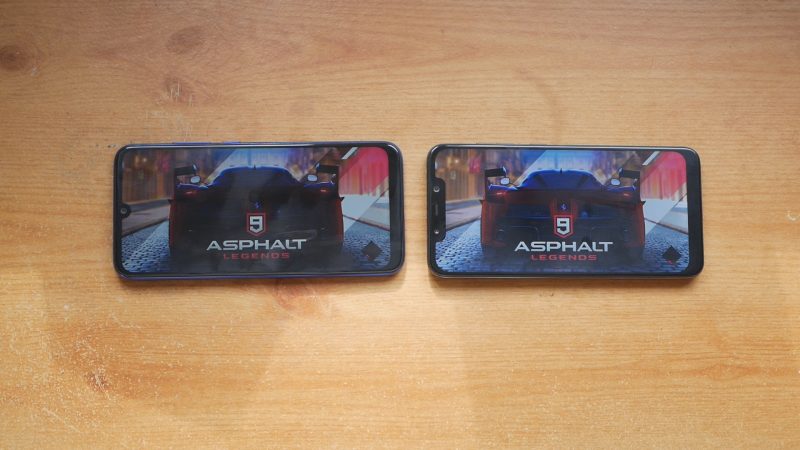 The Redmi Note 7 Pro utilises the newer Snapdragon 645 processor which is technically not as powerful but does include some new features. The 645 allows the Redmi to shoot 45 megapixel images which is a feature lacking in the Pocophone; you'll also find up to 6GB of RAM which is more than enough to run multiple apps smoothly. When it comes to performance you'll struggle to notice a difference between the two in most cases. Each phone responds to commands near instantly and both can run multiple apps simultaneously.
If you are a serious mobile gamer then you will likely be happy with either device. In my tests of several games I found both phones could run the latest titles on the highest settings. When playing PUBG both phones automatically selected the highest quality settings and when playing ASPHALT 9 both phones loaded the highest quality textures. The Pocophone is technically capable of displaying higher quality HDR graphics thanks to its superior GPU but for the vast majority of users you really won't notice a difference.
Winner: Pocophone F1
back to menu ↑
Other Features
Battery: Both phones use a 4000MaH battery which will last around two days with average usage but probably around a day if you are into watching a lot of YouTube videos or playing games.
NFC: Neither of these phones feature NFC for contactless payment. This is really the one big missing features for both phones compared to flagship handsets from the likes of Apple, Samsung and Huawai
Fast Charging: Both handsets feature fast charging with USBC
back to menu ↑
Verdict
There's really not much in it when comparing these two phones. Both are Xiaomi products under different brand names and both pack in a lot of advanced features for a low price. I've used both phones on a daily basis and have found the Redmi to have a better camera but the Pocophone to be slightly faster and more responsive. You'll need to think about what your priorities are and make your decision based on that. If I had to choose I think I would stick with the Pocophone as its incredibly powerful considering its price, however I'll concede that the Redmi has newer technology and a more attractive design.
back to menu ↑
Where to Buy
Redmi Note 7 Pro is available on Gearbest.com which ships to over 200 countries:
Check Price
Check out my latest video!