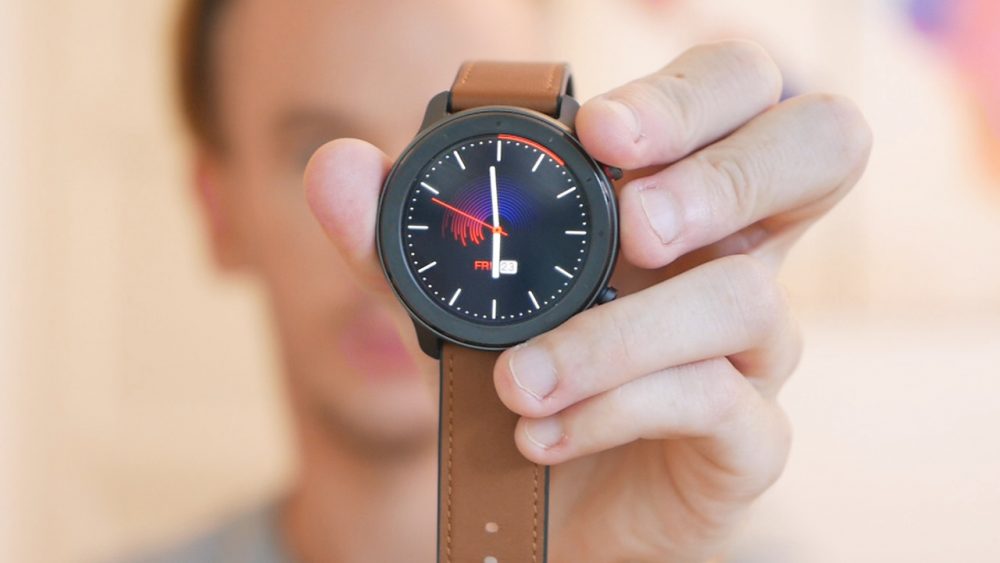 The Amazfit GTR is the best looking smartwatch Huami has ever created. It features the same sports tracking features as Amazfit's flagship watches in a premium body, a heart rate monitor, GPS and a bright AMOLED screen. The downsides to the GTR include a lack of internal memory, no app store access and no speaker or microphone. Overall the GTR's low price makes it an excellent option for those who are content with limited smartwatch features but want a stylish timepiece.
Amazfit GTR Review
Specs
Amazfit GTR
Specs
Screen
AMOLED

1.39 inches (47mm)

1.2 inches (42mm)

Screen Resolution
454 x 454 pixels (47mm)

390 x 390 pixels (42mm)

Screen Density
326 ppi
Battery
Between 10-20 Days (depending on usage)
Sensors
Heart Rate Monitor, Accelerometer, Gyroscope, Magnetometer, Barometer
Tracking
Heart Rate, Sleep Quality, Steps, Calories, Distance, Vo2 Max,
Memory
16MB RAM, 64MB Storage
Water Resistance
5 ATM
Microphone/Speaker
No
Connectivity
Bluetooth, GPS, NFC
Operating System
Amazfit OS
Price
Check Price
back to menu ↑
Bright Screen and Sleek Design
Like most Amazfit smartwatches the GTR features an AMOLED screen which allows it to display bright and vibrant colors. The GTR comes in two sizes, 42 and 45mm with each having the same pixel desity of 326 ppi; that's a pretty high pixel density for such a cheap device and compares favourably with premium devices from Samsung and Huawai.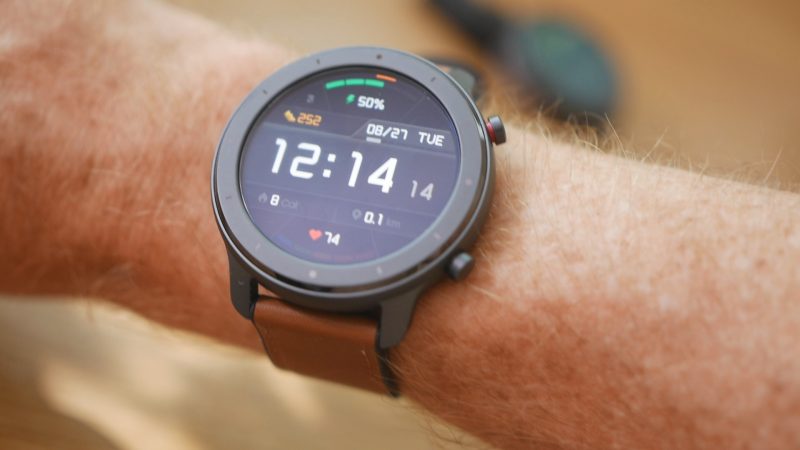 When it comes to the body of the GTR you again have more than one option; aluminium, stainless steel and titanium. The titanium version is the best looking and most expensive but even the cheapest option looks stylish. Some other Amazfit smartwatches (like the Amazfit Verge) tended to use cheaper materials which didn't go down well with consumers. The GTR is probably the best looking Amazfit device yet thanks to this use of metallic materials on the body; it's also thinner and sleeker than most other watches at this price point.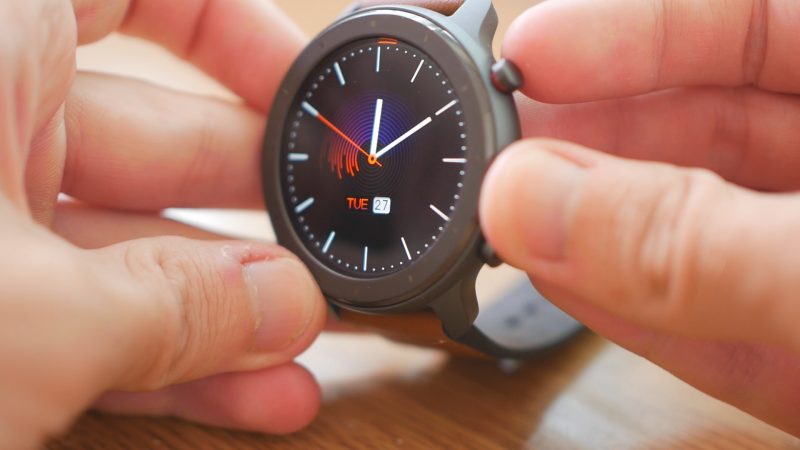 When unboxing the GTR I was surprised to discover that it came fitted with a faux leather strap as opposed to the cheap looking plastic bands that are usually included. This style of strap fits perfectly with the GTR's style and is far more comfortable to wear.
back to menu ↑
Sports Tracking
If you are looking for a smartwatch to track your every day activities as well as your workouts then the GTR should have you covered. The GTR features a heart rate monitor, accelerometer, gyroscope and barometer; using all of these sensors the GTC can track your average heart rate, distance, steps, Vo2 Max and when GPS is activated, distance. When activating one of the dozen or so sports modes the sensors will begin tracking everything. Once you have finished your workout you can view your heart rate over the entire period as well as the intensity of your workout.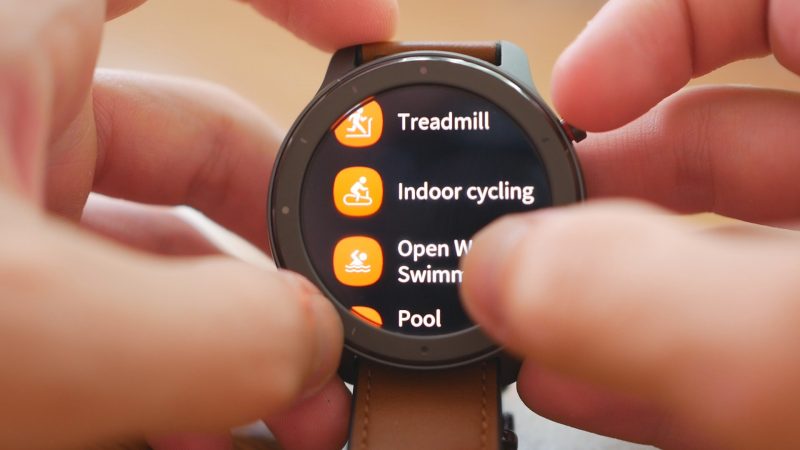 You can view the last workout you tracked on your watch however any previous workouts will only be visible on the Amazfit App. Unfortunately the watch itself has very limited storage space so cannot hold a lot of tracking data; if you want to ensure all your health data is tracked you should ensure you connect the watch to your phone regularly.
back to menu ↑
Long Battery Life
One of the best features of the GTR is without doubt the impressive battery life. Despite featuring a large screen and half a dozen sensors the watch can be stretched to last up to 30 or more days on a single charge. This is one of the best battery life's of any large smartwatch and for me a considerable advantage compared to more expensive watches that can barely last a few days. The battery life may be shorter if you use features like continuous heart rate monitoring of use full brightness but the average user should expect at least 15 days from a single full charge.
back to menu ↑
Not a Phone Replacement
While the Amazfit GTR is marketed as a smartwatch it does lack some features that we've come to expect from most smartwatches. You won't find a speaker or microphone on the GTR and there is no access to an app store.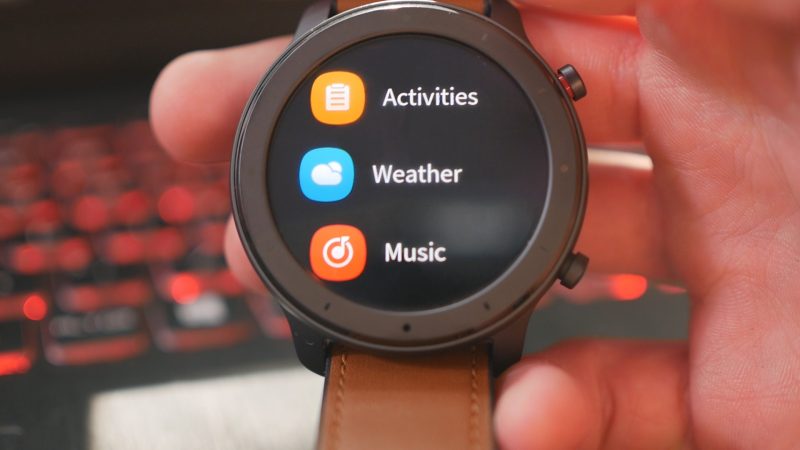 While you can receive notification via the bluetooth connection to your phone you won't be able to take calls or dictate messages. Considering the price of the watch it's not really a great surprise but you should consider whether these missing features are a deal breaker for you.
back to menu ↑
Other Features
Waterproof: With a 5ATM rating the Amazfit GTR is perfect for swimmers and able to survive deep submersion underwater for extended periods of time. There's even a specialised sports mode for tracking your swims.
NFC: Like many Amazfit smartwatches the GTR will feature NFC, however this is likely to only be available in China.
Music Control: Even though you can't add your own music files directly to the watch you can connect to spotify and control your music from there.
back to menu ↑
Summary
The Amazfit GTR is now part of a growing line-up of Amazfit smartwatches. While it looks better than most of its counterparts it does lack some important features such as internal storage, no microphone and limited Apps, yet it still manages to feel like a smartwatch. The stylish design of the GTR is definitely its main strength and anyone who cares about how their smartwatch looks when they wear it should consider this pretty cheap option. I've found the GTR to be a great addition to my collection of smartwatches and it's certainly my favourite to wear right now.
PROS:
Stylish Design
Long Battery Life
Lots of Sensors
Comes with Premium Strap
Cheap
CONS:
No Microphone/Speaker
No App Store Access
Limited Internal Memory
Check Price
Amazfit GTR: Amazfit's Best Looking Smartwatch
Amazfit has produced their best looking smartwatch yet but with no microphone or speaker can it match up to other offerings.