The Xiaomi Mi Mix 3 and Pocophone F1 are two cheap but powerful phones with flagship features. These mid-range range have caused a stir in the market with their excellent cameras and use of high end processors, but which one is the best choice? I get a lot of people asking me about the Pocophone since I reviewed it and one of the most common questions is whether it's better or worse than the Mi Mix 3. These two Chinese phones have been fighting it out for dominance and I'm going to see which is better.
Xiaomi Mi Mix 3 VS Pocophone F1
Specs
Specs
Pocophone F1
Xiaomi Mi Mix 3
Size
155.5 x 75.3 x 8.8 mm
157.9 x 74.7 x 8.5 mm
Screen Type
IPS LCD Capacitive Touchscreen, 6.18 inches, (82.2% screen-to-body ratio)
Super AMOLED capacitive touchscreen, 6.39 inches, (85% screen-to-body ratio)
Screen Resolution
1080 x 2246 pixels (403 ppi density)
1080 x 2340 pixels (403ppi)
Processor
Snapdragon 845
Snapdragon 845
RAM
6/8GB RAM
6/8/10GB RAM
Memory
64/128GB Internal (expandable with MicroSD)
256/128GB Internal (expandable with MicroSD
Front Camera
20 MP, f/2.0, 0.9µm – Features HDR – Video 1080p@30fps
Mechanical pop-up 24 MP, 1/2.8″, 0.9µm
Mechanical pop-up 2 MP, depth sensor – Video 1080p@30fps
Main Camera
12 MP, f/1.9, 1/2.55″, 1.4µm, dual pixel PDAF & 5 MP, f/2.0, 1.12µm, depth sensor –
Features Dual-LED flash, HDR, panorama – Video 2160p@30fps, 1080p@30fps (gyro-EIS), 1080p@240fps 1080p@960fps
12 MP (wide), f/1.8, 1/2.55″, 1.4µm, Dual Pixel PDAF &
12 MP (telephoto), 1/3.4″, 1.0µm – Video: 2160p@30/60fps, 1080p@30/60fps, 1080p@960fps – 2160p@30/60fps, 1080p@30/60fps, 1080p@960fps
Battery
4000mAh
3200 mAh
Sensors
Bluetooth, WiFI, GPS, GLONASS, Gyroscope, Compass
Bluetooth, Wifi, GPS, GLONASS, Gyroscope, Compass, NFC
OS
MIUI 10
MIUI 10
Price
$300-340
$530-630
Where to Buy
Gearbest.com
Gearbest.com
So if I'm honest this isn't a completely fair comparison. While both of these phones are marketed as "mid-range" devices, one is significantly more expensive than the other and comes fitted with superior tech. The Mi Mix 3 is without doubt the "better" phone in this comparison, but by how much? Is is worth spending an extra $250 for the Mi Mix 3 over the Pocophone? Let's take a look at the real differences between these two phones.
back to menu ↑
Design
At first glance the two phones don't look dissimilar. Both are the standard candy bar shape and roughly the same size. The one noticeable difference is the absence of a notch on the Mi Mix 3, in fact it seems like it has no front facing sensors at all. This is where the big difference between the two is revealed; the Mi Mix 3 is a slide phone where you can slide the front facing cameras from the back.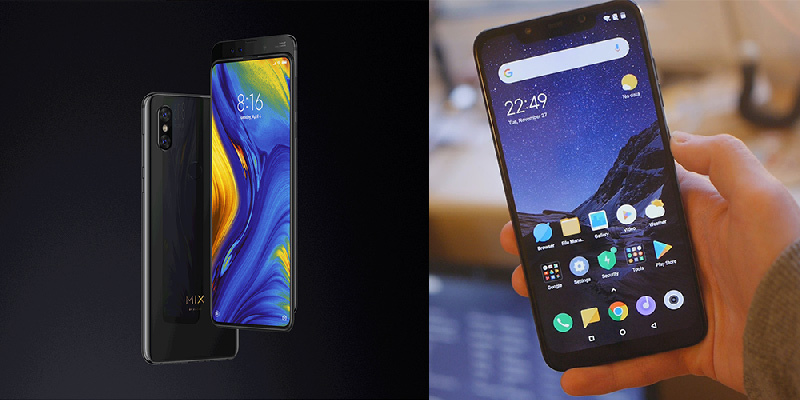 This slide mechanism is reminiscent of some early 00's phones and it a unique way to increase the size of the screen without compromising the front cameras. The Pocophone is a much more standard design with a notch housing the lone front facing camera. This design does lead to a lower screen to body ratio. I like the idea of the slide feature on the Mi Mix, but it does require that extra step for using the front cameras and there is the chance that after a few years the mechanics could wear out.
back to menu ↑
Cameras
The Mi Mix 3 has 4 cameras in total, two at the front and two main cameras at the rear. The two front cameras can shoot 24mp and 2mp photos respectively where as the rear cameras can both shoot 12 mp images. The Pocophone has a single front facing camera that can shoot 20mp cameras where as the main cameras are 12mp and 5mp.
Just from looking at the specs you can see the Mi Mix 3 has the edge when it comes to number of cameras and the image size it can produce. While megapixels are an important factor in determining the quality of an image, it's actually the sensors used that makes the most difference.
The Pocophone's utilises a Sony Lens for its main 12mp camera and a more basic model for the 5mp depth sensor. The Sony sensor is excellent at both daytime and night time imagery. The images coming out of the Pocophone look sharp and attractive with excellent dynamic range. The Pocophone can also has a wide range of video options including 4K @ 30 fps, 1080p @ 240 fps and even 1080p @ 960fps. These slow motion modes look really great and are very easy to shoot.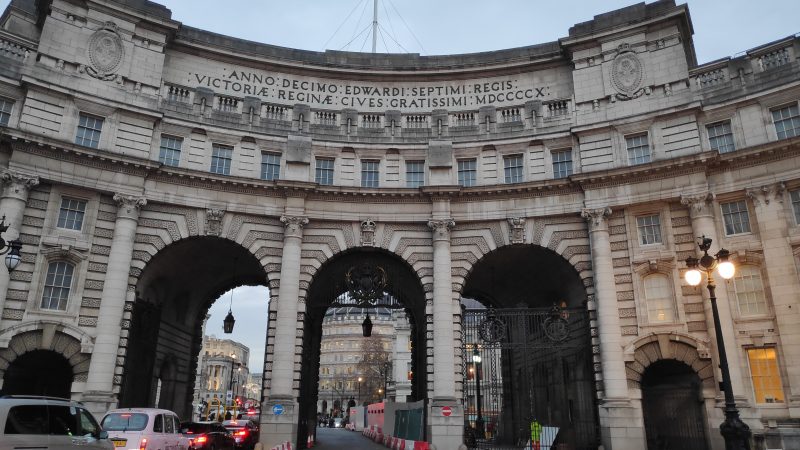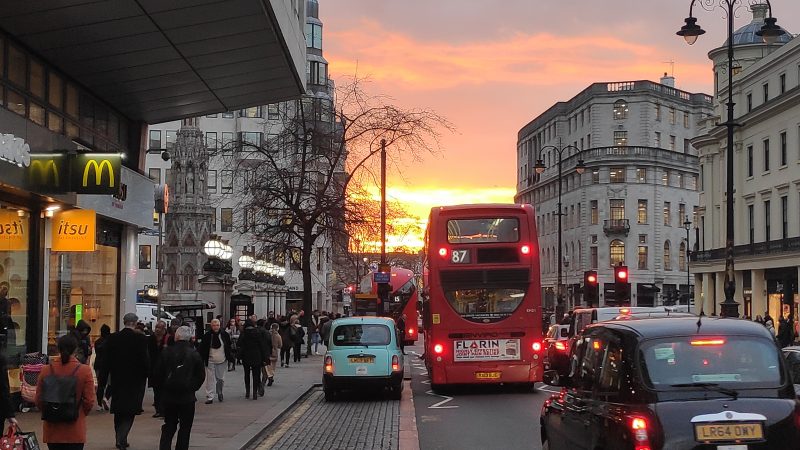 The Mi Mix 3 also uses a Sony sensors for its main lens and pairs this with a nearly equally powerful Samsung. Both of these lenses can shoot 12mp images and when combined the result is impressive. The HDR mode of the Mi Mix 3 is particularly impressive as is the performance in day time. Low light photography isn't as impressive and fairs to capture detail and reduce noise. The video options are the same as the Pocophone and offer super slow motion 960fps at 1080p
Both phone models utilise AI cameras when can automatically detect the right setting depending on what you are shooting. This makes it more likely you'll get the best quality image without having to worry about manually changing the settings.
back to menu ↑
Power/Gaming
Both phones are powered by the excellent Snapdragon 845 which is a high end mobile processor capable of running the latest mobile games. The Pocophone comes with a maximum of 8GB of RAM and the Mi Mix is available in 6GB 8GB or 10GB variants. Obviously the more RAM you have the better, so the 10GB Mi Mix 3 will be able to run more apps simultaneously without lagging the system. If you were to compare the 8GB versions of both phones you're unlikely to notice much of a difference when it comes to responsiveness and lag.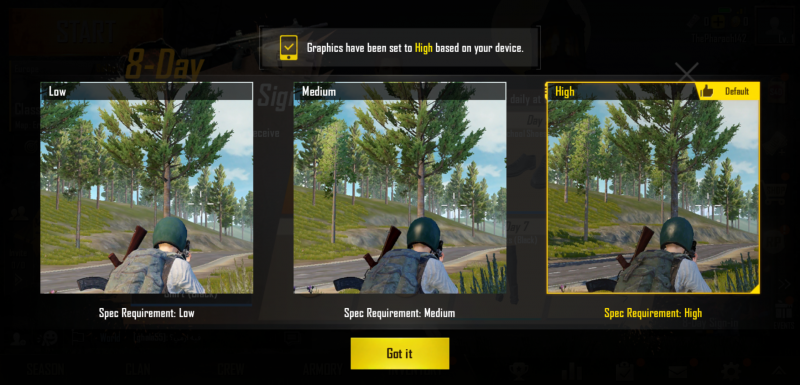 Both phones have been tested with taxing mobile games such as PUBG, Asphalt 9 and World of Tanks and it each case the phones could easily run them smoothly with the highest graphical settings. In some cases the textures used are more advanced in one phone compared to the other, however this appears to be random and doesn't impact the game experience very much.
back to menu ↑
Other Features
Memory
The Mi Mix 3 has a max internal memory of 256GB where as the Pocophone only goes up to 128GB. Both the Pocophone and the Mi Mix 3 come fitted with a MicroSD card slot, allowing you to expand the phones memory up to 256GB.
NFC
Only the Mi Mix 3 comes fitted with NFC.
Battery
The Pocophone has a slightly larger battery with 4000mAh (which might explain why it's slightly thicker) whereas the Mi Mix 3 has 3200mAh. You can expect the Pocophone to last a few days on a single change with average use and the Mi Mix 3 slightly less.
Price
It goes without saying that the Mi Mix 3 is significantly more expensive than the Pocophone F1. You can grab a Mi Mix for around $550 – 600 depending on where you look, whereas the Pocophone is available for as little as $320.
back to menu ↑
Summary
Like I said at the start of this comparison, the Mi Mix is without doubt the better phone. A more advanced camera set up, more RAM options, NFC and a superior screen make the Mi Mix 3 one of the best phones at this price range. Still, the Pocophone F1 is still extremely powerful and it's $250 cheaper. If you can do without NFC and an extra camera there isn't much separating them. Essentially if your budget does stretch to $550 and you want a phone that runs the latest apps, games and can shoot excellent photos, then the Pocophone is an excellent choice. The Mi Mi 3 is quite extraordinary though and a welcome change in design from the tired candy bar with a notch.
back to menu ↑
Where to Buy
You can get both of these phones from various retailers in the US and Europe, however they tend to over charge. The cheapest price for both of these phones can befound on Gearbest.com which ships to over 200 countries. You will have a to wait longer for delivery, but it might be worth it for the saving. You can check the latest prices usingthe buttons below.
Check Mi Mix 3 on Gearbest
Check Pocophone on Gearbest
Check out my latest video!