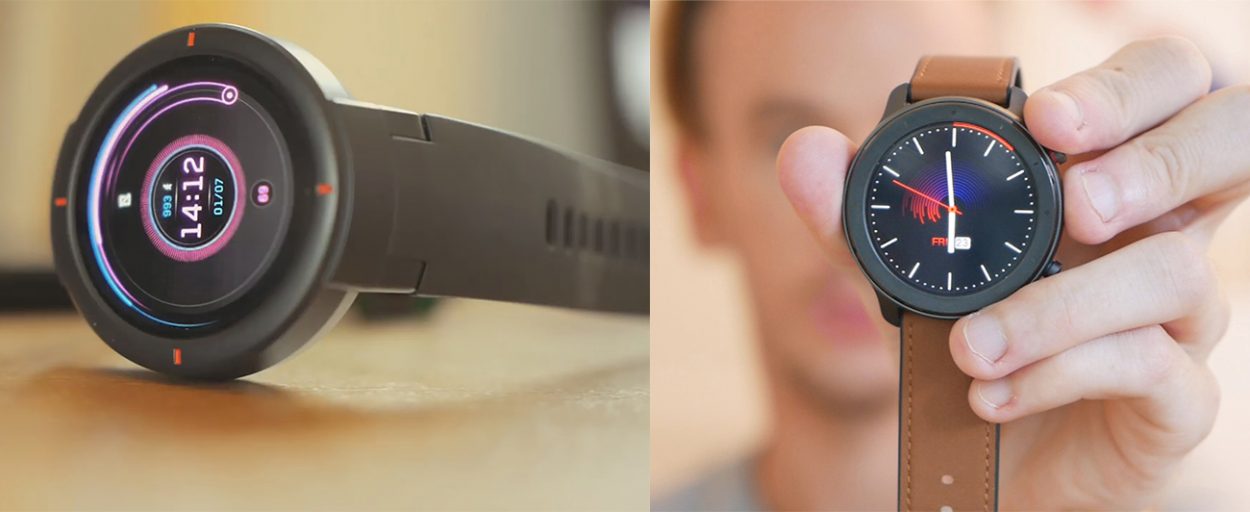 Amazfit has been very busy this year releasing half a dozen smartwatches of varying styles, designs and functionality. Two of the most popular releases include the Amazfit GTR and the Amazfit Verge. Both of these watches feature AMOLED screens and an impressive array of sensors; either could be  considered a flagship device for Amazfit but they do cater for slightly different consumers. I've used and owned both of these watches and now I'm here to show you the difference between the two and help you decide which one is the best choice.
Amazfit GTR vs Amazfit Verge
Specifications
Image
Specs
Amazfit GTR
Amazfit Verge
Screen
AMOLED

1.39 inches (47mm)

1.2 inches (42mm)

 1.3 Inch AMOLED Color Display
Resolution
454 x 454 pixels (47mm)

390 x 390 pixels (42mm)

360 x 360
Memory
16MB RAM, 64MB Storage
512MB Ram, 4GB Internal
Connectivity
Bluetooth, GPS, NFC
Bluetooth, GPS, Wifi, USB
Sensors
Heart Rate Monitor, Accelerometer, Gyroscope, Magnetometer, Barometer, Wearing Detection Sensor
Optical sensor, Heart Rate Sensor, Accelerometer, Gyroscope, Barometer, Geomagnetic Sensor, air pressure sensor, ambient light sensor, Wearing Detection Sensor
Tracking
Steps, Heart Rate, Sleep Quality, Steps, Calories, Distance
Steps, Calories, Heart Rate, Distance, Speed, Sleep Quality
Microphone/Speaker
No
Yes
Notifications
Yes – Vibration Feedback and On Screen Alerts
Yes – Vibration Feedback and On Screen Alerts
Water Resistance
5ATM
IP68
Battery
 Between 10-20 Days depending on usage
 280mAh – Up to 5 Days
Price
Check Price
Amazon
[/wpsm_colortable]
back to menu ↑
Two Great Screens
The Amazfit Verge and GTR both feature a large, circular AMOLED screen. The GTR has two screen size options at 1.2 inch and 1,39 inch and the Verge has a single size option at 1.3 inches. The size difference is negligible however the GTR is slightly thinner. AMOLED screens themselves have their strengths and weaknesses; they don't work well in direct sunlight and rarely have an "always on" option however they can display bright, vibrant colors and sharp icons.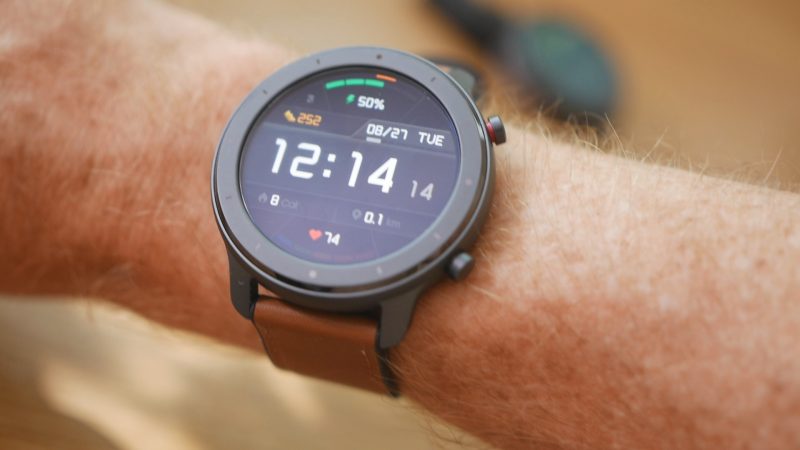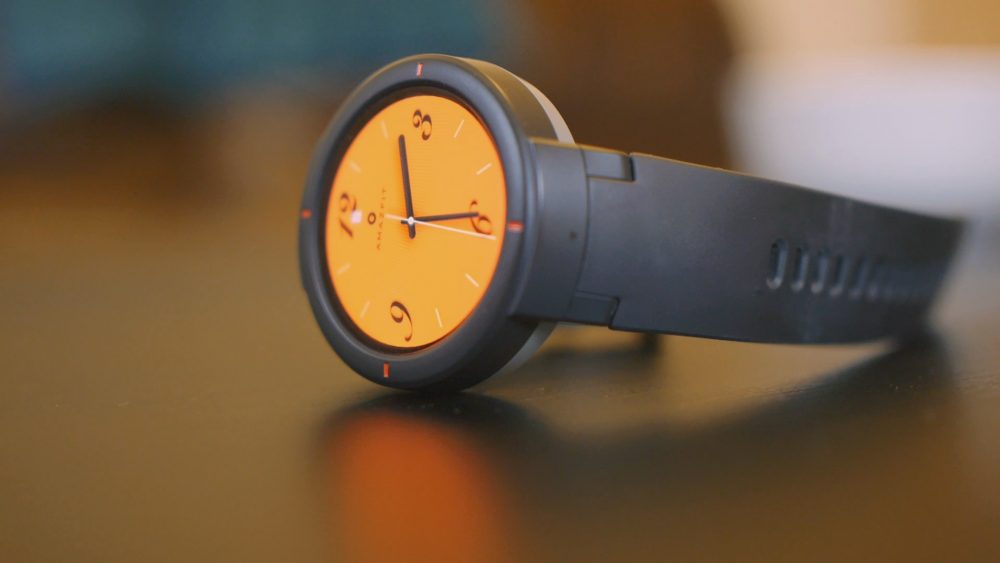 The GTR has a slightly higher resolution screen and slightly higher PPI although you'll hardly notice the difference.
back to menu ↑
Different Design
While the screens of both of these watches are near identical the overall design of these watches is fundamentally different. The Verge (review) features a plastic, grey body with a single manual button. The design is clearly aimed at a sports market and doesn't have the appearance of a classic watch. The design of the Verge isn't particularly special or attractive, in fact it looks quite bland. That's not necessarily bad if you are just looking for an activity tracker but for anyone who cares about the look of their watch the Verge might disappoint.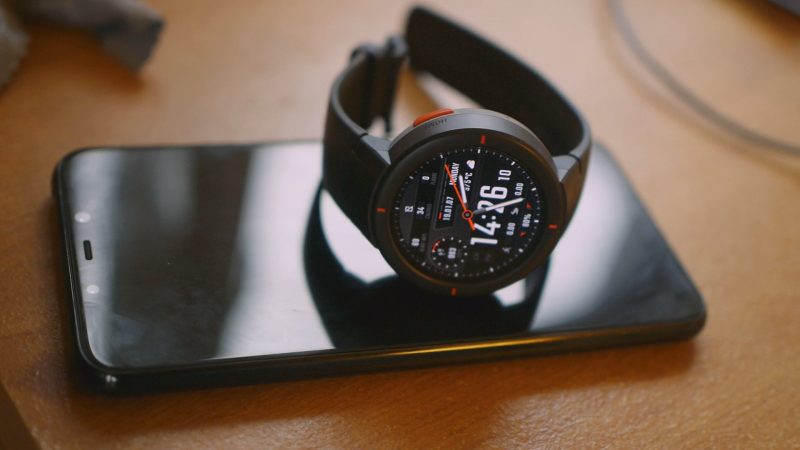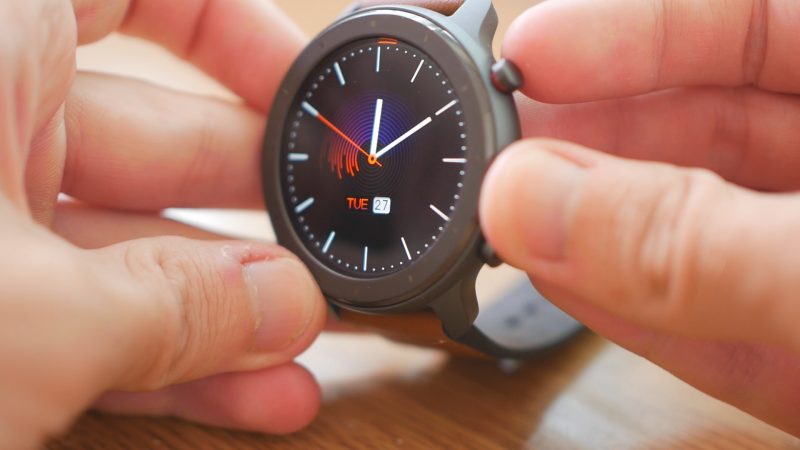 Much more effort has been put into the design of the GTR (review). Instead of plastic the body of the watch is metalic with a thinner bezel. The watch comes in black of silver and could be mistaken for a classic designed watch. It's thinner, curved and features a faux leather strap as opposed to the basic plastic one that comes with the Verge. Overall the design of the GTR is far superior to the Verge and looks a lot better on the wrist.
back to menu ↑
Tracking
The two watches feature more than half a dozen sensors for sports, health and general fitness tracking. Both watches feature a continuous heart rate sensor, accelerometer, barometer and gyro. With these sensors the watch can track your heart rate every 30 seconds, VO2 Max, distance, calorie burn and the overall quality of your workout.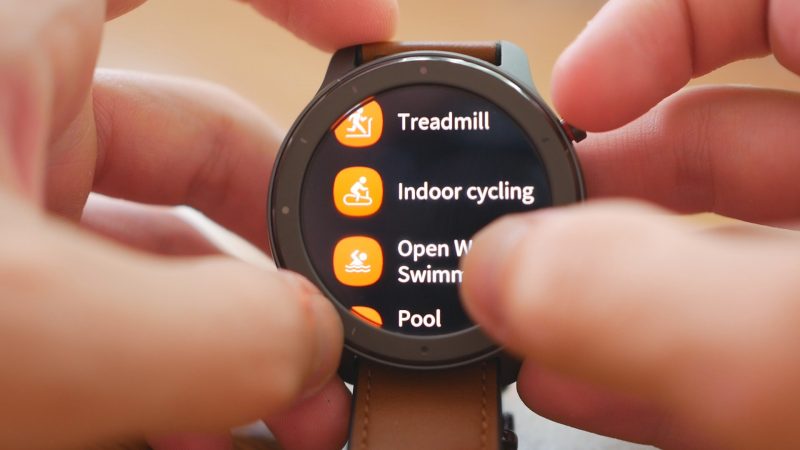 The tracking abilities of both watches are almost incidental and you'll find little to differentiate them. Accuracy varies depending on what you are tracking; both use next generation heart rate sensors which seem more accurate than other watch based heart monitors from the past few years. Neither watch feature more advanced heath tracking features like stress tracking or ECG, but that's not suprising considering the low cost of these watches.
back to menu ↑
Memory Limits the GTR
While the GTR and Verge are equals when it comes to tracking, the GTR is lacking in the memory department which limits how much data you can actually save and view on the watch. With just 64MB of internal memory the GTR only allows you to view one days worth of tracking activity on the watch itself, for any further data you'll need to sync with your phone and view on the app. This lack of memory also means you can't store music files to the watch itself but you can control your phone music when synced up. The Verge has much more impressive memory credentials with 512MB of internal memory which allows it to store more tracking data and have room for other files. More importantly the Verge has much more RAM which allows for a more advanced operating system and smoother touch responsiveness.
back to menu ↑
Verge is More of a "Smart" Watch.
The Verge features both a speaker and microphone which allows you to answer phone calls straight from the watch itself; that puts it more into the smartwatch category compared to the GTR which lacks this hardware. While it sounds like a useful feature I've never found myself wanting or needing to receive or make calls from my smartwatch. You'll have to decide whether this feature is important to you.
back to menu ↑
Battery Life
The GTR makes up for it's lack of hardware with a much more impressive battery life, which in my opinion is more useful. The Verge doesn't have a poor battery life and can last up to 5 days with average use, however the GTR smashes past this with up to 20 days of battery. This is one of the longest battery life's of any large AMOLED smartwatch out right now and means you'll only need to charge a few times a month.
back to menu ↑
Other Features
Water Resistance: Both watches are fully water resistant and can withstand underwater usage, in fact both have tracking options particularly for swimming.
NFC: Only the Amazfit GTR features NFC but at the moment it's only available in China. No work on if this will be expanded to western markets
Connectivity: Both watches feature GPS and Bluetooth. The GTR had some issues with GPS accuracy but this was fixed with a software update.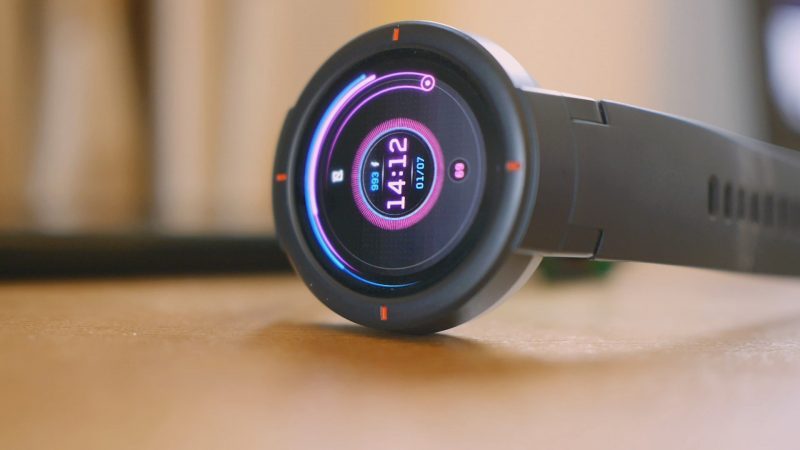 Amazfit Verge
PROS:
Great Screen
Large Memory
Speaker/Microphone
Cheaper
CONS:
Basic Design
Low Quality Materials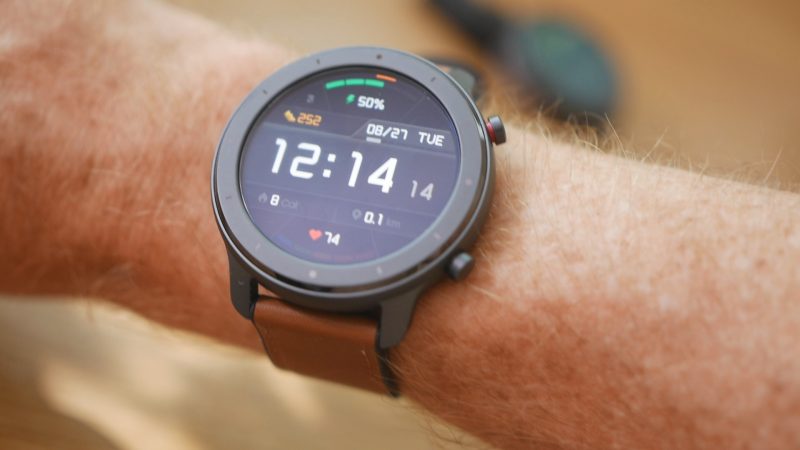 Amazfit GTR
PROS:
Excellent Design
Large, Bright Screen
High Quality Materials
Long Battery Life
CONS:
Little Memory
More Basic OS
No Speaker/Microphone
back to menu ↑
Summary
If you are trying to decide between the Amazfit GTR and the Verge then the choice is fairly simple to summarise. The GTR is the more attractive and more expensive looking device but it the hardware is less impressive. The Verge is pretty basic in appearance but is closer to a full smartwatch. I prefer the GTR to wear on a day to day basis as it is a very attractive looking device and works well with most clothing types, it also features the same tracking abilities so you aren't really missing out there. While the Verge does have more impressive hardware it's not anything that I find useful; for example the speaker is only useful if you actually want to use your watch as a phone.
The Verge and GTR are roughly evenly priced at around $150- $180. As the Verge is slightly older you can find it at a slightly cheaper price.
back to menu ↑
Where to Buy
Amazfit GTR: 
Check Price
Amazfit Verge
Amazon