The idea of a watch monitoring your health was the stuff of science fiction not so long ago, but now there are dozen of smartwatches that can track your activity levels and even your heart rate, albeit with varying accuracy. The Amazfit 1S represents the start of a new generation of health tracking watches that will be able to provide far more accurate information than was previously possible. With a newly designed heart rate sensors, the Amazfit 1S will be able to perform continuous, real time heart rate monitoring similar to an ECG machine. Let's take a closer look at what the Amazfit 1S is capable of, as well as the full range of specifications.
Amazfit 1S Specs
| Specs | Amazfit 1S |
| --- | --- |
| Screen | 0.42-inch OLED display |
| Microphone | No |
| Battery | 7 Days |
| Sensors | ECG Sensor, Photoelectric continuous heart rate sensor, Accelerometer |
| Tracking | Heart Rate, Heart Health, Sleep Qualtiy, Calories, Steps |
| Connections | Bluetooth, |
| Weight | 10g |
| Replaceable Strap | Yes |
| Waterproof | IP67 – No Swimming or Shower Use |
| Where to Buy | Gearbest.com (Ships to Over 100 Countries) |
back to menu ↑
ECG and Heart Health
Up until now fitness bands and smartwatches have relied on light based technology of measuring heart rate, which is hardly ever 100% accurate. The Amazfit 1S features a brand new way of monitoring heart rate and heart health, with a photoelectric heart rate monitor with an artificial intelligence algorithm. Amazfit claims that the new monitor will be 90% accurate and can provide real-time continuous monitoring.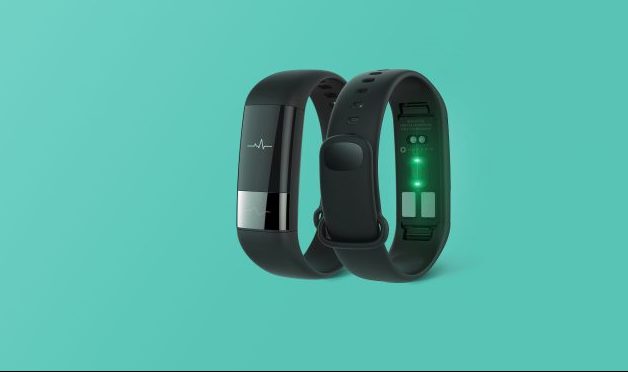 The 1S will also come fitted with an ECG monitor, which when activated will provide a readout of your current heart health and save the results into your own personal database which you can access to assess your health over time. This technology is similar to the ECG monitor in the new Apple Watch Series 4, which has FDA approval as a clinical device. The Amazfit 1S lacks similar approval in the USA as an official health device, but this may change in the future. What we do know is that the 1S will be significantly cheaper than the Apple Watch, at just over $100.
The ability to monitor your heart health with more accuracy is the next big innovation in wearable technology and Amazfit are the first to offer such technology at a low cost. Amazfit have also developed a health monitoring service around the new technology in this fitness band. It's unknown if this will be available outside China, but it's likely that the specialised App that delivers weekly health reports will be.
back to menu ↑
Design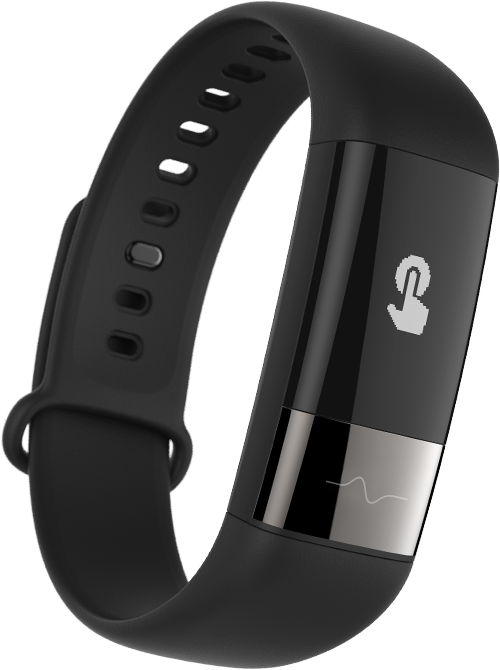 Shaped more like a band than a watch, the 1S is rather understated with no buttons or controls. The 0.42 inch touch screen it just about enough to display information such as heart rate and steps, but don't expect the full range of data that's available on larger watches. Of course all of this data will be accessible on your larger phone screen anyway.
The watch weighs a minuscule 10g so you'll barely feel it, even if you wear it all day! The screen is activated and controlled by touch and the ECG and heart rate monitors can be found on the rear of the device. The strap is apparently replaceable and there will likely be more than a few options available to customise your device.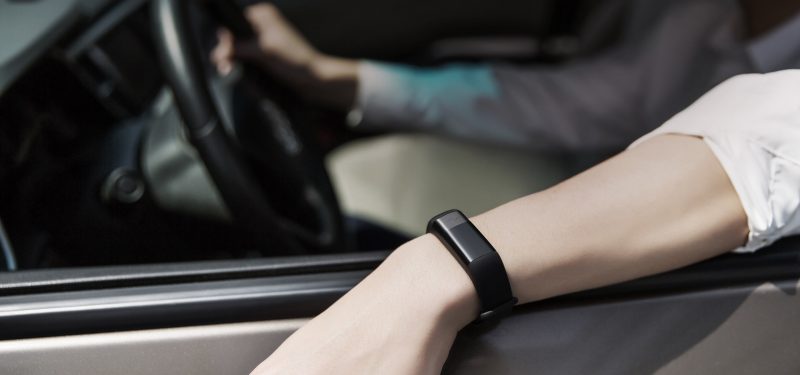 The design of the 1S won't win any awards, but it looks sleek and modern enough. The heart rate symbol on the body gives away its true purpose as a health assistant rather than a fashion accessory.
back to menu ↑
Other Features
As well as the new health monitoring technology, the 1S will also come with the usual fitness tracking capabilities such as a step counter and calorie burn tracker which will also be fed into a health database. Unfortunately the 1S doesn't feature GPS; for this you'll need to spend a bit more and checkout Amazfit's other new watch, the Amazfit Verge.
Battery life is an impressive 7 days, which will be far longer than the Apple Watch and will allow you to track your heart health continuously for much longer. You can connect the watch to your smartphone via bluetooth and have is notify you of messages and calls, however the small screen won't be able to provide you with a huge amount of information.
The 1S will be pre-programmed with reminders that will help you lead a healthier life, if you follow them that is. Reminders include water consumption, sedentary alert, medicine reminder and activity; of course you'll be able to customise these or turn them off all together.
back to menu ↑
Availability & Where to Buy
The Amazfit 1S will be released in China first, then world wide in the following months. You can pre-order the 1S from Gearbest.com who can ship to over 100 countries, but be aware that the language of the software will probably be Chinese which you can update to English once it's released in the US/Europe.
Check out my latest video!